Welcome to CENFACS' Online Diary!
24 July 2019
Post No. 101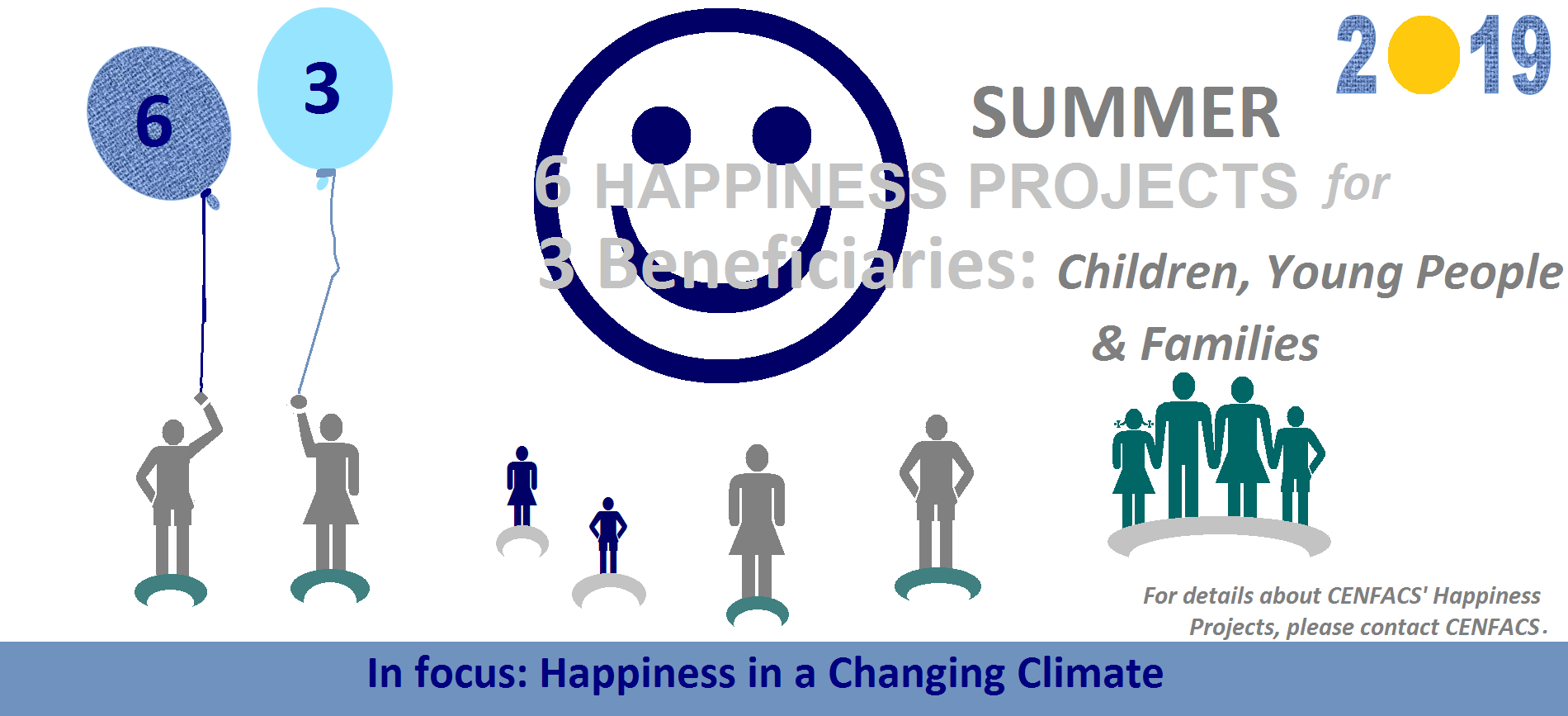 The Week's Contents
• Happiness Projects 2019 in a Changing Climate
• Summer Festival, Seven Days of Development in July 2019 – Days 1 and 2
• Happiness Budget 2019 
… and much more!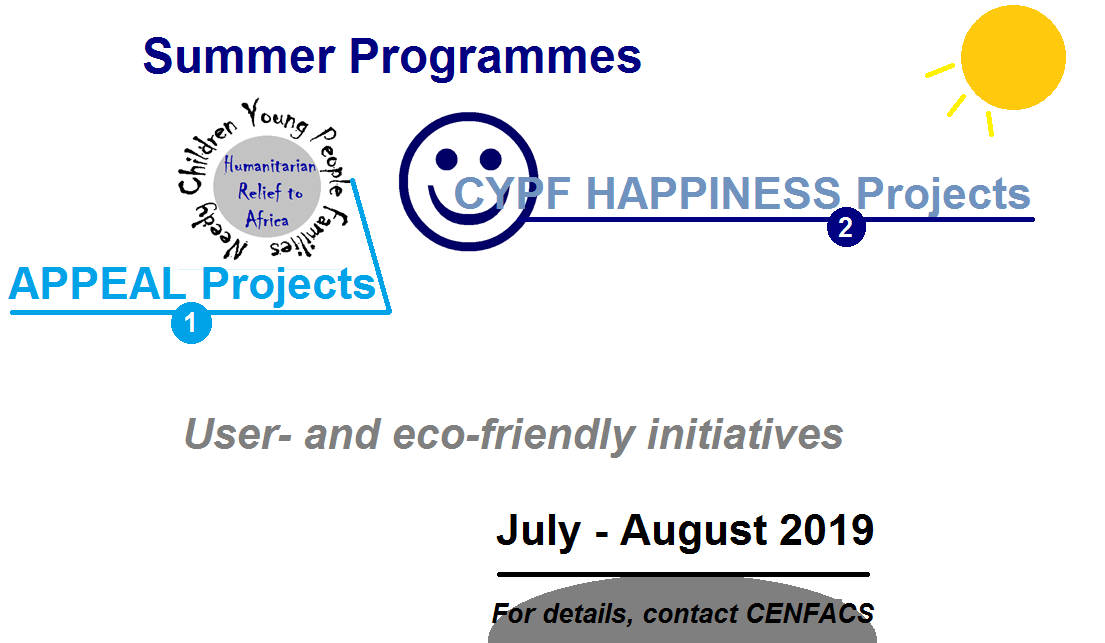 Key Messages
~ Happiness Projects 2019 in a Changing Climate
Happiness Projects are the second part of our Summer Programme; the first part being Appeal Projects.  The Appeal Projects are currently running under the banner of Humanitarian Relief Appeal to Africa.  Further information on them and the way of supporting them can be found at
As to the Happiness Projects, we have integrated the climate element or changing patterns of climate in them.  This integration implies that each of the projects making happiness this Summer will have a climate content in it.
For more on the 2019 version of Happiness Projects, please read them under the Main Development section of this post.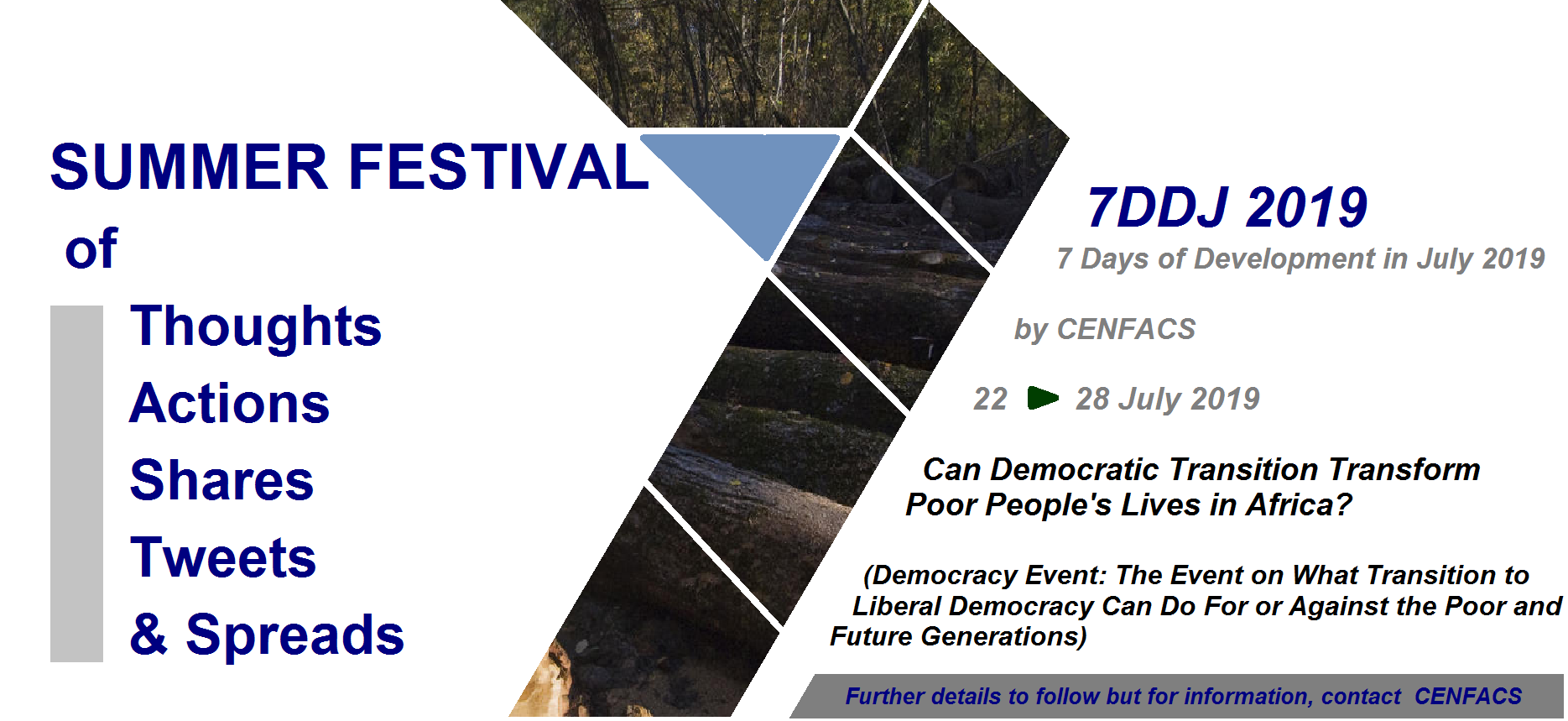 ~ Summer Festival, Seven Days of Development in July 2019 – In Focus for this Year:
Can Democratic Transition Transform the Lives of Poor people in Africa?
The 11th Edition of our Summer Festival has started since Monday the 22nd of July 2019 as scheduled.  The first two days have been devoted to Life transformation (Day 1) and Democratic transition experiences (Day 2) respectively.
For those who are making any contributions in the form of thoughts and comments, it will be good to stick to the daily themes as planned.  Likewise, it makes easy for the good running of the festival to be short and precise in making thoughts or comments.
This will allow to quickly capture the impact they are making.   This will as well in this way enable us to measure the Festival's aims and the difference that it will make to the lives of those who are looking into democratic transitions to address their needs.
For those who have not yet engaged with Festival, they can still join the thoughts.  There are still four days to go and topics to think about.  They can as well share the festival views with those who may be interested in. 
Thank you!
~ Happiness Budget 2019 – 
Budgeting and Delivering Happiness in a Changing Climate
In our planning process of Summer of Happiness Projects, we started a few weeks ago by budgeting Summer Holidays with what we call Happiness Budget. 
This week, we are continuing the budgeting process while starting to deliver on other parts of the Happiness Projects as Summer Holiday has just begun for some children, young and families. 
We are still available to discuss people's Happiness or Summer Holiday Budgets for those who want us to do so.  For those who are struggling with their Happiness Budgets, CENFACS is prepared to look into their Summer Budgets. 
We can handle all of the areas or items of their Happiness Budget.  However, we will put a particular emphasis on the following six areas of Happiness Budget which are: income, health, lifeline support, giving or recycling, credit payments and refunds, and unrestricted (freedom) payments and receipts.
The above six accounts cover the six items of happiness which we mentioned last week. Where possible, the effects of climate change will be included to reflect a budget of a changing climate. 
Those who would like to discuss with us their Happiness Budget, please feel free to contact CENFACS.  
Extra Messages
~ Happiness Projects 2019 in a Changing Climate and "Quadranscentennial" Year
To the theme of Happiness in a Changing Climate for this year's Happiness Projects, one needs to add that we are in CENFACS' "Quadranscentennial" ("Q") year.  Because of this, we may need to deliver Happiness Projects in a Changing Climate while being in a "Q" Year.  In other words, we can ask ourselves what makes poor children, young people and families happy (or unhappy) over Summer and beyond in the conditions of continuing change in climate like in recent times.  Likewise, questions should be asked and answered about what can be done for their happiness lasts longer beyond Summer, let say for at least 25 years or more?
This is our "quadranscentennialisation" of happiness projects in a changing climate.  However, maybe the climate may stop changing as the world is working hard (under the Paris Climate Treaty and each country's own climate change goals) towards the reduction of adverse effects of climate change by 2050.  Before this happens, let us keep thinking and working together with these project beneficiaries for the well-being and welfare.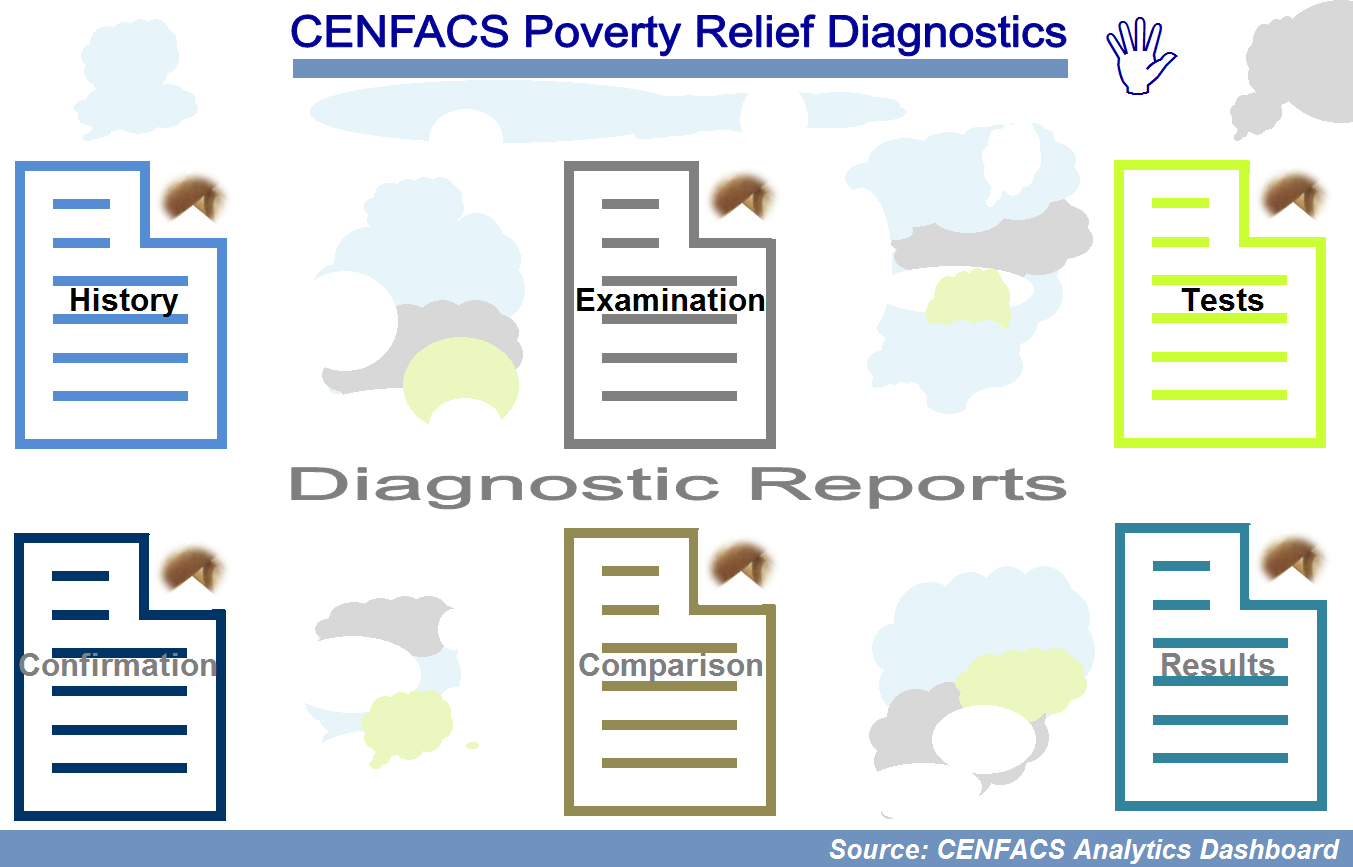 ~ CENFACS Analytics Dashboard: Poverty Relief Diagnostics
We can work together with Africa-based Organisations (ASOs) to diagnose their poverty relief systems to find out if there is any fault or not.  We can carry out diagnostic tests or assessments on their poverty relief systems or models of working with others.
Poverty relief diagnosis is the discovery and identification of poverty relief issues from the examination of symptoms.
CENFACS' Poverty Relief Diagnostics is a platform for data diagnosis to support ASOs to establish sound poverty relief practices and systems.  In our diagnostic process, we take the following steps.  We do the history of the poverty issue, examine it, conduct tests, confirm these tests and compare them to the defined cases. 
To take a trial to our Poverty Relief Diagnosis and or to enquire, please contact CENFACS.
~ All-in-one Impact Feedback: Only One Week to Go!
We only have one week left for our Analytics month.  We are for the third time appealing to you to tell us in your own words and numbers your perceptions, feelings and experiences about the programmes and projects we ran in the last 345 days preceding the beginning of July 2019.
Although we have selected 22 projects for monitoring and evaluation, we are not expecting people to provide feedback on all of them.  People can only feedback on the project(s) and programme(s) they benefited from, they supported, they recommended users to us or interacted within.  Please feel free to say what you experienced.  
Again, thank you for your experiential support!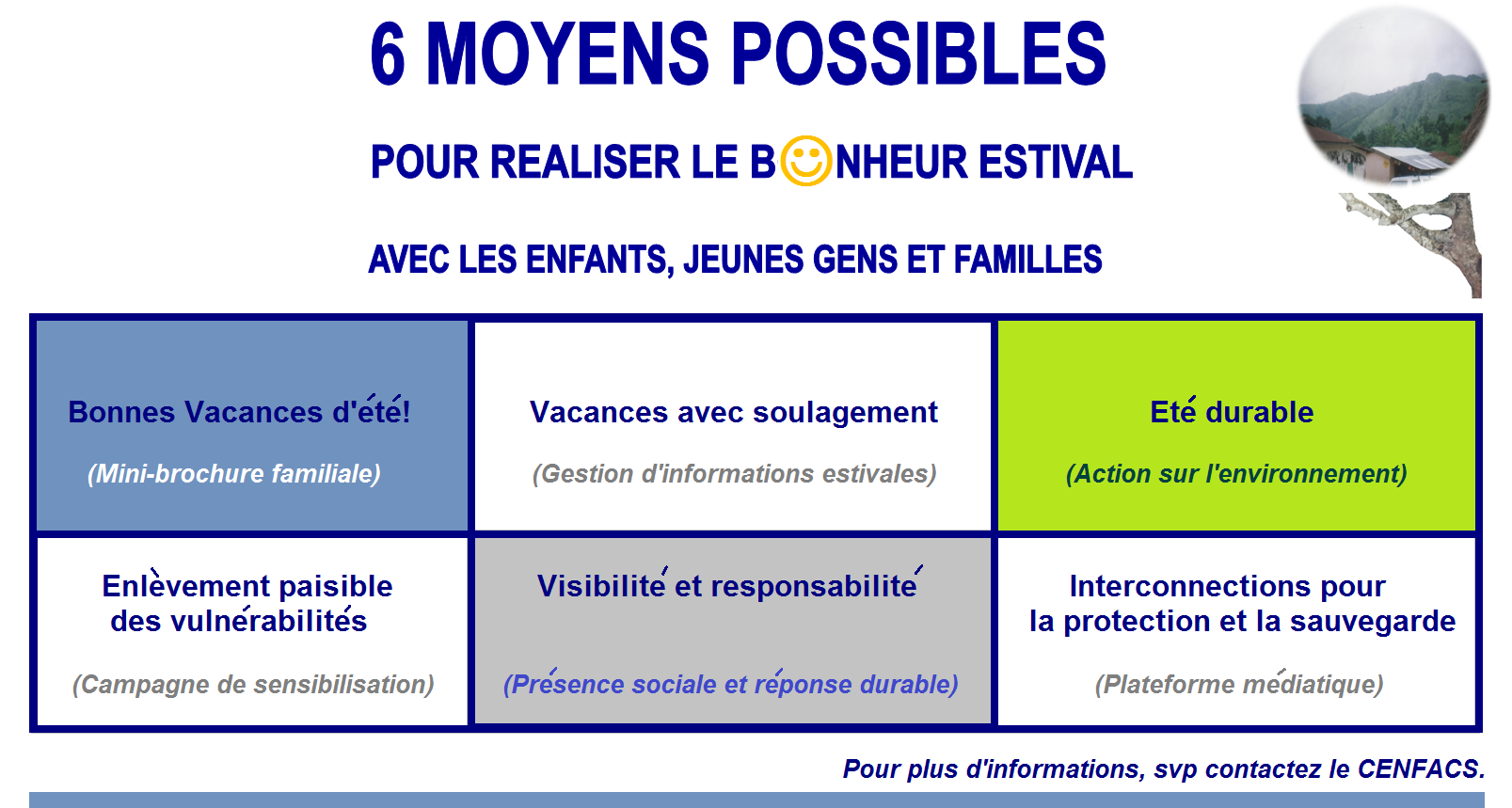 Main Development
• Happiness Projects 2019: Happiness in a Changing Climate
~ Understanding CENFACS' Happiness Projects
This year, we are going to focus on Happiness in a Changing Climate.  In other words, our centre of interest is on what keeps children, young people and families happy (or unhappy) over Summer and beyond in the conditions of climate change, especially its adverse effects.  In order to keep them happy, there is a need to budget and deliver Happiness or Happiness Projects.
CENFACS' Happiness Projects are poverty-relieving responses to bring joyful lives while reducing misery for poor children, young people and families over the summer period and beyond.  The underlying principles or philosophy of these life evaluation projects are in line with the main factors or indicators that define happiness as both a social and personal concept as explained in World Happiness Reports edited by Helliwell, Layard and Sachs (1). 
These editors distinguish the social foundations of happiness from personal happiness, although the two are complementary.  They argue that the science of measuring and understanding subjective well-being and happiness indicates that to be happy, one needs to meet the following six key variables that explain happiness differences among countries which include: income, healthy life expectancy, having someone to count on in times of trouble, generosity, freedom and trust.  
When talking about key determinants of happiness and misery, they again argue that happiness is caused by factors such as income, employment, health and family life.  
CENFACS Happines Projects address the issues encapsulated inside the above variables and factors while keeping in mind first the needs of the CENFACS Community.  This is because we think the way to keep people happier is to reduce as much as possible poverty and misery among them.   Happiness is about ending poverty and misery.   As we have brought in the concepts of changing climate into our happiness projects, happiness is finally about ending poverty and misery amongst children, young people and families in an era of changing climate.
(1) Helliwell, J., Layard, R., & Sachs, J. (2017, 2018 & 2019), World Happiness Reports (2017, 2018 & 2019), New York: Sustainable Development Solutions Network
~ Delivering Happiness with 6 Projects for 3 Beneficiaries
6 Projects to bring Happiness to 3 beneficiaries: Poor Children, Young People and Families
Summer is a holiday season of the year during which most of the schools are closed and families with children and young people in much needed help are forced to stay with them and or use this time of the year to take holiday.  The usual routine of educational/academic establishments with their recreational activities is scaled down.  Yet, these families are in need of seasonal activities and programmes for improving their well-being and happiness. 
There are ways of ensuring that summer stays an interesting and enjoyable period for Multi-dimensionally Poor Children, Young People and Families.  There are things that can be done to make summertime a season of Happiness, Peace, Vulnerability-free, Protection and Sustainability.  There should be projects that can help them to adapt and mitigate the adverse effects of climate change.
The following CENFACS summer 2019 initiatives can help in achieving some joyful and helpful summer plans, goals and outcomes in a changing climate. 
CENFACS Happiness Projects include: 
1) Happy Summer Break 
2) Holiday with Relief 
3) Removing Vulnerability Peacefully 
4) Sustainable Summer 
5) VISIBLENESS and ONUS (Concept projects) 
6) Networking for Protection & Safeguarding. 
The above Happiness Projects may have kept the same names like in the previous Summers, but their contents have to be placed in the context of happiness in a changing climate this year.  Last year, our Summer content was about the Locals since we were in the Local Year at CENFACS.  This year, the content revolves around the changing climate.
These projects are the combination of skills, knowledge, resources, tools, boosters and tasters for poverty relief.  We have considered the effects of climate change all over our Summer 2019 Programme.  The consideration of the effects of climate change all across is what makes Summer 2019 of its kind. 
Previously, this consideration was mainly and only made for Sustainable Summer project.  This year all the six Happiness Projects will have a green and sustainable content.   They will be a climate changing content in them.    
This is done to help improve life evaluation while taking actions to enhance the same life in a changeable climate.  In this way, Summer can be a season of Happiness NOT of Misery for unserved and under-served children, young people and families who are at the same time victims of the adverse effects of climate change. 
They are the victims of adverse effects of climate change because climate change affects the way we dress, eat, house, educate, entertain, care for our health, and above all the way we pass our Summer holiday. 
For details about CENFACS Happiness Projects 2019 and to access them, contact CENFACS.
FOR ONLY £1, YOU CAN SUPPORT CENFACS AND CENFACS' PROJECTS, JUST GO TO http://cenfacs.org.uk/supporting-us/
Thank you for visiting CENFACS website and reading this post.
Thank you as well to those who made or make comments about our weekly posts.
We look forward to receiving your regular visits and continuing support throughout 2019.
With many thanks.