We

<> Promote sustainable development initiatives

<> Relieve sustained poverty and famine

<> Provide overseas aid

<> Care for the environment, conservation, heritage and climate

<> Promote economic and local community development

<> Rebuild and sustain infrastructures and lives

<> Provide contingency support in times of humanitarian crisis,  where there is hardship and capability deprivation.



We achieve our mission by providing the following services
●

 Making grants to organisations
●

Community services such as advocacy, advice, information, care, training, counselling, health education, translation and interpretation.
●

Referrals and signposting
●

Acting as an umbrella or resource body
●

Raising public awareness of our work and organising events
●

Undertaking research and development
●

Acting as a development facilitator
●

Networking and liaising with other community, voluntary sector and African Diaspora, Black and Minority Ethnic (BME), social enterprises, mainstream and Non-Governmental organisations
●

Working in strategic development partnerships with African-based organisations and local African People
Campaigns
The following campaigns are part of CENFACS advocacy service.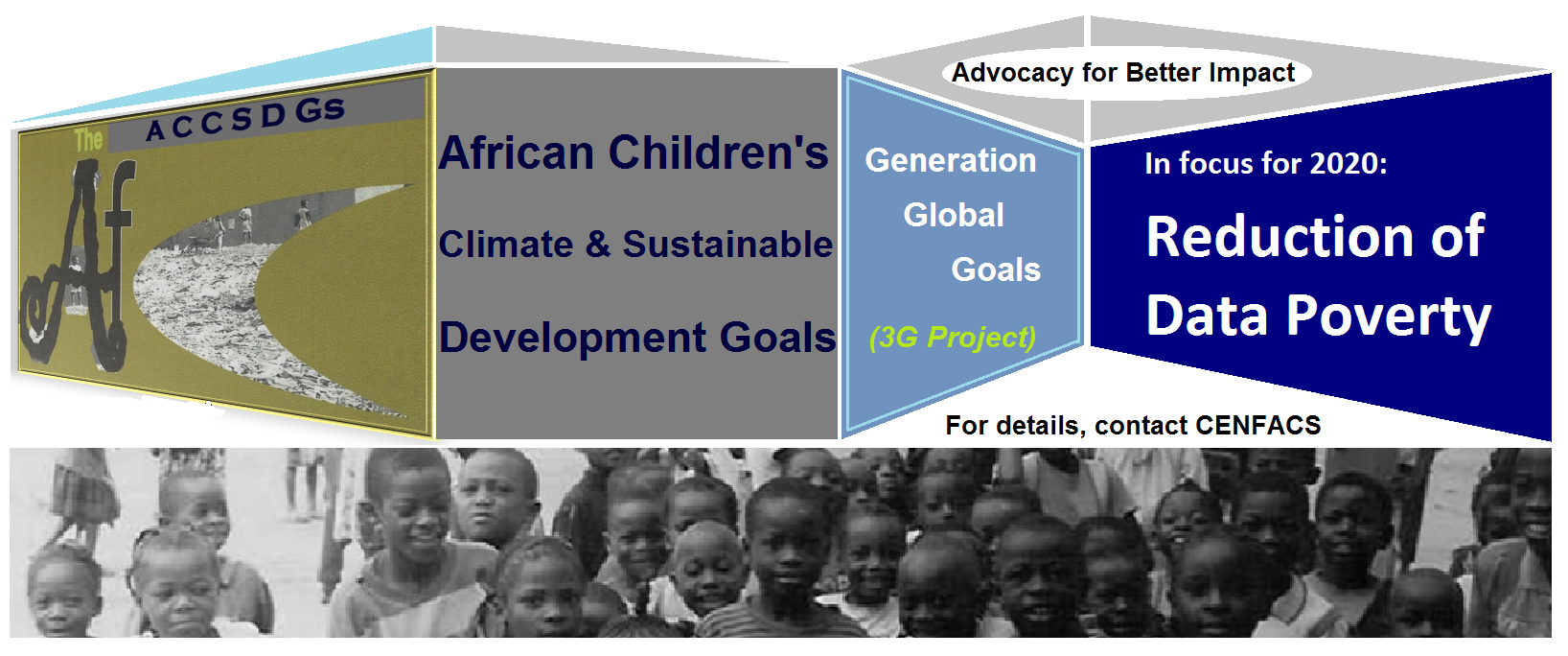 • ACCSDGs (3G)
The African Children Climate and Sustainable Development Goals or 3G project
3G project is the impact level in CENFACS' process of advocating that global goals work for children and not way around.  It is indeed the testing of the gains that global goals claim to achieve and of their impact on the welfare and well-being of children.
ACCSDGs (3G) is advocacy strategy for a better impact.  This advocacy is conducted under the banner of Generation Global Goals (3G), highlighting the different global goals and what they claim to achieve for local children.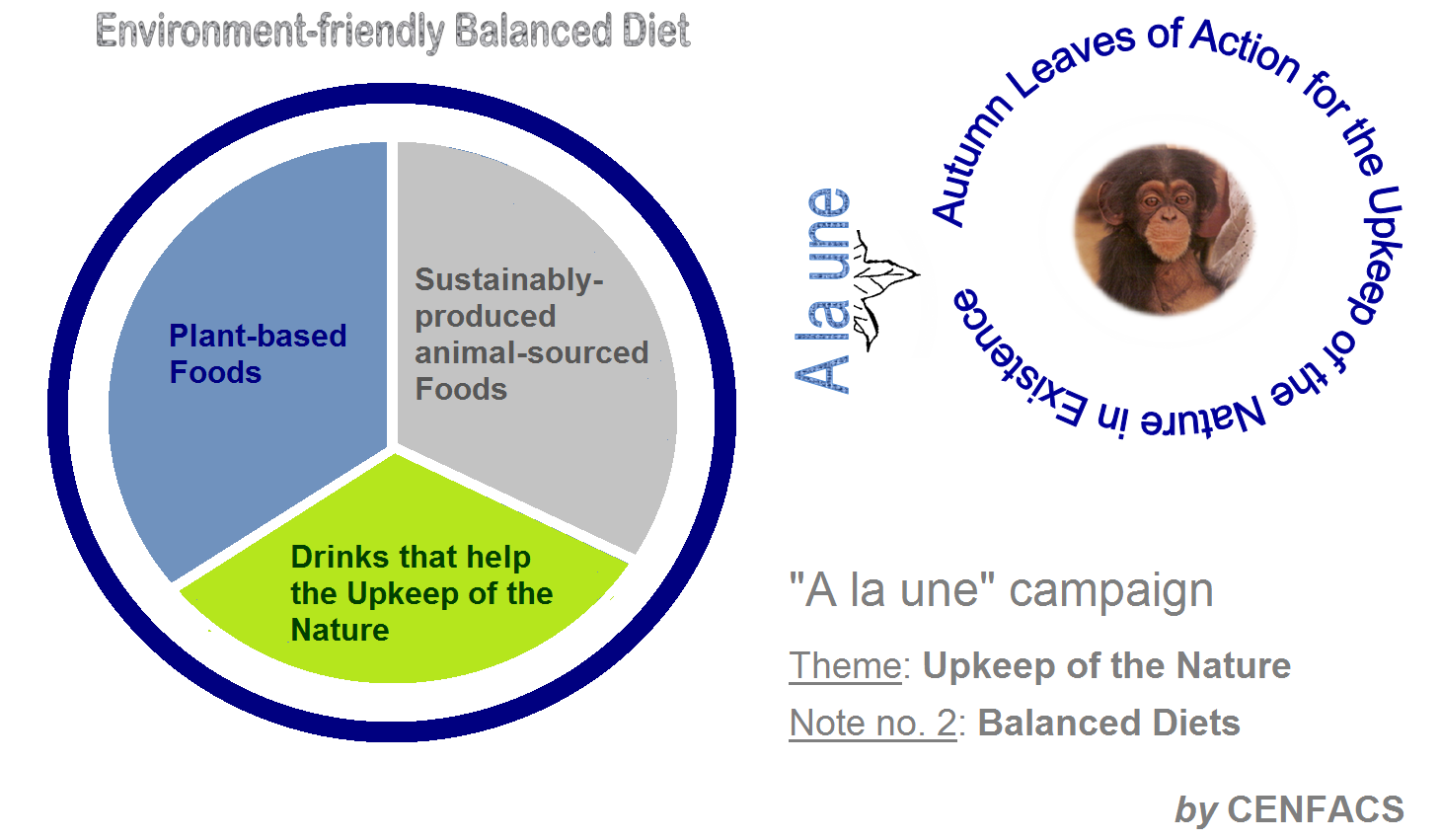 • A la une (Autumn Leaves of Action for the Upkeep of the Nature in Existence)
A la une is an environmental advocacy project aiming at reducing poverty while protecting the physical world and everything in it.  It is about exploring ways of using fewer natural resources to reduce poverty while caring for the plants, animals, mountains, oceans and rivers, stars, seas etc.  In doing so, we can help meet poor people's own poverty-relieving and development goals while working to achieve the global goals for sustainable development and carbon free world. 
The campaign begins every Autumn and lasts until the end of the year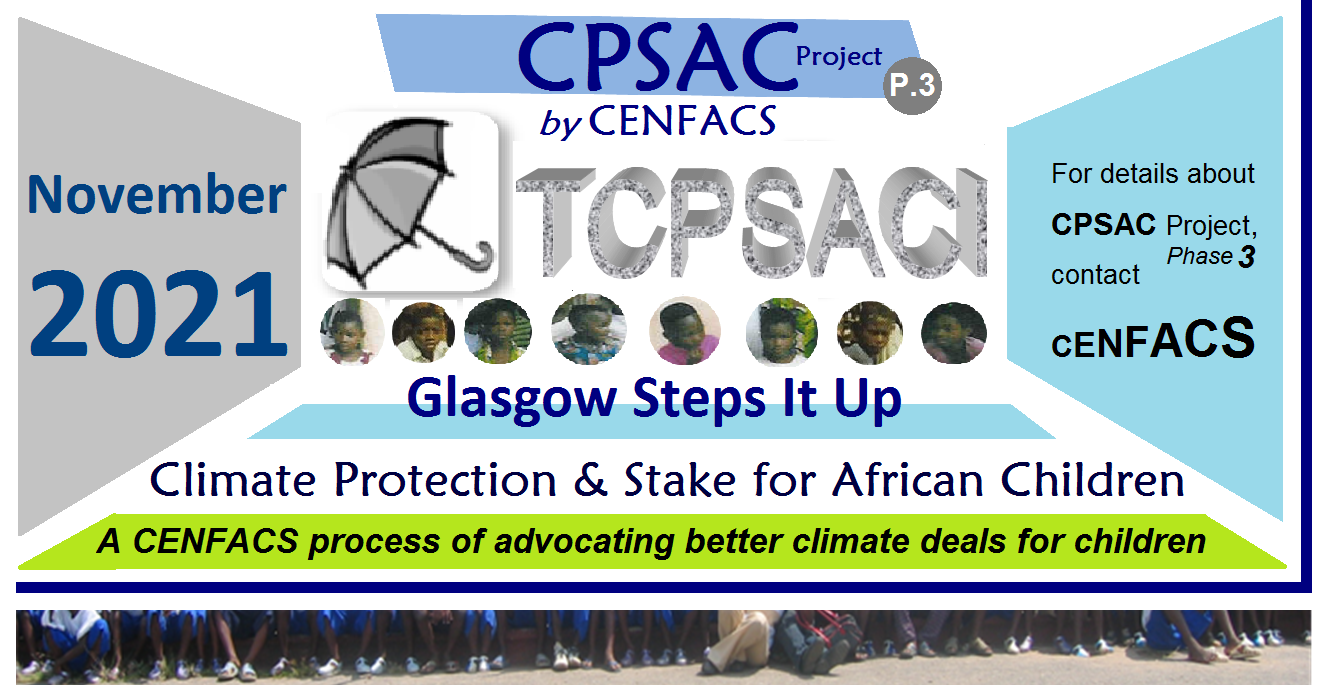 • Climate Protection and Stake for African Children (CPSAC)
Climate Protection and Stake for African Children (CPSAC), which revolves around FOLLOWING THE CLIMATE TALKS, is our rebranded international child protection project helping to further up CENFACS' process of advocating better climate deals for children.  CPSAC is the Phase 2 of CENFACS' Climate Talks Follow-up project, the FACGMDGCS (First African Children Generation of the Millennium Development Goals) being Phase 1. The FACGMDGs has been a child protection advocacy model based on a sample of children who have been affected by the adverse impacts of climate change.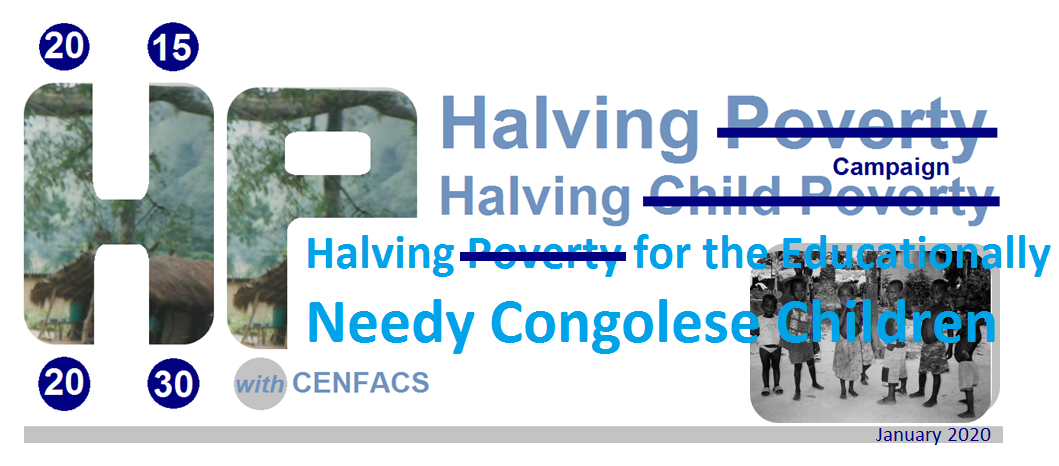 • Halving

Poverty
H

P

campaign is about Halving Child

Poverty

(or Halving the Number of Poor Children).  We advocate for the reduction or better the halving of the number of children who are or become poor because of various reasons.  This campaign is a CENFACS' way of bringing helpful differences to these children by helping in enhancing various dimensions of child rights.  This campaign is too part of CENFACS PEACE, PROTECTION AND SUSTAINABILITY programme,
To support the Halving

Poverty

campaign, please contact CENFACS.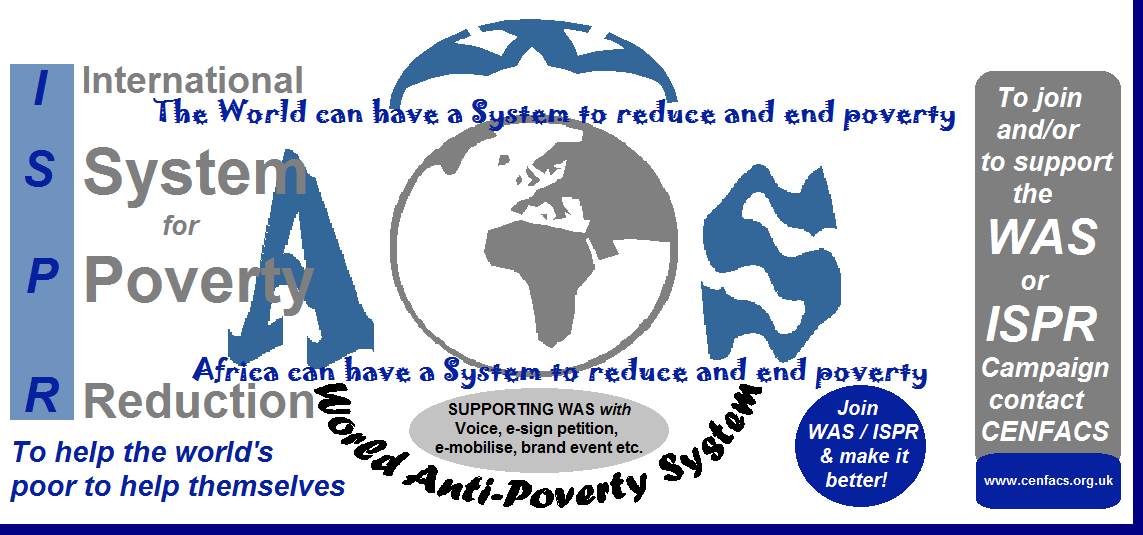 • World Anti-Poverty System (WAS) or International System for Poverty Reduction (ISPR)
World Anti-Poverty System campaign is the continuation of the CENFACS' Argument following the Post-2015 Global Development Agenda and discussions that led to the setting up of the United Nations 2030 Agenda and Sustainable Development Goals.  The CENFACS' Argument was then the international development community should be a bit more ambitious by going beyond and establish an internationally agreed system to reduce and end poverty. 
The case for WAS is still in demand in today's reality of the world.   In the light of what is happening now in the world (regarding for examples trade tariffs and migration flows issues), one can wonder whether or not the current international system, if it exists, is suitable for the poor. 
WAS is run through E-mobilisation Days. 
For further details about WAS and or to support, contact CENFACS.

Current Projects:

1)

 Basic Community Support 

2) Consume To Reduce Poverty

 

3) 

Bridging Financial Information Gap
As part of CENFACS Individual and 2021 Capacity Development Programme and our Community Value Chains domain, we are currently running and working together with users in need of information, advice and guidance through the following three projects: Basic Community Support (BCS), Consume to Reduce Poverty (CRP) and Bridging Financial Information Gap (BFIG).  
The first project is a people's centred development project of General Advice, Information, Help, Guidance, Digital Support and Signposting.  
The second one is  about exploring sustainable ways of meeting buying needs and consumption goals that they may otherwise find difficult to satisfy in order to reduce their condition of poverty and hardship.
The third one is a responsive financial advocacy initiative of support to financially unaware users (Multi-dimensionally Poor Children, Young People and Families) for any economic times (of boom and downturn).  
Getting General Advice, Information, Help, Guidance, Digital Support and Signposting under

BCS project
Dealing with your Basic complaints, Queries & cases handling, Signposting, Liaison & facilitation, Guidance & directions, Customised information and basic advisory leads under

CRP project
Bridging the gap with you through Financial awareness and protection, Customised information on economic situation, Confidence building, psychological support & moral boost, Individual financial impact assessment, Signposting to financial information, counselling, emotion-control and trauma management services, Regular updates about the economic situation (downturn or boom), Money management and saving tips and hints, Basic advice on financial recovery leads and plans under

BFIG project.
To tell us a bit about what you need, please fill in the form below for information about CENFACS' Basic Community Support Service and or Consume to Reduce Poverty project and or Bridging Financial Information Gap.