WHAT EVENT OR PROJECT OR PROGRAMME OR CAMPAIGN THAT NEEDS SUPPORT 
▼
We always have initiatives that need funding and/or other forms of support. 
We would like to appeal to you to  HALVE POVERTY FOR CHILDREN IN BURKINA FASO, MALI AND NIGER.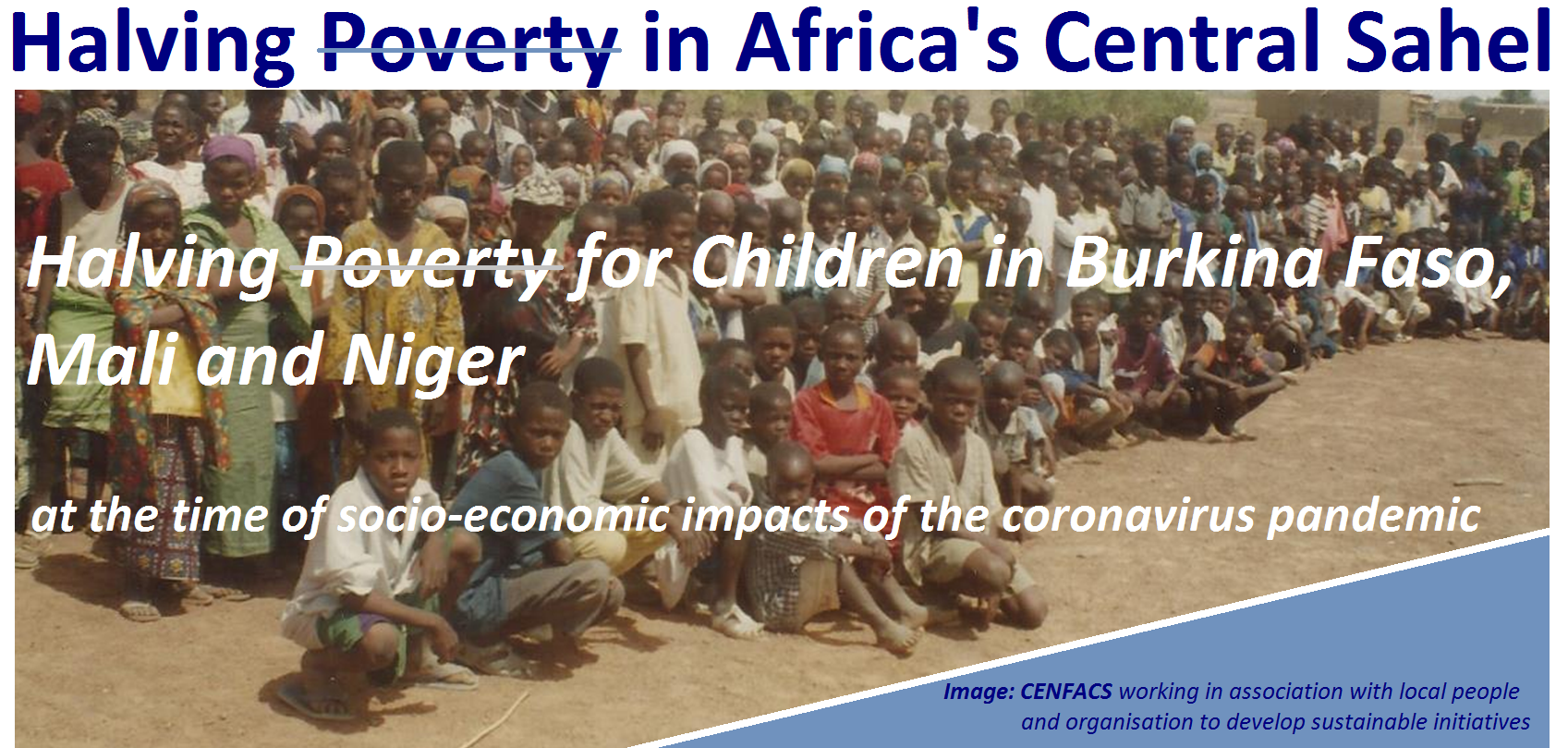 The following summarises data, needs, request, use and outcomes that briefly make the case for halving poverty for and with children in emergency in Central Sahel of Africa.
• Data telling the story of children in emergency situation in Central Sahel of Africa
Various organisations working on this issue have come up with the following data.
The United Nations Children's Fund (1) argue that
"The COVID-19 pandemic has triggered an unprecedented global health, humanitarian, socio-economic and humanitarian crisis, exacerbating the vulnerabilities of affected children… Across the Central Sahel some 13.5 million people (7.2 million children) are in need of humanitarian assistance due to insecurity, forced displacement, lack of access to basic services and the socio-economic impacts of COVID-19" (p. 6)
Taking the same line of argument, the United Nations Population Fund (2) point out that
"The conflict in the Central Sahel region…, has created a protection crisis for women and girls.  Escalating violence and displacement have heightened the risk of gender-based violence and harmful practices and disrupted access to basic services.  Of the 13.4 million people who require humanitarian assistance, 6 million are women of reproductive age and adolescent girls" (p. 10)
Likewise using a statistical approach to the impact of the COVID-19, the Committee for the Coordination of Statistical Activities (3) state that
"Children already left behind will likely bear the brunt of the pandemic's impact, whether through missing out on life-saving vaccinations, increased risk of violence, or interrupted educated" (p. 54)
Furthermore, in its last economic report on Africa the United Nations Economic Commission for Africa (4) predicted in general terms the following:
"The COVID-19 pandemic could push additional 5 to 29 million Africans into extreme poverty and exacerbate existing income inequalities" (p. 21)
Although the figure from the United Nations Economic Commission for Africa is not directly linked to a situation of emergency for children, it nonetheless gives some indication on what may happen if nothing is done to mitigate the COVID-19 pandemic on Africans and African children of Central Sahel who are part of those people who could be in extreme poverty.
We can finally argue that the above numerical and text data provided indicate the life-threatening and destroying conditions in which children are in the Central Sahel (particularly but not exclusively in Burkina Faso, Mali and Niger).
References
(1) United Nations Children's Fund, UNICEF Humanitarian Action for Children 2021 Overview, Dec. 2020
(2) United Nations Population Fund: Humanitarian action 2021 Overview, Dec. 2020 (www.unfpa.org)
(3) Committee for the Coordination of Statistical Activities (UNCTAD): How COVID-19 is changing the world: a statistical perspective, 2020 (https://unstats.un.org/unsd/ccsa/)
(4) United Nations Economic Commission for Africa, Economic Report on Africa 2020: Innovative Finance for Private Sector Development in Africa, Addis Ababa, Ethiopia
• The Needs
There are almost 7 million children in need of emergency support as well as adolescent girls amongst 6 million women of reproductive age who are in protection crisis and at risk of gender-based violence and harmful practices.
Like anywhere in the world every child matters in Central Sahel of Africa where children are looking for an end to life-threatening and destroying conditions they are in due to the insecurity, COVID-19 adverse impacts, extreme natural weather events, armed conflicts, etc.  They need health and economic protection not only to end poverty but also to fulfil their potentials and ambitions like any child in a free world.
• The Asks
CENFACS is asking to those who can to donate whatever they can to help HALVE POVERTY FOR AND WITH THE PROTECTION NEEDY CHILDREN OF AFRICA'S CENTRAL SAHEL.  Any support will be welcome.
Your support will help to save children's life, reduce child poverty and assist early childhood development and fill the gaps in protection funding needs of children in Central Sahel of Africa, specifically in Burkina Faso, Mali and Niger.
• The Uses and Beneficiaries
Your support will help to protect and save children's lives as they are suffering from disruption from access to basic services, civil insecurity, displacement, interruption of their education because of insecurity and socio-economic impacts of COVID-19, etc.
Amongst the beneficiaries, we can count or list the following children in need who are:
√ At risk of losing life to preventable diseases
√ Displaced
√ Impacted by mobility restrictions
√ At risk of violence, exploitation and abuse
√ Experiencing interruption of education because of COVID-19, civil insecurity and natural events
√ Frontline responders to COVID-19
√ Vulnerable living in informal settlements and conflict settings
√ Girls at risk of gender-based violence
√ Excluded from social protection
√ Orphaned as a result of civil conflicts
Etc.
• The Outcomes
One can hope that the following results will be achieved through their giving:
√ Stopping of children's displacement and organising the return to where they come from or belong to
√ Resumption of education for children in a coronavirus-safe environment and or the organisation of distance learning courses with them
√ Improvement in children's physical and mental health conditions
√ Reduction of violence, exploitation and abuse towards children
√ Increase peace, security and economic contribution of these children
√ Decrease or end of child trafficking, labour, or soldier
In brief, one can hope to have children who will be happy, healthy and safe through this initiative.
To enquire and or support CENFACS' Halving Poverty for and with Children in Emergency Situation in Burkina Faso, Mali and Niger, please contact CENFACS.
To donate, gift aid and or support differently, please contact CENFACS. 
You can donate
*over phone
*via email
*through text
*by filling the contact form on this site. 
On receipt of your intent to donate or donation, CENFACS will contact you.  However, should you wish your support to remain anonymous; we will respect your wish.
THIS FUNDRAISING CAMPAIGN will end by 31 March 2021.  
CENFACS will accept any support given during and beyond the duration of this campaign.
Please do not wait to donate as the needs are pressing and urgent now.
We look forward to your support with helpful difference for those children in need in Central Sahel of Africa at this exceptional time of the coronavirus pandemic.
Thank you for your generosity.
How you can further support CENFACS ▼
You can help by
● Sending a one-off voluntary giving
● Sending a yearly contribution to CENFACS
● Providing a legacy or donation
● Sponsoring a particular project, need, cause or programme
● Promoting particular events or publications or even activities
You can as well support with No Direct Cash Donations 
Those who would like to support CENFACS by using other means than directly giving cash, they can consider the following.
Give unwanted goods and items to CENFACS charity e-store (details about this way of supporting are given below)

Sign up for a Gift Aid declaration

Nominate CENFACS for a donation at charity fundraising and donation events

Select CENFACS as your preferred charity for donation from advertising revenue

Choose CENFACS as a donation recipient of some of the profits raised from online shopping
Donate your unwanted and unused points and cashback to CENFACS as your chosen charity from your loyalty shopping rewards or good cause gift cards

Name CENFACS as your favourite deserving cause from click online option "donate cashback to charities"

Donate any unwanted excess points of your loyalty card from apps
The above is just the few examples of helping that one can think of to support CENFACS without they have to directly give cash.
Supporting by Donating Unwanted Goods and Products for CENFACS Charity e-Store 
▼
You can donate unwanted and unneeded light and easily movable goods and products to CENFACS' Charity eStore to support good and deserving causes of poverty reduction. 
After donating products or goods, these will be converted into cash to support good causes or our work.  The cash converted can also be used to support CENFACS' work.  
When thinking of donation, please ensure that your donation does not bear high costs for us to handle, otherwise the impact you want to create through your giving will be reduced or nullified.   
Items to donate include:
Mobile phones, IT accessories, laptops, digital and communication devises, art and design objects, children gadgets and toys, and miscellaneous.
Notes for goods and products donors (Products Acceptance Policy):
We do not take electrical equipment and devises
Items donated need to be functioning, not requiring fixing, repair or testing prior to use
Products given must have environmentally-friendly contents and be sustainable
We do not accept heavy items such as books, metals and a heavy bag of clothing
We do not take items requiring large storage capacity as we are not a profit making organisation
We do not refund or give back the products donated as we expect products givers or donors to act in good faith and in the interest of poverty alleviation
We do not take stolen properties or items in dispute
 We can arrange for collection if you live locally
Help us to convert your unwanted goods or products into cash to help reduce poverty.
To donate or enquire about your products donation, please contact CENFACS.
Thank you for your support!
Choosing the Beneficiaries of your Support
▼
You can choose or indicate
●
The type of beneficiaries of your contribution
●
The project or country where your support has to be allocated
●
To help CENFACS' running costs
●
To leave to CENFACS the choice (freedom) to decide on the best possible use of your support
●
To delegate your responsibility to CENFACS to execute your wishes
Reporting on your support

▼
 
As a result of your giving, you can ask us to send you
●
Either the report or a summary of change that your support has brought to beneficiary people.
●
Either the report on the project or area or even country that you have supported
●
Either the report on CENFACS' works and activities
MAKING A DONATION TO CENFACS IS NOT ONLY ABOUT
THE TRANSFER OF MONEY.  IT IS FIRST AND FOREMOST THE SHARING AND DEVELOPMENT OF KNOWLEDGE AND SKILLS
Executing your wishes to support

▼
●
Through donation in cheques, postal orders, vouchers, online and paper free payments made payable to CENFACS
CENFACS offers straightforward and easy ways for individuals and organisations to help projects and project beneficiaries. Donations can be made directly to CENFACS Fund for Poverty Relief and Development or CENFACS grant making programme or even indirectly to help with CENFACS' running costs in order to deliver its programmes.
Making a donation to CENFACS is not only about the transfer of money. It is first and foremost the sharing and development of knowledge and skills. Through our Development Programmes, we work in strategic partnership with Africa-based organisations through a participative and bottom-up approach to set up and develop sustainable initiatives. Our African project partners initiate projects and CENFACS help them to plan, execute, control and close the project in the most successful way. CENFACS also helps them to develop a viable, accountable way to helping them to help themselves in building their capacity, particularly in the ever changing development landscape as it deems the case now with the 2030 Agenda and Global Goals for Sustainable Development, the new International Climate Change Agreement and the African Union Agenda 2063.
●

Other ways of supporting us include

: Legacies, gifts, sponsorship, premises, web advertising, direct marketing, events, training, digital technologies, public relations and social media (communications).
It is in this way your support can make a world of helpful differences.
Volunteering at CENFACS

▼
<> About CENFACS Volunteering Opportunities
Volunteering at CENFACS is about giving the opportunity to volunteers to acquire direct exposure to CENFACS' work and/or to compliment development-oriented learning with practical experience for those who are planning to take up a career or to further their practice in international development. We review our volunteer opportunities every quarter. To find out and/or discuss what opportunity is available, please contact
All in Development

at CENFACS and read/check our BLOG page every quarter. When contacting us,


●

Either you could let us know the role or kind of work you would like to carry out


●

Or we can explore together areas of work or role which may be suitable for you


●

Or even we could simply tell you what voluntary position is available
<> Applying to become a CENFACS Volunteer
To apply for a voluntary position you need to send us your Curriculum Vitae (plus a covering note/letter) and or to complete the following online form and submit to CENFACS