WHAT EVENT OR PROJECT OR PROGRAMME OR CAMPAIGN THAT NEEDS SUPPORT 
▼
We always have initiatives that need funding and/or other forms of support. 
We are currently appealing to you to help SAVE, REBUILD AND SUSTAIN LIVES FOR THE VICTIMS OF THE CORONAVIRUS PANDEMIC through the following Coronavirus Spring Project.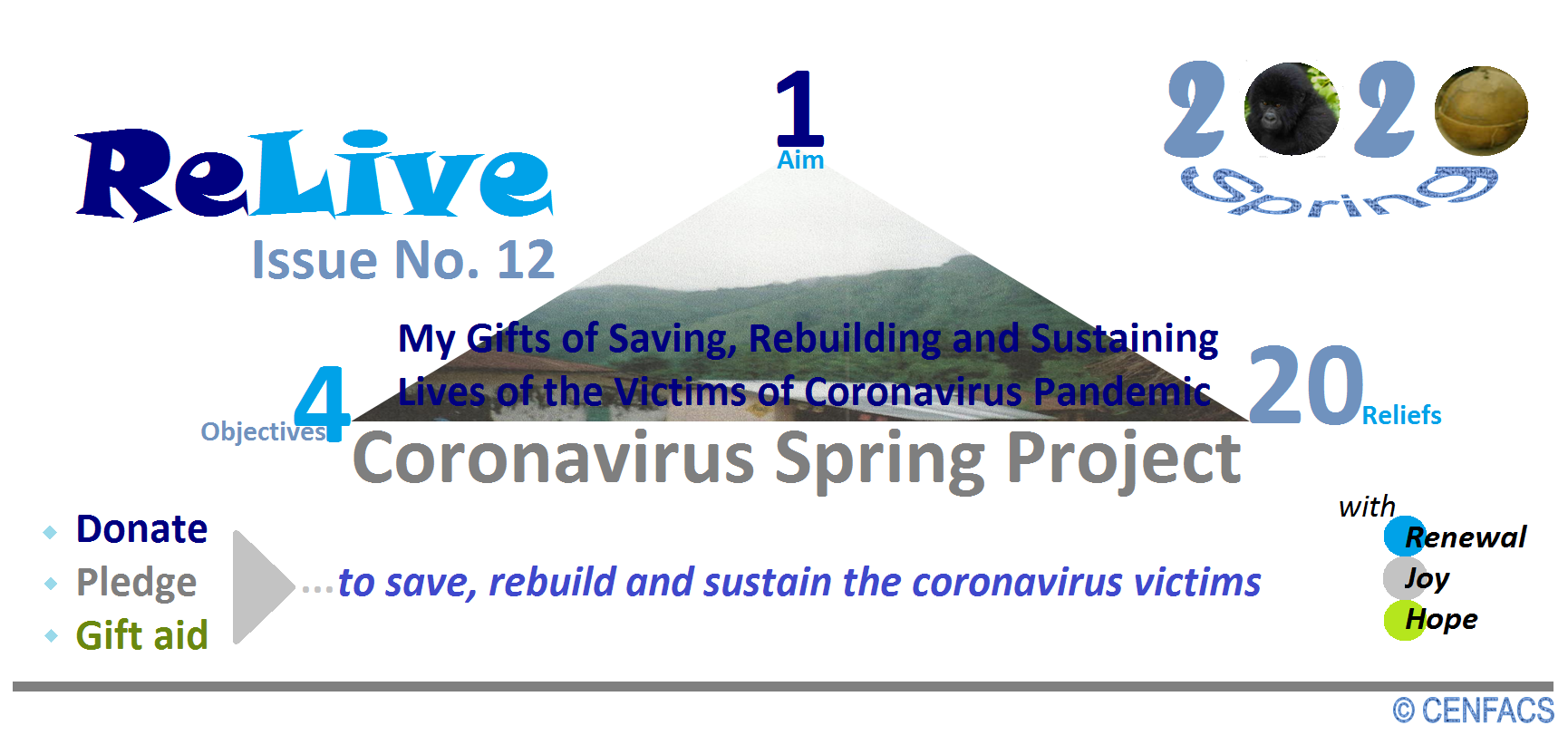 The Coronavirus Spring Project (CSP)
This Spring 2020 is special with the outbreak and crisis of the coronavirus pandemic.  The all world (including Africa) is affected by the fatal and dramatic impacts of coronavirus pandemic.  The local people and areas in Africa in which we work are also affected by these devastative impacts. 
It is pointless to give facts and figures about these impacts as one can always visit the websites of the World Health Organisation (at www.who.org) and of any governments of the world, they will find all the figures, facts and updates about it.
However, what is important RIGHT NOW is our collective response to fight the coronavirus pandemic.  There are already several initiatives in place including funding appeals about this sanitary cause at many levels (national, continental and multilateral agencies).
This current project is about adding value to those works or efforts which have been already undertaken so that the poorest people are not left behind during and after the tragic events of coronavirus pandemic.
Like any project, CSP has been prepared according to project planning and development.  Amongst the elements making its planning and development process, we have included in this presentation three of them, which are: project aim, objectives and benefits.
One (1) Aim, Four (4) Objectives and Twenty (20) Benefits or Reliefs to SAVE, REBUILD and SUSTAIN lives in Africa.
Statement of CSP aim and objectives
CSP Aim
The overall aim of CSP is to reduce sanitary poverty, save, rebuild and sustain lives of the victims of the coronavirus pandemic in Africa by helping them to access life-sustaining sanitary goods and appropriate medical support as well as helping them to apply and cope with the health security measures required to effectively to stop the spread of the coronavirus pandemic until such a time a medicine and a vaccine will be available.
CSP will contribute to the application and coping strategies related to measures such as self-isolation, confinement, human barrier strategy, social distancing, etc. against this deadly virus.  The added value or effort brought by CSP is highly needed in developing places and countries (like of Africa) where healthcare systems are often unprepared or they do not simply have enough resources and logistics to cope with the health crisis of this magnitude.  For these places, every effort counts, however little it may be, to save, rebuild and sustain lives.
CSP Objectives
In order to achieve the above stated aim, the following  four objectives have been identified:
√ To help emergency action plans put by local government and health organisations to save, rebuild and sustain lives
√ To help alleviate the symptoms of Covid-19 until such time a medicine and vaccine are found
√ To help people implement anti-coronavirus stringent social and health security measures required to flatten the curve of Covid-19 and to delay the spread of the virus and to contain it until a real cure is found
√ To help isolate cases and remove infected people from the communities in the interest of everybody and the world.
 These objectives are SMART (specific, measurable, achievable, realistic and time-based).
CSP benefits
The main direct beneficiaries of this project will be the vulnerable people to the coronavirus pandemic, which are: the elderly, sick, young children and pregnant women.   The rest of the population and the rest of the world will indirectly benefit since this virus does not have any specific passport it can travel anywhere in the world.
There are twenty benefits that we have been identified, if anyone donates or pledges or even makes a gift aid declaration, which are:
Buy soap to wash hands (1)
Run awareness campaign against the virus disease (2)
Purchase hand sanitiser gel (3)
Provide tissues and gloves for cleaning (4)
Supply cleaning and hygiene products (such as bleach and other disinfectants) (5)
Help people cope with self-quarantine and community lockdown (6)
Distribute free face masks to protect vulnerable people from airborne viruses (7)
Support people to cope with social distancing of at least 1.8 metres (8)
Educate local people about the coronavirus pandemic and its effects (9)
Provide access to electronic devices to keep social interaction (10)
Enable online and distance learning as well as educational development for educational establishments that have been closed because of the coronavirus pandemic (11)
Support those have lost their earning capacity (jobs and self-employment) (12)
Provide basic medical supplies like paracetamol tablets (13)
Help people access basic food staple and non-perishable foods like cassava, rice, banana, etc. to survive during the coronavirus crisis (14)
Help people access energy like water, fuel and light (15)
Support medics to cope with the heavy pressure to work during this critical time (16)
Contribute to the conversion of buildings and places to increase the capacity to welcome coronavirus patients (17)
Assist traumatised people and communities due to coronavirus effects (18)
Provide financial advice and counselling service to indebted people because of the coronavirus (19)
Support local organisations in enabling them to better support their communities against the coronavirus (20)
You can DONATE, PLEDGE AND MAKE A GIFT AID DECLARATION for any amount as a way of supporting the CSP.
To enquire and or support CENFACS' the Coronavirus Spring Project, please contact CENFACS.   Thank you!
THIS SPRING CAMPAIGN ENDS on 21 Juin 2020.  
However, CENFACS will accept any support given beyond the duration of this campaign.
Please do not wait until 21 Juin 2020 to donate as the needs are pressing now.
We look forward to you, to your help for the Coronavirus victims in Africa with helpful difference.  
Thank you again for your generosity.
How you can further support CENFACS ▼
You can help by
●

Sending a one-off voluntary giving


●

Sending a yearly contribution to CENFACS


●

Providing a legacy or donation


●

Sponsoring a particular project, need, cause or programme


●

Promoting particular events or publications or even activities
You can as well support with No Direct Cash Donations 
Those who would like to support CENFACS by using other means than directly giving cash, they can consider the following.
Give unwanted goods and items to CENFACS charity e-store (details about this way of supporting are given below)

Sign up for a Gift Aid declaration

Nominate CENFACS for a donation at charity fundraising and donation events

Select CENFACS as your preferred charity for donation from advertising revenue

Choose CENFACS as a donation recipient of some of the profits raised from online shopping
Donate your unwanted and unused points and cashback to CENFACS as your chosen charity from your loyalty shopping rewards or good cause gift cards

Name CENFACS as your favourite deserving cause from click online option "donate cashback to charities"

Donate any unwanted excess points of your loyalty card from apps
The above is just the few examples of helping that one can think of to support CENFACS without they have to directly give cash.
Supporting by Donating Unwanted Goods and Products for CENFACS Charity e-Store 
▼
You can donate unwanted and unneeded light and easily movable goods and products to CENFACS' Charity eStore to support good and deserving causes of poverty reduction. 
After donating products or goods, these will be converted into cash to support good causes or our work.  The cash converted can also be used to support CENFACS' work.  
When thinking of donation, please ensure that your donation does not bear high costs for us to handle, otherwise the impact you want to create through your giving will be reduced or nullified.   
Items to donate include:
Mobile phones, IT accessories, laptops, digital and communication devises, art and design objects, children gadgets and toys, and miscellaneous.
Notes for goods and products donors (Products Acceptance Policy):
We do not take electrical equipment and devises
Items donated need to be functioning, not requiring fixing, repair or testing prior to use
Products given must have environmentally-friendly contents and be sustainable
We do not accept heavy items such as books, metals and a heavy bag of clothing
We do not take items requiring large storage capacity as we are not a profit making organisation
We do not refund or give back the products donated as we expect products givers or donors to act in good faith and in the interest of poverty alleviation
We do not take stolen properties or items in dispute
 We can arrange for collection if you live locally
Help us to convert your unwanted goods or products into cash to help reduce poverty.
To donate or enquire about your products donation, please contact CENFACS.
Thank you for your support!
Choosing the Beneficiaries of your Support
▼
You can choose or indicate
●
The type of beneficiaries of your contribution
●
The project or country where your support has to be allocated
●
To help CENFACS' running costs
●
To leave to CENFACS the choice (freedom) to decide on the best possible use of your support
●
To delegate your responsibility to CENFACS to execute your wishes
Reporting on your support

▼
 
As a result of your giving, you can ask us to send you
●
Either the report or a summary of change that your support has brought to beneficiary people.
●
Either the report on the project or area or even country that you have supported
●
Either the report on CENFACS' works and activities
MAKING A DONATION TO CENFACS IS NOT ONLY ABOUT
THE TRANSFER OF MONEY.  IT IS FIRST AND FOREMOST THE SHARING AND DEVELOPMENT OF KNOWLEDGE AND SKILLS
Executing your wishes to support

▼
●
Through donation in cheques, postal orders, vouchers, online and paper free payments made payable to CENFACS
CENFACS offers straightforward and easy ways for individuals and organisations to help projects and project beneficiaries. Donations can be made directly to CENFACS Fund for Poverty Relief and Development or CENFACS grant making programme or even indirectly to help with CENFACS' running costs in order to deliver its programmes.
Making a donation to CENFACS is not only about the transfer of money. It is first and foremost the sharing and development of knowledge and skills. Through our Development Programmes, we work in strategic partnership with Africa-based organisations through a participative and bottom-up approach to set up and develop sustainable initiatives. Our African project partners initiate projects and CENFACS help them to plan, execute, control and close the project in the most successful way. CENFACS also helps them to develop a viable, accountable way to helping them to help themselves in building their capacity, particularly in the ever changing development landscape as it deems the case now with the 2030 Agenda and Global Goals for Sustainable Development, the new International Climate Change Agreement and the African Union Agenda 2063.
●

Other ways of supporting us include

: Legacies, gifts, sponsorship, premises, web advertising, direct marketing, events, training, digital technologies, public relations and social media (communications).
It is in this way your support can make a world of helpful differences.
Volunteering at CENFACS

▼
<> About CENFACS Volunteering Opportunities
Volunteering at CENFACS is about giving the opportunity to volunteers to acquire direct exposure to CENFACS' work and/or to compliment development-oriented learning with practical experience for those who are planning to take up a career or to further their practice in international development. We review our volunteer opportunities every quarter. To find out and/or discuss what opportunity is available, please contact
All in Development

at CENFACS and read/check our BLOG page every quarter. When contacting us,


●

Either you could let us know the role or kind of work you would like to carry out


●

Or we can explore together areas of work or role which may be suitable for you


●

Or even we could simply tell you what voluntary position is available
<> Applying to become a CENFACS Volunteer
To apply for a voluntary position you need to send us your Curriculum Vitae (plus a covering note/letter) and or to complete the following online form and submit to CENFACS