WHAT EVENT OR PROJECT OR PROGRAMME OR CAMPAIGN THAT NEEDS SUPPORT 
▼
We always have initiatives that need funding and/or other forms of support. 
At the moment, we are currently appealing for support for the project 16.4 or CENFACS Sedecim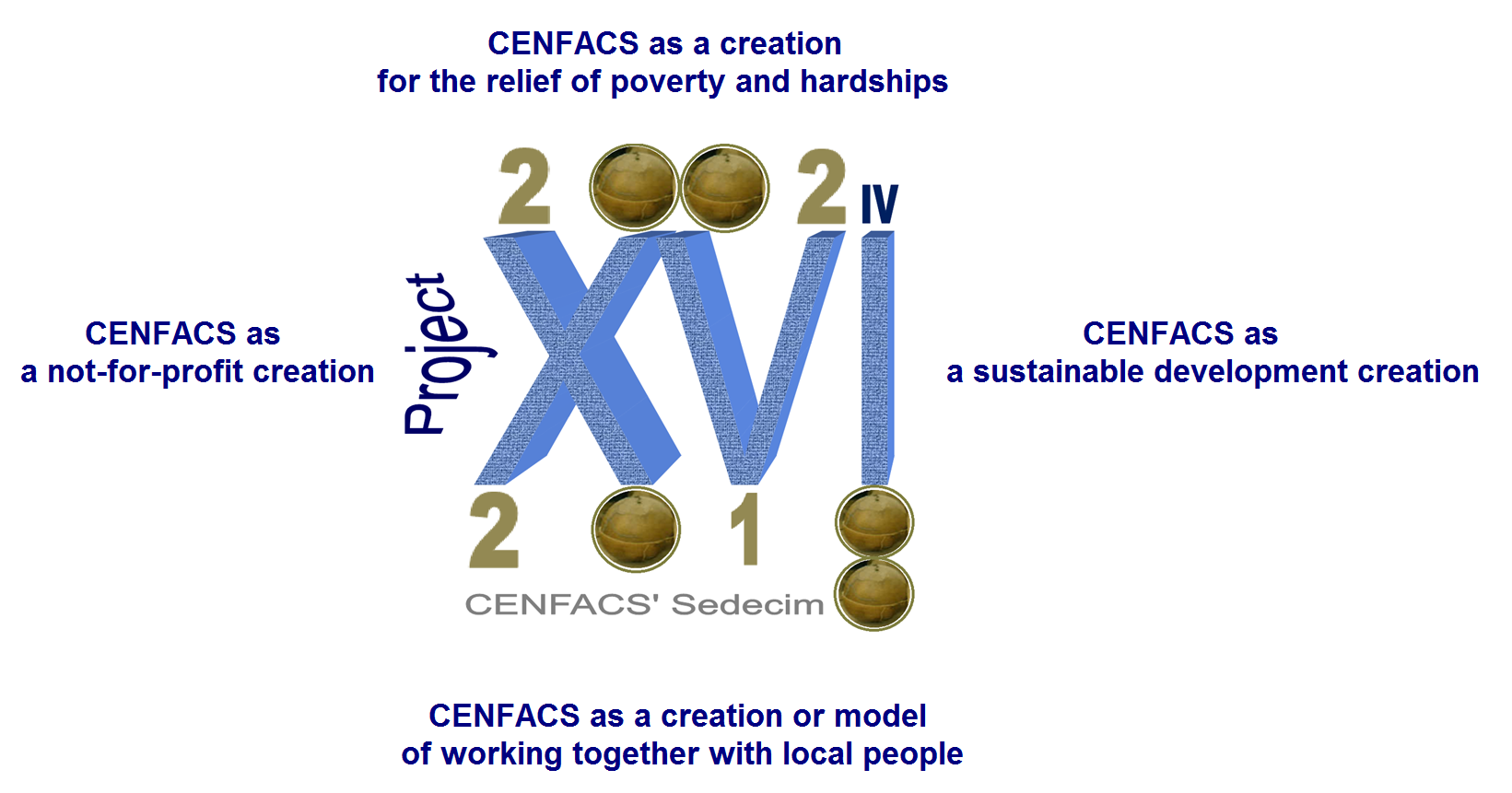 SEDECIM Donation, Gift and Legacy
This fundraising campaign is a fundraising version of the project 16.4 (CENFACS' Sedecim) which we celebrated last week.  The current campaign is to give opportunity to those who wanted to donate but could not do it or simply those who want to give a donation or gift or legacy for the 16 years of CENFACS.  
• Making a sedecim donation
You can support the project 16.4 or CENFACS SEDECIM and or the work of the Centre for Francophone African Development against poverty and hardships.
To support or make a donation, just contact CENFACS.
• Gift aiding your sedecim donation
You can gift aid your donation to support the work of the Centre for Francophone African Development against poverty and hardships.
To gift aid it, just contact CENFACS.
• Leaving a sedecim legacy
You can leave a legacy to support the work of the Centre for Francophone African Development against poverty and hardships.
To leave a legacy, contact CENFACS.
For further details about CENFACS' work and the project 16.4 (CENFACS Sedecim), contact CENFACS.
THIS START-OF-SUMMER CAMPAIGN ENDS 27 JUNE 2018.   However, CENFACS will accept any support given beyond this deadline.
Thank you!
SUPPORTING BY DONATING UNWANTED GOODS AND PRODUCTS FOR CENFACS CHARITY eSTORE 
▼
You can donate unwanted and unneeded light and easily movable goods and products to CENFACS' Charity eStore to support good and deserving causes of poverty reduction. 
After donating products or goods, these will be converted into cash to support good causes or our work.  The cash converted can also be used to support CENFACS' work.  
When thinking of donation, please ensure that your donation does not bear high costs for us to handle, otherwise the impact you want to create through your giving will be reduced or nullified.   
Items to donate include:
Mobile phones, IT accessories, laptops, digital and communication devises, art and design objects, children gadgets and toys, and miscellaneous.
Notes for goods and products donors (Products Acceptance Policy):
We do not take electrical equipment and devises
Items donated need to be functioning, not requiring fixing, repair or testing prior to use
Products given must have environmentally-friendly contents and be sustainable
We do not accept heavy items such as books, metals and a heavy bag of clothing
We do not take items requiring large storage capacity as we are not a profit making organisation
We do not refund or give back the products donated as we expect products givers or donors to act in good faith and in the interest of poverty alleviation
We do not take stolen properties or items in dispute
We can arrange for collection if you live locally
Help us to convert your unwanted goods or products into cash to help reduce poverty.
To donate or enquiry about your products donation, please contact CENFACS.
Thank you for your support!
How you can further support CENFACS ▼
You can help by




●

Sending a one-off voluntary giving


●

Sending a yearly contribution to CENFACS


●

Providing a legacy or donation


●

Sponsoring a particular project, need, cause or programme


●

Promoting particular events or publications or even activities
You can choose or indicate
●
The type of beneficiaries of your contribution
●
The project or country where your support has to be allocated
●
To help CENFACS' running costs
●
To leave to CENFACS the choice (freedom) to decide on the best possible use of your support
●
To delegate your responsibility to CENFACS to execute your wishes
Reporting on your support

▼
 
As a result of your giving, you can ask us to send you
●
Either the report or a summary of change that your support has brought to beneficiary people.
●
Either the report on the project or area or even country that you have supported
●
Either the report on CENFACS' works and activities
MAKING A DONATION TO CENFACS IS NOT ONLY ABOUT
THE TRANSFER OF MONEY.  IT IS FIRST AND FOREMOST THE SHARING AND DEVELOPMENT OF KNOWLEDGE AND SKILLS
 

Executing your wishes to support

▼
●

Through donation in cheques, postal orders, vouchers, online and paper free payments made payable to CENFACS


CENFACS offers straightforward and easy ways for individuals and organisations to help projects and project beneficiaries. Donations can be made directly to CENFACS Fund for Poverty Relief and Development or CENFACS grant making programme or even indirectly to help with CENFACS' running costs in order to deliver its programmes. Making a donation to CENFACS is not only about the transfer of money. It is first and foremost the sharing and development of knowledge and skills. Through our Development Programmes, we work in strategic partnership with Africa-based organisations through a participative and bottom-up approach to set up and develop sustainable initiatives. Our African project partners initiate projects and CENFACS help them to plan, execute, control and close the project in the most successful way. CENFACS also helps them to develop a viable, accountable way to helping them to help themselves in building their capacity, particularly in the ever changing development landscape as it deems the case now with the 2030 Agenda and Global Goals for Sustainable Development, the new International Climate Change Agreement and the African Union Agenda 2063.
●

Other ways of supporting us include

: Legacies, gifts, sponsorship, premises, web advertising, direct marketing, events, training, digital technologies, public relations and social media (communications).
It is in this way your support can make a world of helpful differences.
Volunteering at CENFACS

▼
<> About CENFACS Volunteering Opportunities
Volunteering at CENFACS is about giving the opportunity to volunteers to acquire direct exposure to CENFACS' work and/or to compliment development-oriented learning with practical experience for those who are planning to take up a career or to further their practice in international development. We review our volunteer opportunities every quarter. To find out and/or discuss what opportunity is available, please contact
All in Development

at CENFACS and read/check our BLOG page every quarter. When contacting us,


●

Either you could let us know the role or kind of work you would like to carry out


●

Or we can explore together areas of work or role which may be suitable for you


●

Or even we could simply tell you what voluntary position is available
<> Applying to become a CENFACS Volunteer
To apply for a voluntary position you need to send us your cv (plus a covering note/letter) and or to complete the following online form and submit to CENFACS