WHAT EVENT OR PROJECT OR PROGRAMME OR CAMPAIGN THAT NEEDS SUPPORT 
▼
We always have initiatives that need funding and/or other forms of support. 
At the moment, we are currently appealing for support for the following Spring 2018 project: ReLive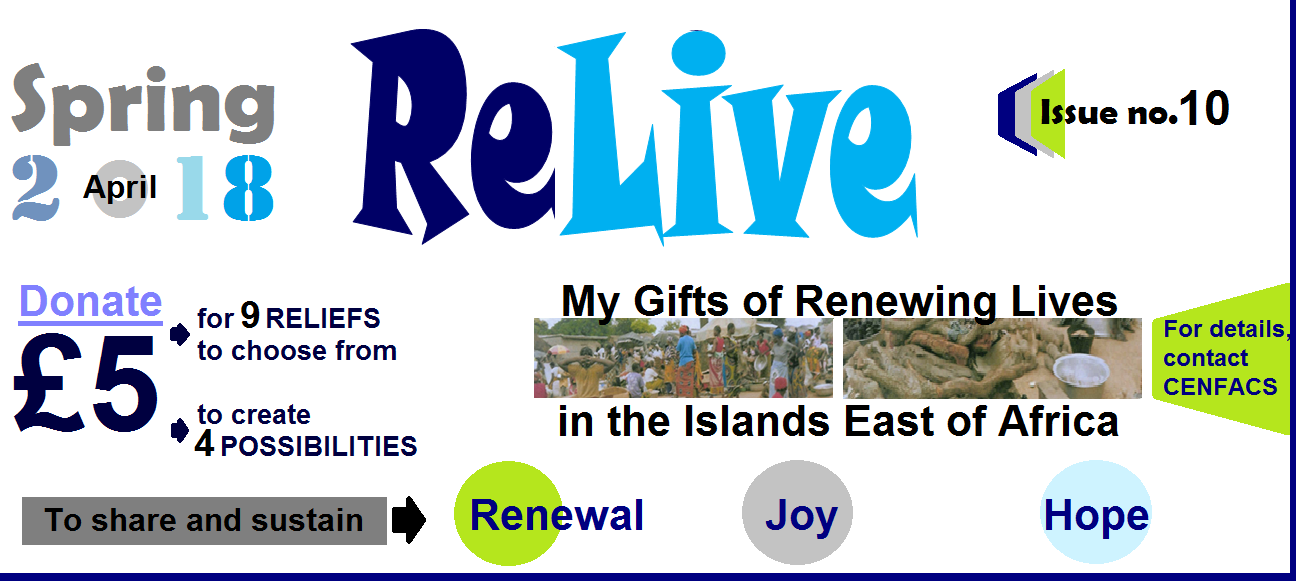 SUPPORT THE PEOPLES OF THE THREE ISLANDS EAST OF AFRICA (Madagascar, Mauritius and Comoros) through 14 GIFTS OF RENEWING LIVES OR LIFE-RENEWING PROJECTS (LRPS)
ReLive is one of CENFACS' Spring campaigns and a bridge between CENFACS' Winter Lights and Spring Relief seasons. 
The 10th issue of CENFACS' Annual Spring Appeal for Renewing Life (ReLive) focuses on advocating for support for the peoples of the three selected Islands East of Africa, which include Madagascar, Mauritius and Comoros.
These three islands – which are located in the Indian Ocean – share geographic proximity, natural resources, historical and demographic relationships, and common environmental and development issues.
They share the same environmental and developmental problems just as they have each its own problems. 
This appeal is about the problems they face rather than about what they share and do not share.  Before appealing, let us briefly raise awareness of the environmental problems they each face.
• Awareness raising about environmental problems faced by the three islands 
Madagascar: The Island with Loss of Endemic Biodiversity
Madagascar is among the world's poorest countries and is listed by the United Nations as one of the world's 49 least developed nations.
Madagascar experiences a number of problems which are: poor health care, periodic famine, sexual tourism involving children with reports of human trafficking.  Much of this country has suffered severe environmental damage.  The island's rainforests have been cut down while valuable topsoil important for growing crops disappears due to erosion
Their poverty costs the country and the world through the loss of the island's endemic biodiversity. 
Comoros: The Island with High Rate of Deforestation
The Comoros face grave environmental problems which threaten biodiversity and pose serious risks for the Comorian people whose livelihoods depend for the large part on natural resources and ecosystem services. 
The lack of forest protection measures meant that deforestation increased apace, reaching the fourth highest rate in the world in the 1990s according to Food Agriculture Organisation statistics.  This trend continues to date.
Forest loss and environmental degradation also pose grave threats to the Comorian population and their livelihoods. The forest provides vital ecosystem services and natural resources.
Mauritius: The Island of Endangered Species
The main environmental problems facing Mauritius are water pollution, soil erosion, and preservation of its wildlife. 
According to United Nations reports, Mauritius ranked third in the world on the list of countries with the most endangered species in the mid-1990s. In 2002, there were 44 extinct species.  This trend is far from stopping.
As of the mid-1990s, 3 of Mauritius' mammal species and 10 of its bird species were endangered, as well as 269 of its plant species.
Endangered species on the island of Mauritius include the pink pigeon, Round Island boa and keel-scaled boa, green sea turtle, and Mauritius varieties of kestrel, parakeet, and fody.
• ReLive Advocacy
As ReLive advocacy is designed to advocate help for the peoples and communities whose lives and livelihoods have been destroyed to rebuild themselves, our appeal will try to achieve this for the selected three Islands East of Africa in this Spring 2018. 
Although this appeal is a seasonal appeal related to Spring, it is also a consolidated one following our Winter Light appeal on Central Africa and a joint one as we added the Islands East of Africa. 
Because of the similarities of environmental events and humanitarian issues in the Indian Ocean region, we are launching a unified appeal to cater for the three islands.  We are doing it through what we call Gifts of Renewing Lives or Life-Renewing Projects.
• Gifts of Renewing Lives or Life-Renewing Projects 
Life-Renewing projects (LRPs) are poverty relief and Spring like gifts designed to help people to set free from multi-dimensional deprivations and hardships so that they can start up again, renew and rebuild their lives with hope.  LRPs, which are the fundraising version of the ReLive Appeal, are part of CENFACS' African Rebuilding and Sustaining Infrastructures and Lives Programme. 
Spring Gifts of Renewing Lives are about bringing renewal, joy and hope to needy people.  These Spring 2018 Gifts will be about trying to achieve the same benefits for the peoples of the three Islands East of Africa.
What are these ways or gifts of renewing lives?
In total, our Spring Relief campaign is providing to potential supporters 14 WAYS (GIFTS) of Rebuilding Lives in the three Islands East of Africa.
These 14 (6 for Madagascar; 5 for Comoros and 3 for Mauritius) ways or areas of life rebuilding are as follows.
⇒ Six ways of rebuilding lives in Madagascar that include: 1/ Protections against deforestation and habitat destruction 2/ Reduction of erosion and soil degradation 3/ Reduction of illegal hunting and over-collection of wild species 4/ Combat agricultural fires 6/ End human trafficking especially sexual tourism of children
⇒ Five ways of changing lives in Comoros that comprise: 1/ Protection of endangered animals 2/ Forest protection: stopping the cut of trees to raise cash 3/ Protect local Comorian farmers and crops  4/ Reduce the loss of ecosystem services and environmental degradation 5/ Protect terrestrial and marine biodiversity
⇒ Three of improving lives in Mauritius that consist of: 1/ Stop the extinction of species like mammal, bird and plant species 2/ Alter water pollution and soil erosion 3/ Preservation of the wildlife caused by deforestation.
For this renewal to happen, support is needed towards LRPs.
• Your support towards LRPs
£5 FOR 9 RELIEFS TO CHOOSE FROM
What your support towards LRP can achieve
No one should undermine the impact of giving, however small it may be, on the people and places in greatest needs and desires for relief.
For example, if you donate £5 for rebuilding food capacity, this amount can help the people of the Islands East of Africa to grow and buy millet and sorghum as basic staples or foods to fight drought and famine, disease and death.
Likewise, if you give £5 towards sustainable energy, this can assist them to access sustainable fuel for cooking meal and heating their homes, just as it can help to reduce the cutting down of trees and soil erosion.
We can be even more specific by breaking down the amount of £5 with the following case. 
For example, if you donate £5 for rebuilding life in the Islands East of Africa there are 9 reliefs or ways of using this amount from which you can choose:
£5 for reducing water pollution, this hand out can help the people of the Islands East of Africa to access clean water for farming and breeding vulnerable animals (such as goats, sheep, cows etc.)
£5 for rebuilding food security, this present can help purchase seeds and tools for farming as well as enhance agricultural inputs for crop farming
£5 for developing trade capacity, this amount can help support lost and declining terms of trade of livestock
£5 for the affected and displaced people, this donation can assist them in rebuilding the lives after the destruction from the tropical cyclone
£5 as cash donation for staple foods stock, this gift can support local people (Comorian, Malagasy and Mauritian) to replenish emergency stocks to avoid food insecurity and crisis as well as recover food sustenance
£5 for malnutrition related diseases; this financial backing can contribute to the reduction of malnutrition and pneumonic plague in Madagascar
£5 for covering income poverty, this aid can relieve poor families from cutting trees to raise cash to send a child to school or secure a shelter for the family   
£5 for re-constructing health conditions, this benefaction can help to vaccinate animals and provide veterinary support to animals
£5 as cash relief for livestock maintenance, this donation can help protect and trait livestock herds
£5 THAT CREATE A WORLD OF 4 POSSIBILITIES (3 POSSIBILITIES FOR £1 EACH plus 1 POSSIBILITY FOR £2) for the DEPRIVED Lives in the ISLANDS EAST OF AFRICA
If you donate £5 towards animal protection and healthcare, your gift can help as follows:
£1 to buy drugs to vaccinate needy animals as weak animals may not well re-produce and produce food
£2  to partly cover training expenses for animal health and welfare worker and to pay for a meal for a local veterinary volunteer and gain 7 hours a day volunteering time for animal protection and healthcare
£1 to acquire basic protection equipment to protect and trait livestock herds
£1 to buy pipes to provide clean water and sanitation for livestock
THIS SPRING CAMPAIGN ENDS 20 APRIL 2018.   However, CENFACS will accept any support given beyond the duration of the ReLive campaign.
To donate or give a gift for LRPs , please contact CENFACS and CENFACS will get back you.  Thank you!
SUPPORTING BY DONATING UNWANTED GOODS AND PRODUCTS FOR CENFACS CHARITY eSTORE 
▼
You can donate unwanted and unneeded light and easily movable goods and products to CENFACS' Charity eStore to support good and deserving causes of poverty reduction. 
After donating products or goods, these will be converted into cash to support good causes or our work.  The cash converted can also be used to support CENFACS' work.  
When thinking of donation, please ensure that your donation does not bear high costs for us to handle, otherwise the impact you want to create through your giving will be reduced or nullified.   
Items to donate include:
Mobile phones, IT accessories, laptops, digital and communication devises, art and design objects, children gadgets and toys, and miscellaneous.
Notes for goods and products donors (Products Acceptance Policy):
We do not take electrical equipment and devises
Items donated need to be functioning, not requiring fixing, repair or testing prior to use
Products given must have environmentally-friendly contents and be sustainable
We do not accept heavy items such as books, metals and a heavy bag of clothing
We do not take items requiring large storage capacity as we are not a profit making organisation
We do not refund or give back the products donated as we expect products givers or donors to act in good faith and in the interest of poverty alleviation
We do not take stolen properties or items in dispute
We can arrange for collection if you live locally
Help us to convert your unwanted goods or products into cash to help reduce poverty.
To donate or enquiry about your products donation, please contact CENFACS.
Thank you for your support!
How you can further support CENFACS ▼
You can help by




●

Sending a one-off voluntary giving


●

Sending a yearly contribution to CENFACS


●

Providing a legacy or donation


●

Sponsoring a particular project, need, cause or programme


●

Promoting particular events or publications or even activities
You can choose or indicate
●
The type of beneficiaries of your contribution
●
The project or country where your support has to be allocated
●
To help CENFACS' running costs
●
To leave to CENFACS the choice (freedom) to decide on the best possible use of your support
●
To delegate your responsibility to CENFACS to execute your wishes
Reporting on your support

▼
 
As a result of your giving, you can ask us to send you
●
Either the report or a summary of change that your support has brought to beneficiary people.
●
Either the report on the project or area or even country that you have supported
●
Either the report on CENFACS' works and activities
MAKING A DONATION TO CENFACS IS NOT ONLY ABOUT
THE TRANSFER OF MONEY.  IT IS FIRST AND FOREMOST THE SHARING AND DEVELOPMENT OF KNOWLEDGE AND SKILLS
 

Executing your wishes to support

▼
●

Through donation in cheques, postal orders, vouchers, online and paper free payments made payable to CENFACS


CENFACS offers straightforward and easy ways for individuals and organisations to help projects and project beneficiaries. Donations can be made directly to CENFACS Fund for Poverty Relief and Development or CENFACS grant making programme or even indirectly to help with CENFACS' running costs in order to deliver its programmes. Making a donation to CENFACS is not only about the transfer of money. It is first and foremost the sharing and development of knowledge and skills. Through our Development Programmes, we work in strategic partnership with Africa-based organisations through a participative and bottom-up approach to set up and develop sustainable initiatives. Our African project partners initiate projects and CENFACS help them to plan, execute, control and close the project in the most successful way. CENFACS also helps them to develop a viable, accountable way to helping them to help themselves in building their capacity, particularly in the ever changing development landscape as it deems the case now with the 2030 Agenda and Global Goals for Sustainable Development, the new International Climate Change Agreement and the African Union Agenda 2063.
●

Other ways of supporting us include

: Legacies, gifts, sponsorship, premises, web advertising, direct marketing, events, training, digital technologies, public relations and social media (communications).
It is in this way your support can make a world of helpful differences.
Volunteering at CENFACS

▼
<> About CENFACS Volunteering Opportunities
Volunteering at CENFACS is about giving the opportunity to volunteers to acquire direct exposure to CENFACS' work and/or to compliment development-oriented learning with practical experience for those who are planning to take up a career or to further their practice in international development. We review our volunteer opportunities every quarter. To find out and/or discuss what opportunity is available, please contact
All in Development

at CENFACS and read/check our BLOG page every quarter. When contacting us,


●

Either you could let us know the role or kind of work you would like to carry out


●

Or we can explore together areas of work or role which may be suitable for you


●

Or even we could simply tell you what voluntary position is available
<> Applying to become a CENFACS Volunteer
To apply for a voluntary position you need to send us your cv (plus a covering note/letter) and or to complete the following online form and submit to CENFACS