Welcome to CENFACS' Online Diary!
11 July 2018
Post No. 47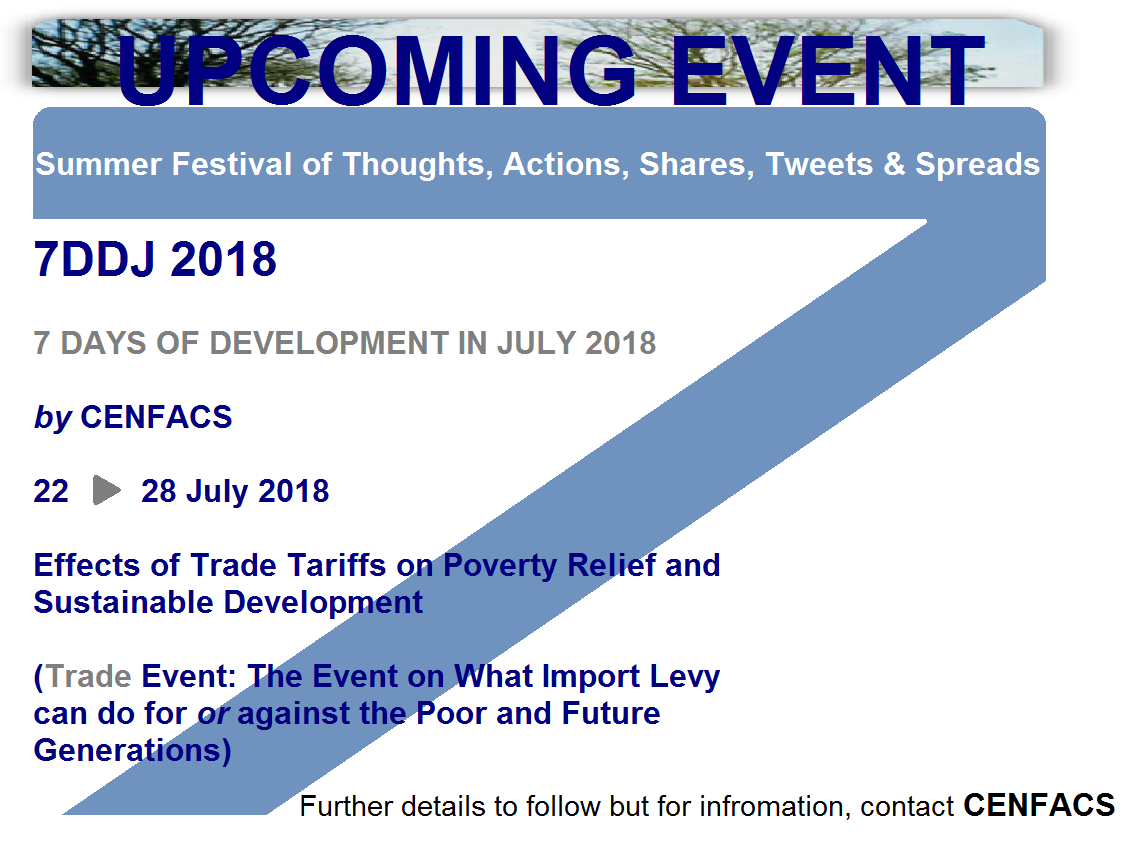 The Week's Contents
• Analytics month continues…
• Seven Days of Development in July Festival
• Africa-based Organisations and Wealth Accounts…
… and much more!
Key Messages from the Week's Contents
Project Supporters' and Users' Experiences
Our Analytics month continues with this week's Say by Project Supporters and Users telling us the experiences they have had with the programmes and projects we selected to conduct monitoring, evaluation and review.  We are asking Project Supporters, Users and other stakeholders to provide their views using their own words.  This Say is about how they perceived and interacted with the products and services we presented to them over the last 345 days.
The selected programmes and projects for the purpose of monitoring, evaluation and review are listed in the main development section of this communication. 
Wealth Accounts as Tools for Poverty Relief and Sustainable Development
This week is also the start of a new engagement with Africa-based Organisations; engagement aiming at tracking wealth (i.e. infrastructure, forests, minerals and human capital) with the possibility of using them to reduce poverty.  We will be trying to work with them to explore the extent to which they can use Wealth Accounts as Tools for Poverty Relief and Sustainable Development.  
For more on wealth accounts as tools for relief and sustainable development, contact CENFACS.
Seven-Days-of-Development-in-July Festival
Our preparation for this Summer Festival (Seven Days of Development in July Festival) is still in progress.  They will be seven themes for thoughts for seven days as usual, one theme per day, starting from the 22nd to the 28th of July 2018.  These are the days of thoughts and actions against poverty.  We shall soon publish the daily themes and supporting information regarding this Festival of Thoughts and Actions on the Effects of Trade Tariffs on Poverty Relief and Sustainable Development.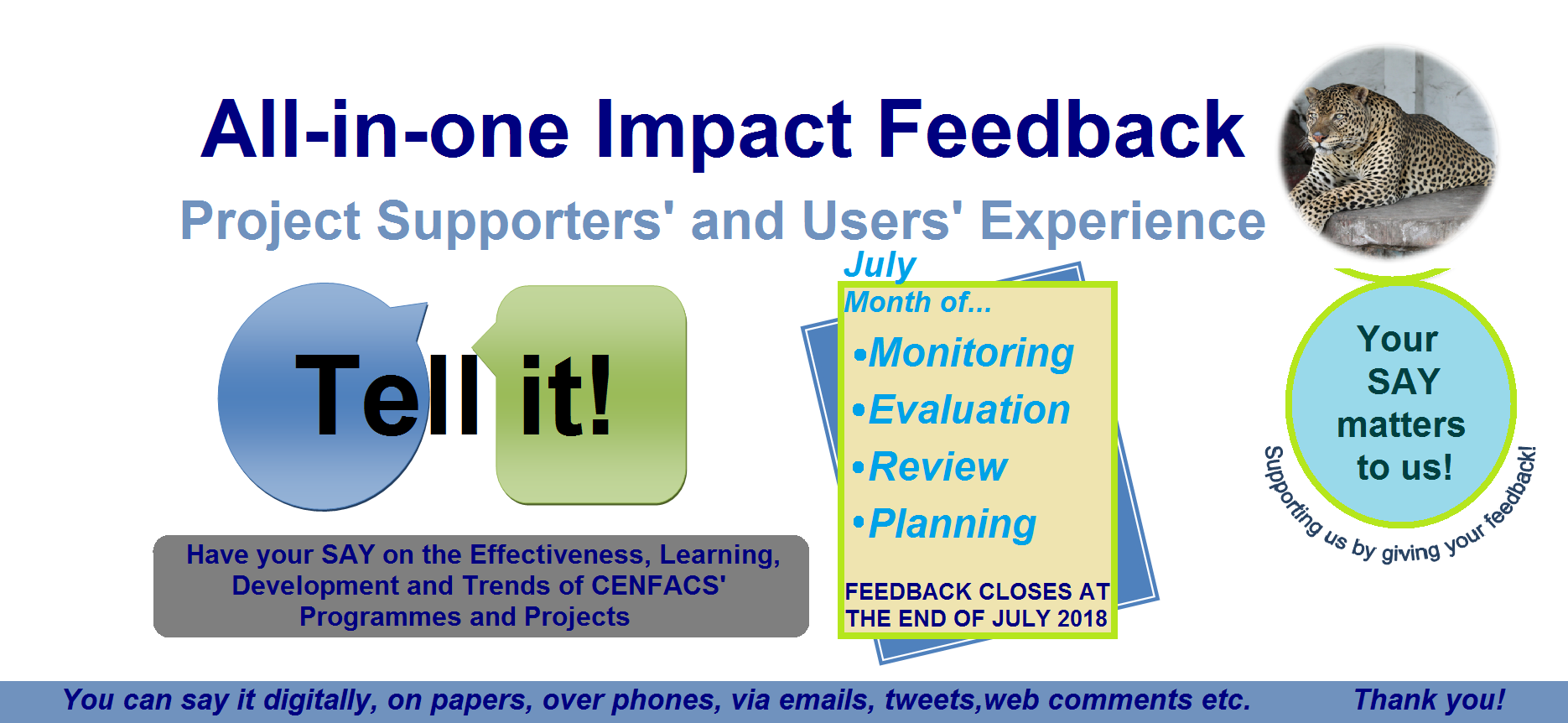 Main Developments of the Week's Contents 
All-in-One Impact Feedback: July Monitoring and Evaluation
Tell it in your own words!
This exercise is meant to enable Supporters and Users (you might be one of them) to share with us and others the outcomes and learning experiences resulting from the use/application of the projects we have chosen from our Programmes for feedback purpose. 
Please seize this opportunity to provide your own lines of thought for improvement, adjustment and development by sharing with us and others the outcomes and/or experiences resulting from the communications we have had with you and or your use/application or participation/support concerning the programmes and projects below. 
We would like to know how effective and efficient did you find in these programmes and projects, and what lessons, experiences did you learn and development for the future of our poverty relief work in coming years.
We would very much appreciate if you could provide us a feedback (via e-mail, text, phone, web comments or reviews etc.) in your own words regarding the way in which the named programmes and projects below have affected you and/or the people you recommended to use them. 
Remember, we can only help reduce poverty and do the changes we all want if you tell us what you think.
Please consider our request for feedback and for your report. 
8 X 2 (EIGHT SELECTED PROGRAMMES AND TWO SELECTED PROJECTS FOR EACH PROGRAMME: In total 16 Projects to feedback)
We have selected the following programmes and projects for feedback, 8 Programmes and 2 projects in each programme for your SAY:
1/ Selected projects under African Integrated Sustainable Development programme
♦ Autumn 2017 Appeal to Support Projects for Needy People and Organisations
♦ Summer Humanitarian Relief Appeal to Support Needy Children, Young People and Families in Africa
2/ Selected projects under Peace, Protection and Sustainability programme
♦ Climate Protection and Stake for African Children
♦ African Children and Sustainable Development Goals: Generation Global Goals (3G) project
3/ Selected projects under African Rebuilding and Sustaining Infrastructures and Lives programme
♦ Light Projects: Lighting a Blaze of Hope for the Victims of Conflicts in the African Central Republic and Region (CARRA Appeal), for the Conflict and Flood Victims in the Democratic Republic of Congo (DRC Appeal)
♦ Rebuilding Africa: Restoring Lives in the African Islands of South-East
4/ Selected projects under Poverty-Environment programme
♦ Save Animals project with the Big Cats Campaign
♦ A la Une (Autumn Leaves of Action to Upkeep the Nature in Existence) Campaign  
5/ Selected projects under Individual Capacity Building and Development programme
♦ Basic Community Support (Advice-giving Service)
♦ June Month of Environmental Sustainable Creative Initiatives: Creating and Innovating for the Transitional Economy
6/ Selected projects under the Twenty-tens Poverty Reduction Programme – Revised Version (2017 – 2019)
♦ World Anti-poverty System
♦ All-year-round projects
7/ Selected projects under the New Media and Digital programmes
♦ Digital and Social Media Campaign: The Role of Mobile Phone for Poverty Relief and Sustainable Development
♦ CENFACS' Online Store
8/ Selected projects under P-REI Transitional Capacity Building and Development Programme: Support Infrastructures, Develop Capacities and Create Impacts
♦ Project MISATU (Project M): Making Impactful Support to Africa Together with Users
♦ TRIANCONTADI Project (or Project 32 or The Simple Road to a Post-Regional Economic Integration Thriving Development World project): Together for Renewal of Infrastructures in Africa to Create Opportunities and Needed Transformations for Alternative Development Intergenerational
Thank you for considering our request of feedback and for your support.
Details and summaries of the above selected programmes and projects are available from CENFACS for request. 
This feedback is due by the end of July 2018.
Thank you for visiting CENFACS website and reading this post.
Thank you as well to those who made comments about our weekly posts.
We look forward to receiving your regular visits and continuing support during 2018.
With many thanks