Welcome to CENFACS' Online Diary!
16 May 2018
Post No. 39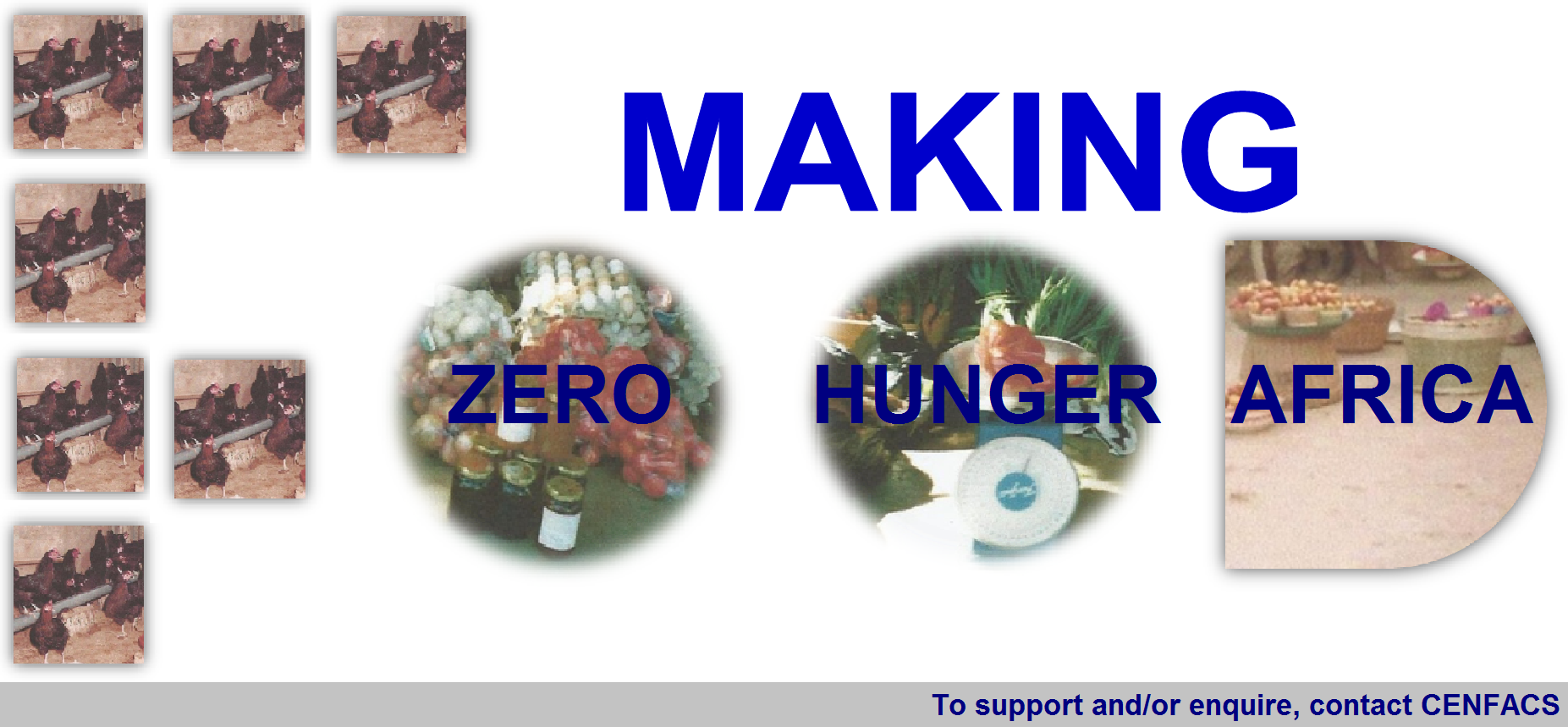 The Week's Contents
• All in Development Stories project
• The BIG CATS campaign
• Making Zero Hunger Africa
   … and much more!
Key Highlights of the Week's Contents
The top story of the week's work at CENFACS is All in Development Stories project which continues to occupy this month of May our development calendar.  Stories of Poverty Relief and Sustainable Development are the ones dominating our storytelling agenda this year. 
Stories of poverty relief are accounts that bring to light the experiences and conditions of life of those who have little or no money and few or no material possessions, and how they strategically managed to cope and survive in difficult conditions. 
Tales of sustainable development are those experiences that meet the needs of the present without compromising the ability of future generations to meet their own needs.  In other words, these are the records related to environmental, social and economic sustainability.  
A part from volunteers and interns, other development supporters can contribute.  There are many ways in which people can engage with May Stories.  Engagement can be via twitter, text/phone, e-mail and paper-based post.
Those who have these kinds of stories to tell, share and donate to CENFACS, they are welcome to do so.
Tell and share your story of change for change by communicating the impact you make!
Sedecim Year: 16.4 Project
The reminder of the week is the coming Sedecim Year or 16.4 Project, which will underline the 16 years of CENFACS in working with local people to develop sustainable initiatives; years to be remembered in 4 days.  This project comes at the right time as we are in CENFACS' Year of Local People – the Local Year Campaign.  It will be undertaken next June.  Details of this project will be released in due course.
For progress report about this project, contact CENFACS.
The lead content of our Rebuilding Lives programme this week continues to be the BIG CATS campaign.  As part of this campaign, we are working on the United Nations Sustainable Development Goal 15, which is Life on Land.  Goal 15 is about sustainably manage forests, combat desertification, halt and reverse land degradation, halt biodiversity loss.
So, the BIG CATS Campaign continues this week through Sustainable Development Goal 15 (G15), particularly by dealing with the following three areas of interest making G15 targets:
∗ Protection and prevention of the extinction of threatened species (e.g. the BIG CATS)
∗ Action to end poaching and trafficking of protected species (e.g. the BIG CATS)
∗ Action to address both demand and supply of illegal wildlife products deriving from these species (e.g. the BIG CATS)
To support the BIG CATS campaign and or for further information, go to http://cenfacs.org.uk/supporting-us/
Although our trending topic of this month remains Poverty Relief and Development Stories, we are as well MAKING ZERO HUNGER AFRICA (MZHA).  MZHA takes our fight against poverty to the next stage, from poverty intolerance to taking bold steps and implementing concrete actions showing that we do not only tolerate poverty but we are trying to do something to reduce and end it.  It is about making the fabric of an Africa without or with a very tiny level of poverty. 
Further details about MZHA are given below.  However, if you want to find out more, please contact CENFACS.  
Main Development of the Week's Contents –
Making Zero Hunger Africa
We seasonally adjusted our Spring Relief programme compared to the initial plan we made as the Rebuilding Africa campaign started in March 2018.  We did this adjustment through Rebuilding the Victims of Environmental Disasters and Destructive Wars in Democratic Republic of Congo and Central African Republic as well as with Islands East Africa (Madagascar, Mauritius and Comoros). 
These victims (and other food deprived people in Africa) have many types of need to meet.  One of them is food to tackle famine.  This is why we are working on Making Zero Hunger Africa (MZHA).  MZHA takes stock of the theme of Rebuilding Africa with Zero Tolerance Hunger (ZHT) which we treated at this time round last year. 
What is ZHT?
ZHT was about raising awareness about sustainable food to highlight the role of sustainability as far as the fight against poverty linked to poor food consumption is concerned.  Sustainable food took forward Zero Hunger Goal of the United Nations Sustainable Development Goals and Targets while echoing the food month of celebration across London and other parts of the world. 
Zero Hunger Goal (Goal 2) is about ending hunger, achieving food security and improved nutrition, and promoting sustainable agriculture. 
The aim of ZHT was then to raise awareness of sustainable food consumption and production in order to end hunger and malnutrition amongst those who are extremely food deprived through safe, nutritious and sufficient foods.  The ZHT complemented CENFACS Rebuilding Africa in 2017, whose the focus was on Hungry Lives. 
For further details about ZHT, contact CENFACS.
This year we are Making Zero Hunger Africa.
MZHA is a building block from ZHT as it goes further in stepping up our efforts to help reduce poverty linked to the lack of food, undernourishment and malnutrition.
MZHA takes seriously the Hunger problem and its consequences just as ZHT did.
MZHA links us to the global campaign to Build Zero Hunger Generation or World.  As such, we shall come back on this in October to build on this initiative and echo the world's celebration of Food Day.
In meantime, we can Make Zero Hunger Africa through the following actions.
∗ Support of small-scale African food producers
Examples of food producers who can contribute to MZHA and who need support are: family farmers, pastoralists, fishers, small food traders etc.
∗ Actions to support the food industry in Africa
Actions to support the food industry to support the extremely food deprived could include the following: promotion of sustainable agricultural practices, supporting small scale farmers, investing in agricultural infrastructure and green technologies, improving agricultural activities etc
∗ Meeting people's nutritional needs
E.g. Adolescent girls, pregnant and lactating women, older persons
Actions for sustainable food production systems in Africa
~ Help maintain ecosystems
~ Strengthen capacity for adaptation to and mitigation regarding climate change, extreme weather, drought, flooding and other disasters
~ Improve land and soil quality
~ Develop protective and preventive strategies to protect food production and stock in times of wars, armed conflicts and natural disasters; as well as during the periods of peace.
CENFACS hope you will consider this appeal for the BIG CATS in Africa.   
Thank you for visiting CENFACS website and reading this post.
Thank you as well to those who made comments about our weekly posts.
We look forward to receiving your regular visits and continuing support during 2018.
With many thanks