Welcome to CENFACS' online diary!
20 December 2017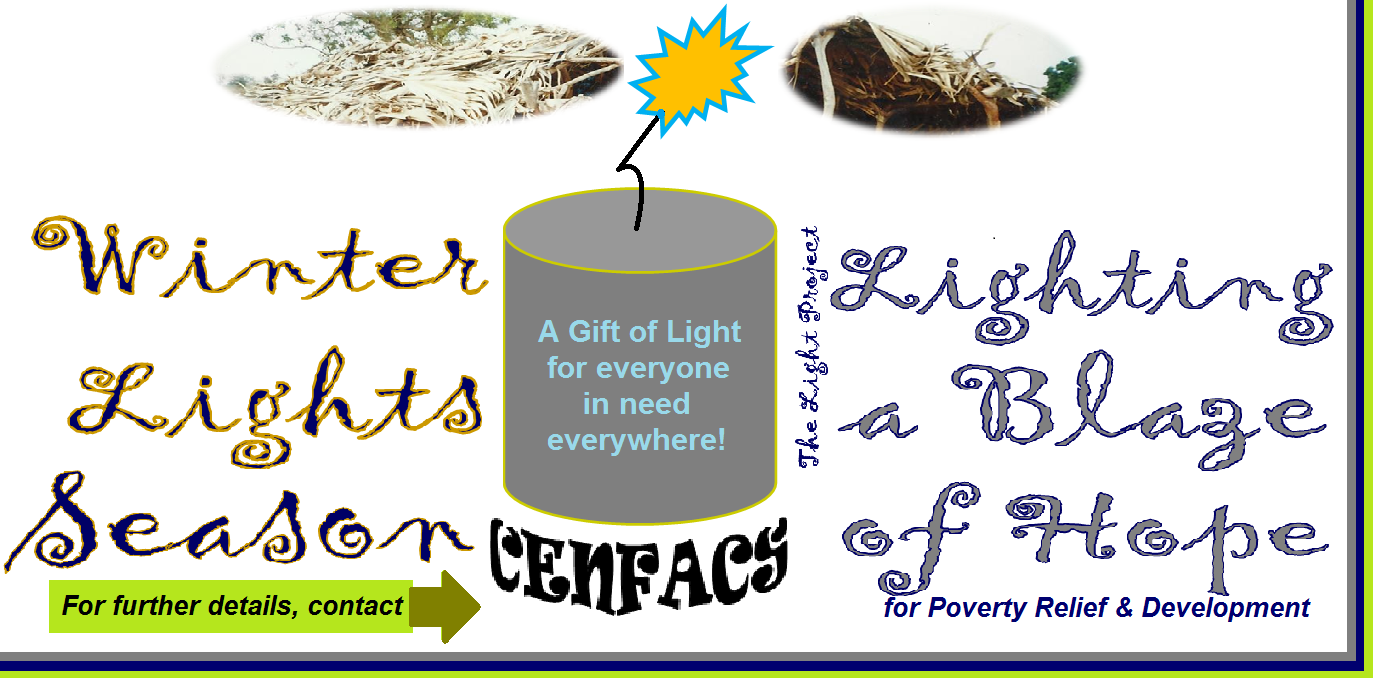 DECEMBER AND END OF AUTUMN 2017 UPDATES
The following updates cover three initiatives: All in Development Winter e-Discussion, Gifts of Peace and Community Value Chains.
All in Development Winter e-Discussion is currently trending well amongst CENFACS' December products and services.  This e-Discussion is entering its third week.   So far, the items e-discussed are the definitions of volunteers' role and tasks during transition of post-regional economic integration. 
To e-discuss volunteers' matters related to the post-regional economic integration, contact CENFACS.
Gifts of Peace are also trending over this Season's Reliefs.  If you are looking for appeals or projects to fund as festive gifts over this festive time, Gifts of Peace are something you can consider.
To enquiry about and or fund Gifts of Peace, just contact CENFACS.
Community Value Chains, The CENFACS Community, is being prepared and trended.  We are doing an inventory and registering the talents and skills of the CENFACS Community.  We are setting up a talents register or database for our Talented Community.
To register or add your talents to the CENFACS Community's talents register or database, just contact CENFACS.    
THIS FESTIVE WEEK'S CONTENTS
Today, the 20th of December 2017, is the last day of Autumn season.  The momentum we built from the beginning of Autumn Fresh Start season continues to galvanise our poverty relief action and is taking our relief journey into the Season of Light which starts tomorrow.
This week is thus the end of Autumn Fresh Start projects and programmes, and the beginning of the Season  of Light; season during which we light up a Blaze of Hope for people and communities suffering from the effects and impacts of destructive wars and natural disasters in Africa. 
At CENFACS the theme for the Season of Light is Hope which we try to bring through a Blaze, while the theme for the Festive Season's Reliefs is Peace.
The Lights Appeal is the project that features the Season of Light while the Gifts of Peace make the Festive Season.
The week is as well of the last act or last legacy of the Year 2017, our dedicated Year of Communications.  The last act of our Year of Communications is an appeal for support in the form of gift of communications. 
With the Communications Gift plus Lights Appeal plus the Gifts of Peace; all these initiatives represent some great ways of helping to reduce poverty at this special time of the year.  They give indeed more opportunities to supporters to do something for those in need. 
The week is finally an occasion to remind the need to report on all year round projects which are:  Play, Run and Vote projects for poverty relief and development.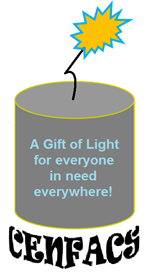 THE LIGHTS SEASON
The Lights Season at CENFACS kicks off with the theme of Hope as said above.  We are going to deliver this Hope with sustainable lights and sustainable energy.  Sustainable lights and energy are part of our work in developing sustainable initiatives to help reduce poverty, particularly in developing those initiatives helping to reduce deforestation and forest degradation as well as to reduce poverty induced by deforestation. 
While the theme of Peace will be dominant over the festive celebrations period, the theme of Hope is the overall theme of the Season of Lights.  The theme of Hope is made of notes or pieces of sustainable lights and energy.   In this sense that we can bring a glimmer of hope through sustainable lights and energy over this Wintry season.    
The Gifts of Peace are included in the Season of Light.  Peace is the festive theme we choose to spread the joy of Season's Reliefs to those in need. 
We try to help their wishes of poverty relief become true through the Gits of Peace that put a smile on their face with relief notes. 
KEEPING ON GIVING THIS WINTER WITH THE GIFT OF LIGHT
A gift of light for every person in need everywhere!
The Lights season is the season we try to bring light or shine light to impoverished lives. We try to bring clarity, brightness to people who need to see clearly and accurately about their life.  It is about helping them see the light of relief so that they can see the world in a new relieved light.
A gift of light that ignites and sparks the life of those in need! 
This is why we have the Lights project at CENFACS; projects which enable us to bring lights to those in need.  This Winter 2017-2018, our Lights projects will focus on two parts or two waves of action:  1/ post-war and post-natural disaster developments 2/ current and emerging armed conflicts and environmental catastrophes
A Blaze of Hope for post-life following armed conflicts and natural disasters
When there are environmental disasters and armed conflicts, there are pledges and commitments to end the effects of wars and disasters.  For various reasons, some of these pledges do not materialise.  The post-war and post-disaster developments are sometimes left without support sometimes until the conflicts and disasters return and or strike again. 
As we cannot wait the return or repeat of the same wars and disasters, our first Blaze of Hope will go this Winter to the unfinished business of previous destructive wars and natural disasters.
A Blaze of Hope for the eruption of any armed conflicts and natural disasters
We always advocate for preventive development and we do not seek for destructive events to happen.  However, our preparedness and readiness made us to assemble as quickly as possible advocacy tools should any effects and impacts erupt from wars and natural disasters in Africa. 
So, our second wave of intervention or Blaze of Hope will go this Wintry to erupted effects of armed conflicts and natural disasters in the areas of our interest in Africa. 
With these two waves of action over this Wintry Season, we hope to enlighten the lives of those in need.

Run, Play & Vote projects 
As we are reaching the end of year 2017, it is now time to report on our three All-year Round Projects – which are Play, Run and Vote. 
We would like our users and supporters to share with us and others their experiences, stories and reports regarding these projects.
The Action-Results of 2017: Tell it!
You can feedback the outcomes or Action-Results of your…
… Run if you ran for poverty relief over the year 2017 (or organised a Run activity)
… Play if you played the CENFACS League for Poverty Relief
… Vote if you have already voted your 2017 African Poverty Relief Manager.
Remember!
If you are Playing the CENFACS Poverty Relief League and its sub-project Le Dernier Carrẻ, there are 16 team countries in this Poverty Relief and Development League playing each 32 matches/games each against the other. 
If you are Running for Poverty Relief and Development, you can do it alone or as a group. 
If you are casting your Vote for an International Development and Poverty Relief Manager of 2017, there are few days remaining until the end of the year 2017. 
Whether you are Gaming or Running or even Voting for Poverty Relief and Development, please keep a track record (including the facts, data, videos, reviews and images) of your activities to make and share your story with us and others.    
To do that, you do not need sophisticated technologies or a third party.  With your mobile phone only – if you have one – you can text, record voices, make a video, take pictures, phone etc to capture and communicate the impacts of any event or activity you did, are doing or taking part by the end of this year. 
 We would be more than happier to hear your Action and Results to feature CENFACS 2017 Year of Communications.  Tell it!
What we want to hear
We would like to hear from you about
• The Best African Countries of 2017 which best reduced poverty
• The Best African Global Games Runners of 2017
• The Best African Development Managers of 2017 
If you have not yet told us, have your say by 23 December 2017!

As CENFACS' 2017 dedicated Year of Communications is coming to an end, we would like to ask you to donate as a legacy towards our ten years' efforts to help reduce poverty and harness better change through communications.
You can donate to support CENFACS' anti-poverty message and to help reduce two types of poverty: Communications and Digital poverty. 
Your support can make helpful differences to communications and digitally poor lives. 
Your donation will help…
Poor people against misinformation and or lack of information on poverty
To empower poor people's informational and communications capacity to move out of ignorance and illiteracy
To train people to reduce poverty through the development of digital as well as Information and Communications Technology skills
Poor people take informed decisions about their lives and well communicate their needs
Unaware, ignorant and misinformed poor people against exploitation because their poor communications skills
Your donation can go further in helping to build and develop empowering capacity to acquire life-saving information and communicate this information for the security and defense of the vulnerable and multi-dimensional poor children, young people and families.  In doing so, they can be free from dangers, threats and harms from an insecure and threatening world for a safe, peaceful and sustainable future.

DONATE NOW!
♦ Make a One-time Donation…
today to help poor people lacking life-saving communications, and support CENFACS' work on Communications.
You can also support CENFACS New Media and Digital Programmes if you wish.
 Choose an amount
You can give £5    £10    £15    £    per month
♦ Make a Monthly Donation… 
as a legacy for CENFACS' Year of Communications
Make a monthly donation today to poor people lacking life-saving communications, and support CENFACS' work on Communications.
Choose an amount 
You can give £5    £10    £15    £    per month
Thank you for supporting us and reading this post.
We look forward to receiving your regular visits to CENFACS website and continuing support.
With many thanks!