Welcome to CENFACS' Online Diary!
16 September 2020
Post No. 161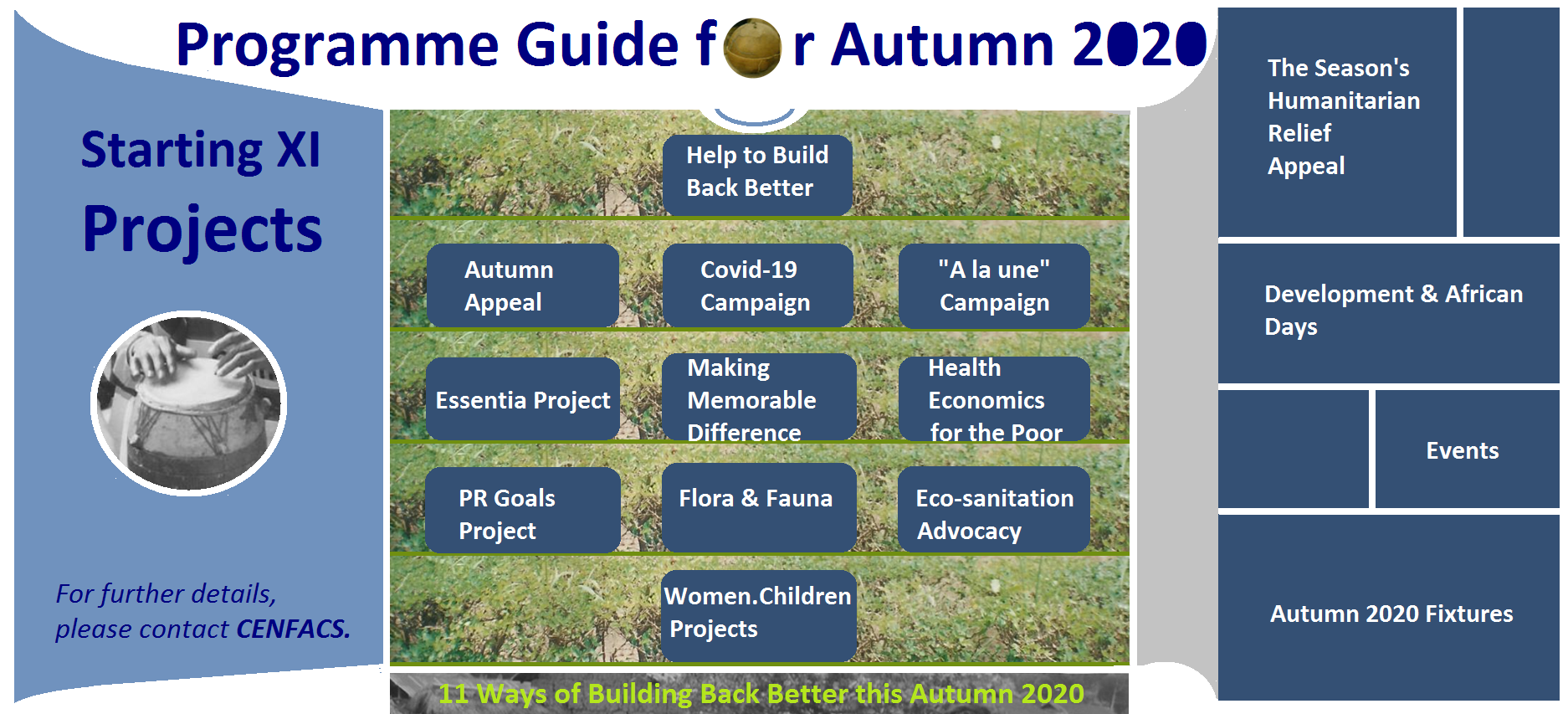 The Week's Contents
• Autumn of Building Back Better
• Autumn Programme with XI Projects to Build Back Better
• Back-to-the Upkeep of the Nature with the "Blue Spaces"
… and much more!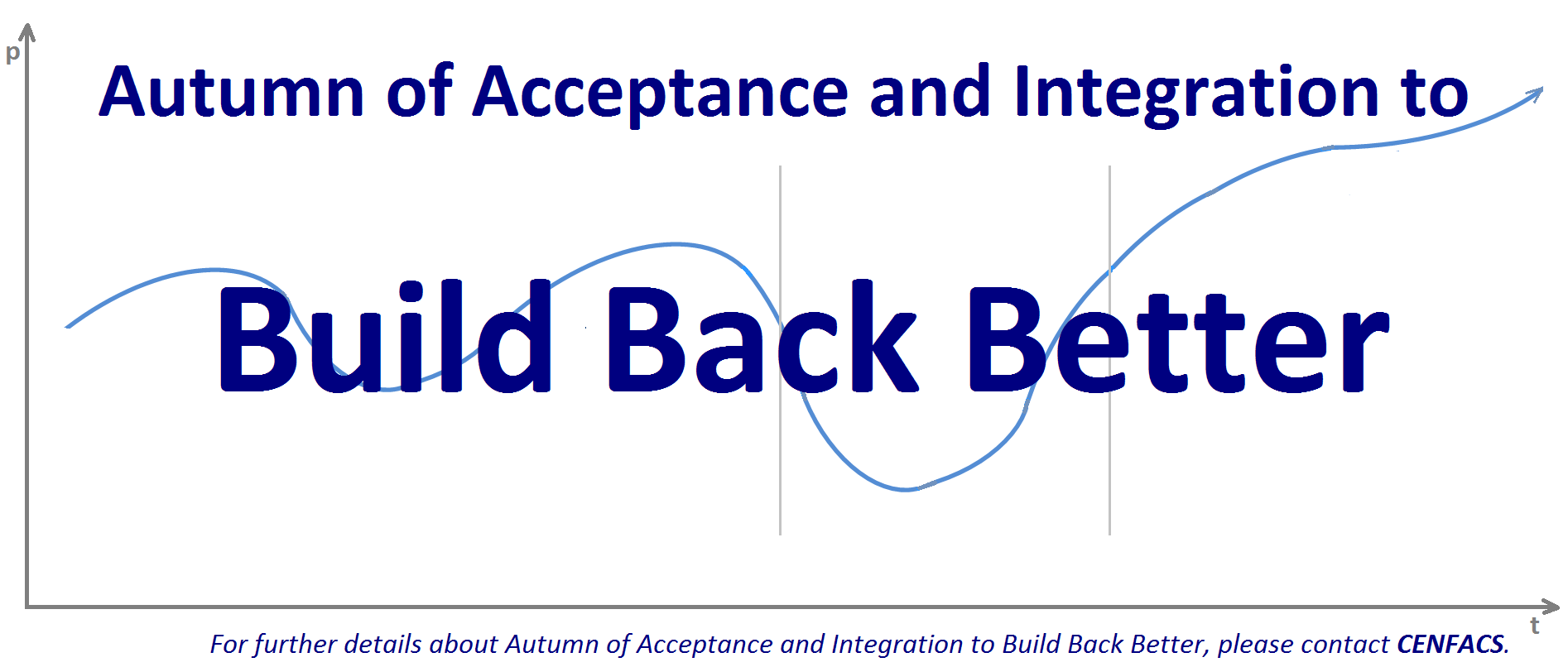 Key Messages
• Autumn of Building Back Better
Normally, Autumn is the season of Freshness or Fresh Start within CENFACS.  It is the season after the long sunny weather and break of Summer most of our beneficiaries return back to freshly restart. 
This year, because of the coronavirus pandemic and its continuing adverse effects we cannot simply assume that everybody can easily restart this Autumn.  The all Summer has been about healthiness issues.  There are many members of our community who have been seriously affected by the coronavirus pandemic and the lockdown.  There are even families whose children have not yet returned to school due the Covid-19 effects.  These effects on them have changed the nature of Autumn. 
• • The Changing Nature of the Autumn Season: Freshness to Building Back   
We have started to see a sinusoidal pattern in the coronavirus pandemic.  After having a short period of decrease of the coronavirus pandemic, there are now rises in some parts of the world including in Europe.  This pattern could mean some oscillations in people's activities as well.
Because of this sinusoidal trend or the sine wave of the coronavirus pandemic, we are refraining ourselves to call this Autumn of Freshness or Fresh Start.  Instead, we will call this Autumn of Building Back as it will be of working together with our local people to build back better from the side effects of the coronavirus and lockdowns. 
We are going to work together to build back where they were before the coronavirus pandemic struck, and where possible, we will strive to build back better.  Therefore, the key words and phrases for our sharing and engaging contents over this Autumn are Sinusoid (or sine wave) and Build Back Better which will underpin all our works over this period.
• • Sinusoidal Autumn 2020 of Building Back Better
This Autumn could be a sinusoidal one at the start while hoping that at the end it could become of restoration.  Nobody knows the number of oscillations that may happen.  The entire waveform may shift in time to become linear by the end, in which case one could think of sign of recovery or restoration.
As the facts speak for themselves (with the recent increase in the number of Covid-19 infected cases), we can speculate that there could be rises and decreases in the number of infected persons.  This can only affect people's Autumn life, happiness and work.  One can hope that there could be some signs of calming by the end of Autumn 2020. 
In meantime, we will work together to help build back lives while shadowing the evolution of the epidemiological curves ("epi-curves") of the coronavirus pandemic.  One needs to be positive about the future if they want to help reduce poverty without ignoring the reality of the coronavirus pandemic.  As mentioned earlier, our Autumn will be of Building Back, and where possible of Building Back Better. 
• • Autumn 2020 of Acceptance and Integration
One can assume that this Autumn will be in a sine wave.  By referring to the 1960s theory of the five stages of grief or model of change curve by Elizabeth Kübler-Ross (1), it is possible to argue that after the Covid-19 shock, some of our people would be in a position where they could accept that change is inevitable, and they could return to where they were before the coronavirus with changes rather than against them.  After they experienced isolation (or self-isolation) and remoteness due to the lockdowns, they may need some levels of support to be maintained to return to an earlier stage.  By looking at again the Elizabeth Kübler-Ross model, one can sum up by saying that this Autumn is of Acceptance and Integration at individual and people's levels.
For more details about the features of Autumn 2020 within CENFACS, please do not hesitate to contact us.
(1) Kübler-Ross E., 1969: On Death and Dying, New York: Simon and Schuster, Inc.

• Autumn Programme with XI Projects to Build Back Better
Before talking about the Autumn XI Projects, let us clarify the concepts of Build Back Better.  From the body of literature we consulted, we have chosen this terminology from the United Nations General Assembly 2016 (2) which says that 
"Build Back Better (BBB) is the use of the recovery, rehabilitation and reconstruction phases after a disaster to increase the resilience of nations and communities through integrating disaster risk reduction measures into the restoration of physical infrastructure and societal systems, and into the revitalization of livelihoods, economies, and the environment".
From this definition, we can argue that our Autumn 2020 will be about recovering, rehabilitation and reconstruction with the CENFACS Community and our Africa-based Sister Organisations.   To proceed with this post-coronavirus disaster work, we have selected the projects listed below.
Recover, Rehabilitate and Reconstruct with Build-Back-Better Projects from the Autumn 2020 Essential Programme
Autumn of Building Back Better is about working together with our users and stakeholders through helpful collection of Build Back Better projects blended together to give a new seasoned leaf of relief during Autumn 2020.  These projects implement new and improved ways of working with local people to meet changing need mainly led by the persisting adverse effects of the coronavirus pandemic. 
The Autumn 2020 Essential Programme is made of 
1/ Build Back Better Skills, Tips, Hints, Tweaks and Hacks 
2/ Transformative experiences  
3/ The Season's appeal to stand up again against poverty and hardships  
4/ A Slice of Africa's history 
5/ Build Back thoughts and inspirations for a Coronavirus-free poverty relief and development agenda 
All this is flavoured with hopes, dreams and reasons to believe in the future; a poverty-free, sustainable and coronavirus-free world. 
So, the line up for CENFACS' Build Back XI Projects (or Build Back Better Projects) for this Autumn is as follows:
(1) Women, Children and Coronavirus Talks Day
(2) Poverty Reduction Goals Project: Goal No. 2 – NEW
(3) Ecology and Sanitation Advocacy – NEW
(4) Health Economics for the Poor – NEW
(5) Build Back Better Flora and Fauna
(6) Making Memorable Difference
(7) A la Une (Autumn Leaves of Action for the Upkeep of the Nature in Existence)
(8) Essentia project – NEW
(9) Help to Build Back Better
(10) Covid-19 Campaign 
(11) Autumn Humanitarian Relief Appeal
For more on these projects, read below under the Main Developments section of this post.
• Back-to-the Upkeep of the Nature with the "Blue Spaces"
In Focus for Week beginning 14/09/2020: The Contribution of the "Blue Spaces" to Poverty Reduction
There are many ways which show that the "Blue Spaces" contribute to the reduction of poverty in Africa and elsewhere.  This contribution could come from water itself as a natural resource making a particular blue space (e.g. river, lake, canal, fountain, etc.) and other resources or wealth containing in blue spaces (such as fish, plants, minerals, etc.).
To understand that we are going to give a counter example of the Lake Chad in Africa that experienced drought due to the global warming and climate change.  This drought or lack of enough water in this lake had terrible consequences for those poor whose living has been dependent on the Lake Chad and its wealth.  This drought has affected the entire Lake Chad Basin.
There are countless examples which demonstrate that the "Blue Spaces" contribute to the reduction of poverty and hardships.  At this exceptional time of the coronavirus pandemic, where there have been travel restrictions on land, the "Blue Spaces" were an opportunity to those living nearby to access water resources to meet basic needs to maintain life and survive during this crisis.
So, through this week's note on the theme of "Blue Spaces", we can take stock of the first note, exchange knowledge and look forward in the process of making the "Blue Spaces" work for the poor and the neediest.  We can keep blue poverty relief working.

To add your input and or enquire about this second note, please contact CENFACS.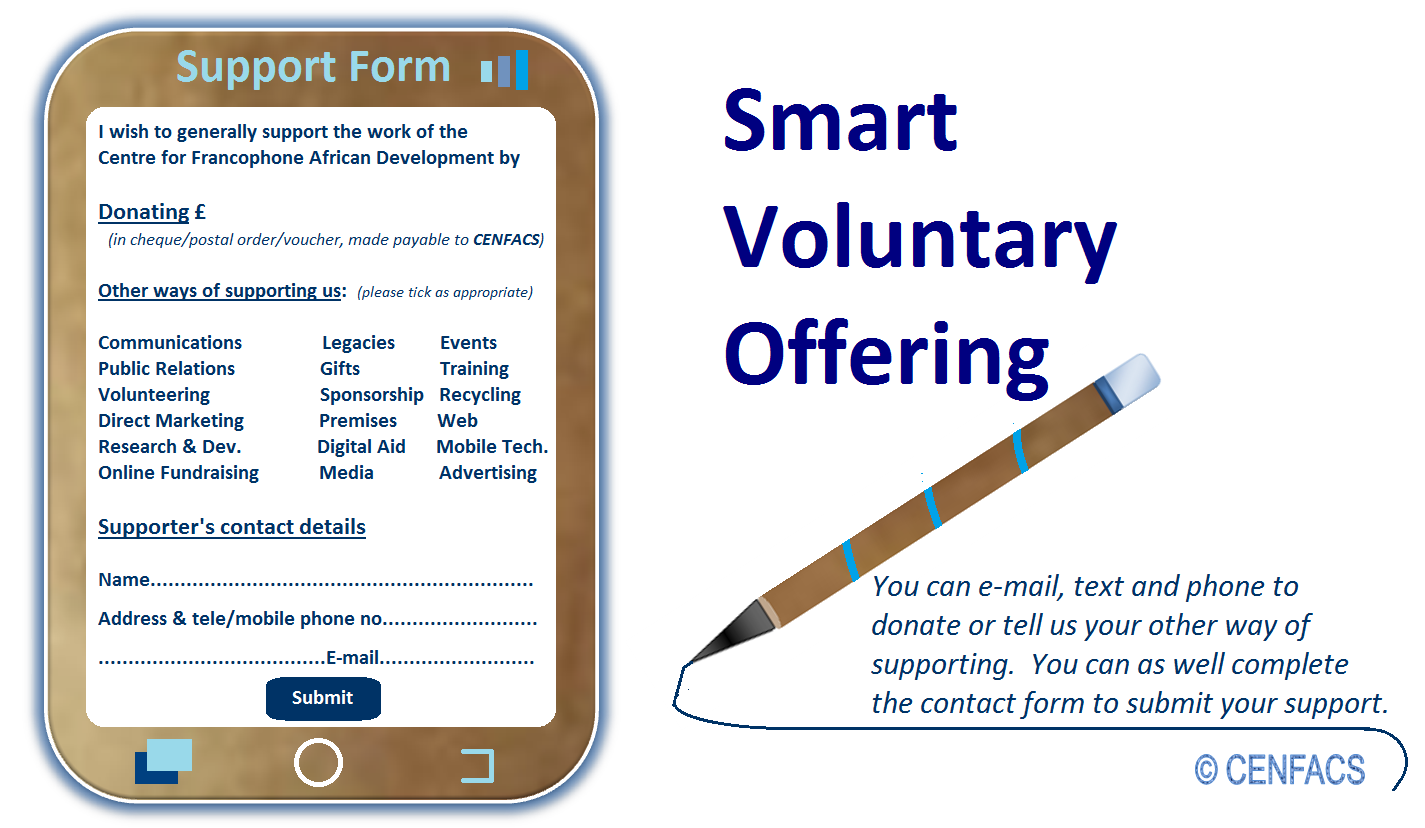 Extra Messages
• Starting or Renewing your Involvement with CENFACS' Work
The beginning of every season is an opportunity either to continue to do the things we always do as they work or to think of taking on new initiatives in the new season or to do both.  Likewise, in times of crisis like the coronavirus pandemic there are not only threats and losses; there are as well opportunities to do things differently.  One can use the opportunity of this health crisis to change things.  There are many ways in which one can build back better this Autumn.
For example, one can use the opportunity of the current health and rethink on the types of organisations and projects they support.  One may find appropriate to start or increase or even reduce their support to a particular development cause.  One could also think of getting involved in CENFACS' work or renewing their commitment to it if they have ever got involved in it before.  The decision is theirs.
Below we have spelled out various ways in which one can enhance CENFACS' cause and make a useful impact on poverty alleviation with us.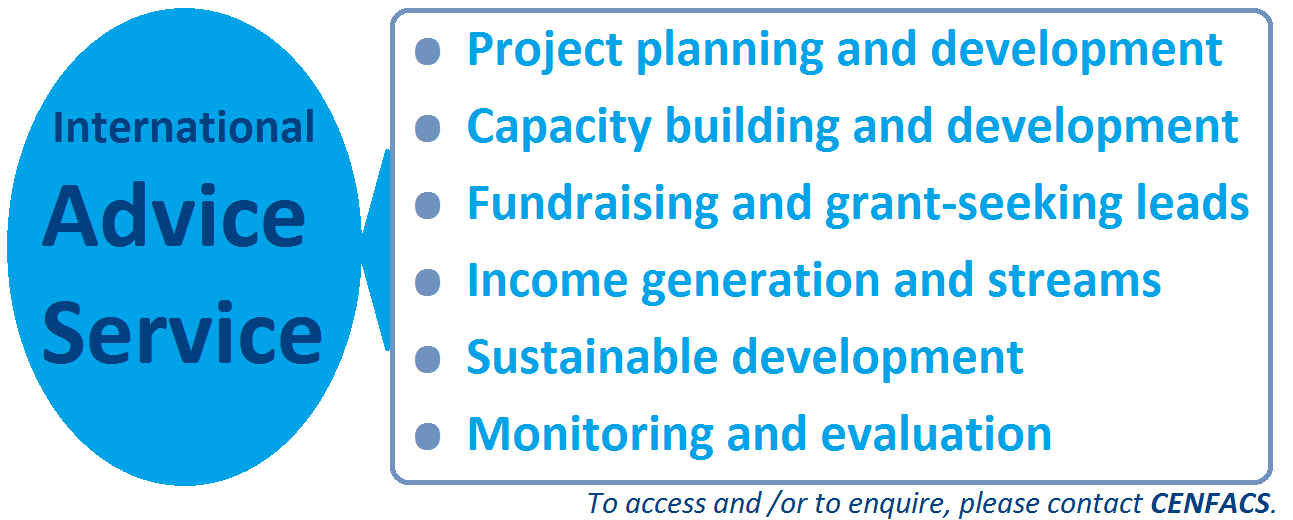 • International Advice Service: Health Check Service Promotion!
As part of our International Advice Service, we are having a promotion this week.  We are holding advice sessions on Health Check for African organisations under the Back-to-relief Programme. 
The purpose of this health check is to detect critical issues to improve the performance of Africa-based Sister Organisations, especially as many of them have been affected by the impacts of the coronavirus pandemic.  Through these advisory sessions, there is a possibility to achieve the following:
√ Update organisational programmes of work
√ Track the traffic of services and activities
√ Clean up organisations' processes and operations by removing malfunctions
√ Update organisations' settings and fix problems
√ Track e-income streams
√ Tap into the coronavirus finance packages in the international funding market
Etc.
Need health check or general advice; please do not hesitate to take this week's promotion from CENFACS.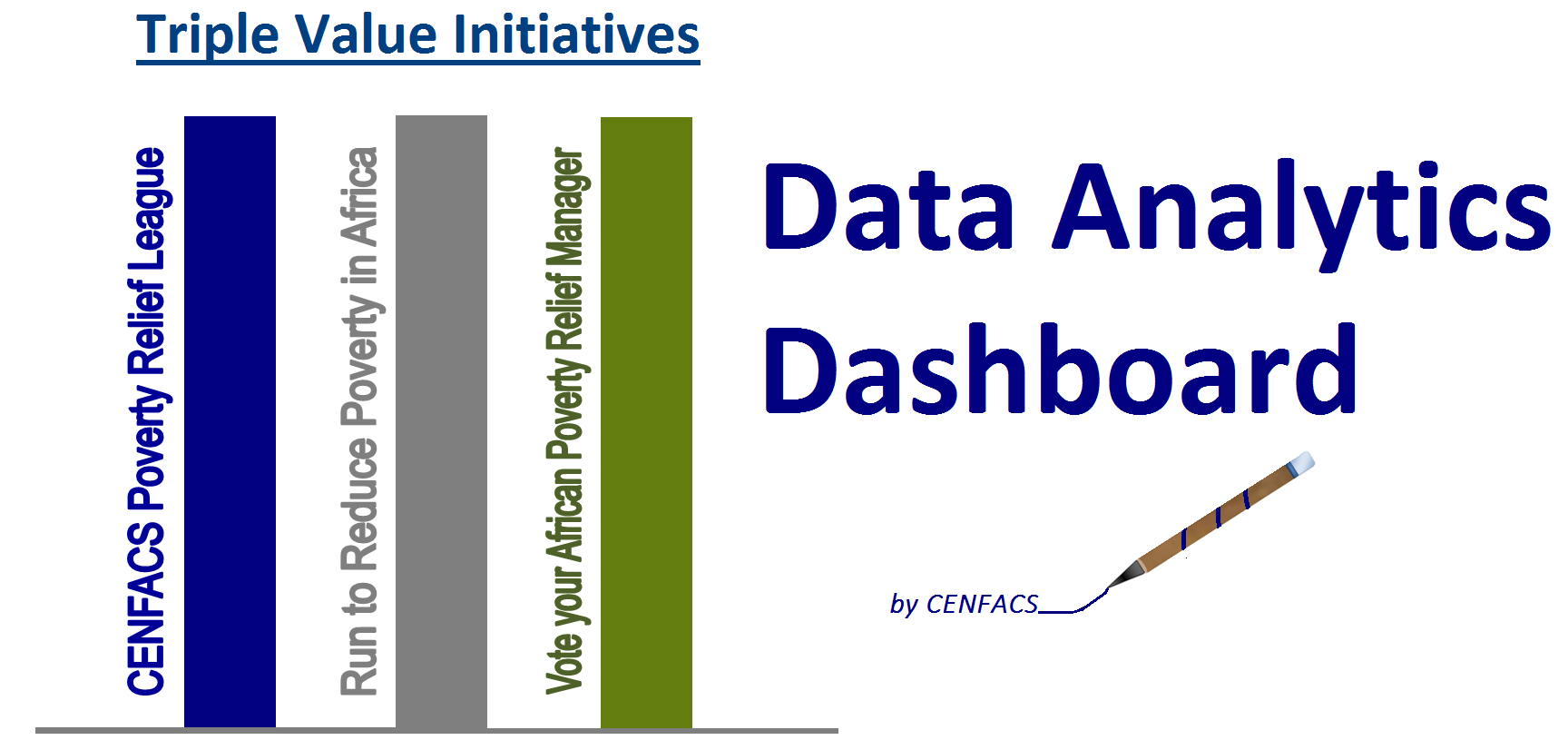 • Data Analytics about All-Year Round Projects, Triple Value Initiatives (Play, Run and Vote projects)
Generally these projects are run separately.  In this Autumn, as part of data tracking we are continuing to study the relationship between the three of them.  To do that, we will be tracking data about them, especially from those who have managed to undertake the three of them.  So, the aim of this data tracking exercise is to combine data about them to generate an increased or add-on relief against poverty and hardships.  In doing so, we will be able to discover if there are some interactions or correlations between them.  Our analysis will not stop there, we will as well study the patterns in data collected and treated.
For further details about this data tracking and or to communicate your actions-results about them, please contact CENFACS.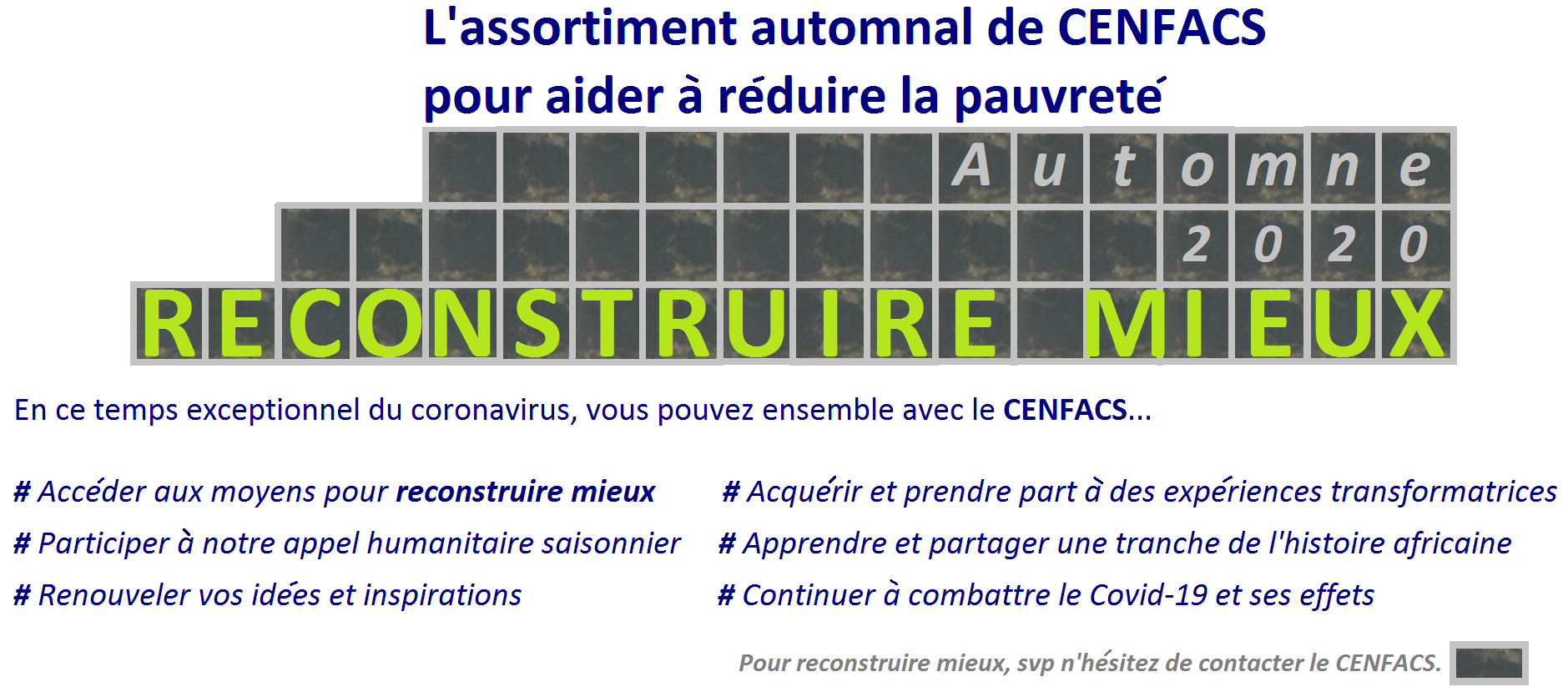 Main Developments
• Autumn Programme with XI Projects to Build Back Better (Build Back Better Projects)
Please find below the projects making CENFACS' Autumn 2020 of Building Back Better.
11 PROJECTS TO BUILD BACK BETTER: 11 WAYS OF HELPING TO REDUCE AND END POVERTY THIS AUTUMN 2020
September 
~ Build Back Better Flora and Fauna projects (including the Big Beasts sub-advocacy) will continue our advocacy work on the protection of plants and animals while implementing new ways of working with local people and organisations in Africa to build back better flora and fauna at the time of the coronavirus pandemic (advocacy)
~ A la Une (Autumn Leaves of Action for the Upkeep of the Nature in Existence) will include our sub-advocacy work on nature, which is Sustainable Trajectories for the Nature.  This year, A la Une project will focus on the Restoration of Ecological Infrastructures in Africa.(Campaign)
~ Autumn Help to Build Back Better (Resource): a new and enhanced support to the CENFACS Community returning from the lockdown and long Summer break 2020.  The resource will contain new information, tips and hints to help the community meet their changing needs due to the coronavirus pandemic.
October
~ Autumn Appeal to Support projects (Humanitarian appeal): a renewed engagement with supporters via an appeal to deal with the persisting side effects of the coronavirus on poor people in Africa.
~ Making Memorable Difference (History project): History of African Sculpture and Representation of Historical African Figures of the Pre-independence Era (Period before the 1960s)
~ Poverty Reduction Goals Project: Goal No. 2  – Reduction of Consumption Poverty which is one of the seven goals making CENFACS' 2020 Development Agenda and Poverty Reduction Programme (Campaign) 
November 
~ Health Economics for the Poor: an innovative step forward and initiative that was set up as a result of our Summer 2020 Festival and response to the coronavirus pandemic.  The initiative will help to improve the cost-effectiveness of healthcare provision to the poor in terms of positive health outcomes (Sanitation poverty-relieving project)
~ Women & Children FIRST Development Day (Thoughts): a Talks Day about Child Care and Engendered Effects of the Coronavirus Pandemic in terms of coping and survival strategies against it.
~ Essentia Project: – A sustainable development and poverty-relieving initiative that uses the tenets and attributes of the essential economy in order to help people and communities in need to escape from poverty and hardships while connecting them to essential activities and motivating them to use non-polluting solutions to resolve their long standing problems of poverty and hardships (Essential economic project)
November/December 
~ Projects of Advocates against Sanitary Poverty and Unsustainable Ecology – A project of reduction of sanitation poverty and adverse effects on the structure and function of the nature, particularly but not exclusively in the mining sector in Africa (Environmental health project)
~ Covid-19 Campaign – Phase 3: The Campaign of Resilience against the Coronavirus Pandemic by CENFACS is now in in Phase of Rehabilitation Strategies and will continue over this Autumn since Covid-19 has not shown any sign of disappearance. (Health enhancing campaign)
Note: Although the above is scheduled for Autumn 2020, we may slightly alter our initial plan and or introduce occasional initiatives to cope with the reality of the unpredictability and complexity of development situations (e.g. coronavirus uncertainty, economic exit of the UK from the EU's single market, humanitarian and emergency situations), in which case we shall let you know as early as we can.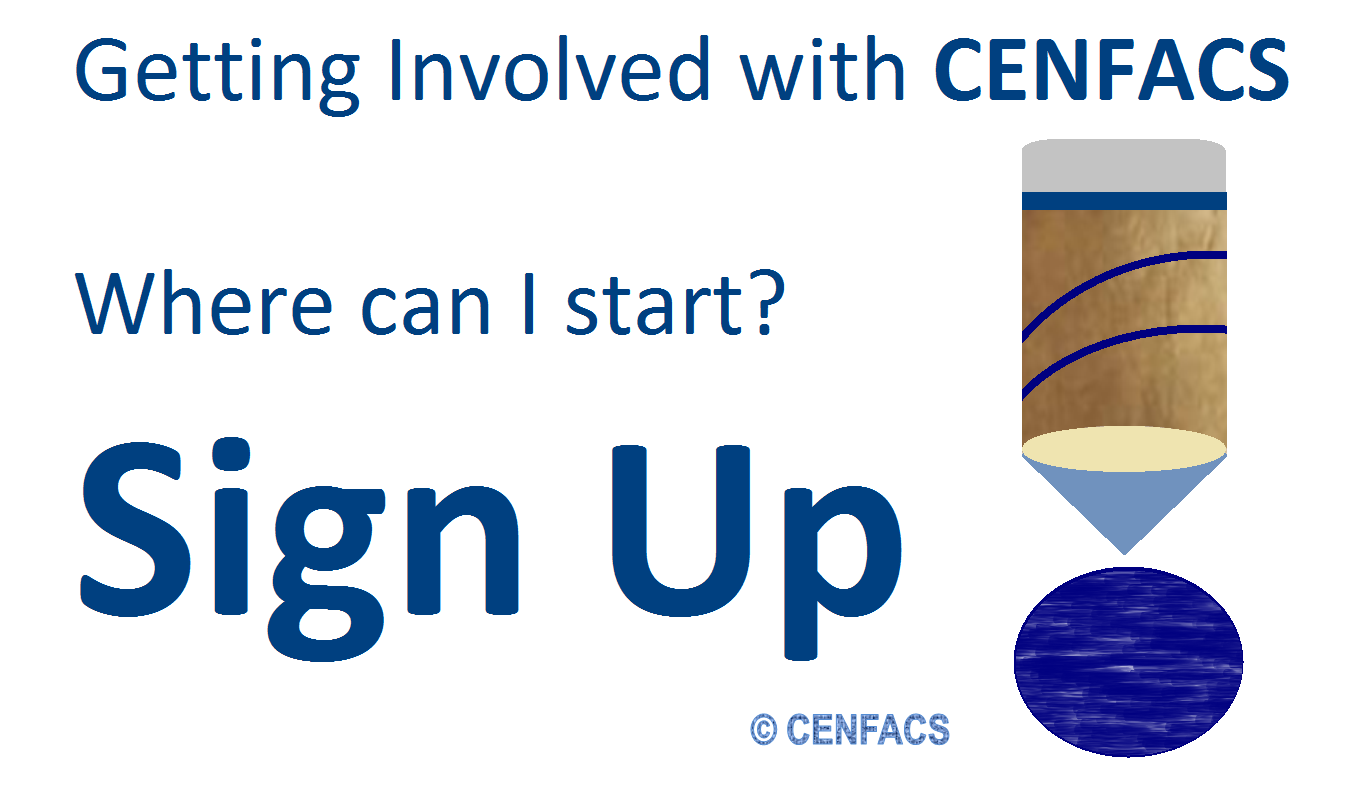 • Getting the Most of your Involvement with CENFACS into Poverty Alleviation Work from Autumn 2020 and Beyond
~ Where to start: Sign up!
√ Register with us and or update us with your contact details
√ Respond to our communications and communicate with us when occasion arises
~ Stay in touch with our…
√ Newsletter, and other paper and free-paper communication materials
√ Regular updated and upgraded resources and supporting information
~ Involving us in raising awareness of the poverty relief issue
√ Advertise with us for helpful good causes
√ Pass our relief messages on to interested third parties 
~ Share your transformative experience
√ Tell us what you think and or your development story
√ Help us improve with your voices, comments, reports and feedbacks
~ Boost your support
√ Support us according to your means and limits as every support counts
√ Add value to your support, if you can, by improving your support to us to support you and or others
~ Get noticed to go further with your involvement
√ Register and keep up to date with information about your event, project, activity and so on
√ Join up our network of poverty relief and development work
~ Stay ahead of the game with us
√ Communicate with us before hands and when the needs arise
√ Often read our news alerts, tweets and switch to our new developments 
~ Deliver on your promises 
√ If you promise to do something for or with CENFACS and others, please do it
√ If you can't do it, please let us know.  Don't just stay silent!      
~ Make our communications with you to be a two-way process and multi-channel approach
√ Talk to CENFACS and CENFACS will talk to you as well and vice versa
√ Help us improve the flow of information on poverty relief and development using a variety of channels and platforms 
~ Be contactable and present via
√ E-mail, (tele or mobile) phones, physical address and social media platforms
√ Word-of-mouth recommendations, outreach and other means of contact (like video calls)
~ Get the word out on your communication channels
√ Spread the word about CENFACS' work on your social media links
√ Promote CENFACS' work in what and where you think we can fit in
~ Keep your involvement with CENFACS digital and on papers
√ Up-to-date information on to your mobile by our free text alerts and messages
√ Check CENFACS' website and make enquiries online 24 hours 7 days a week
~ Act upon information received from us
√ Don't just read or hear them and do nothing about them.  Please react and be vocal!
√ If they are irrelevant to you, please pass them onto an interested and committed party
~ Continue the legacy of CENFACS' work
√ It is now 18 years and two months that CENFACS has been working on poverty relief and sustainable development since it was registered in 2002.  You can continue this legacy with us.
√ You can be the face of CENFACS to those looking for a lifeline of support from us.
The above ways of getting involved in CENFACS' work may not be exhaustive.  Should you have any other way, please let us know.
To get involved with CENFACS into poverty reduction work, just let us know.
(2) United Nations General Assembly, 2016: Report of the Open-Ended Intergovernmental Expert 2Working Group on Indicators and Terminology Relating to Disaster Risk Reduction. Seventy-First Session, Item 19(c). A/71/644.
Help CENFACS keep the Poverty Relief work going in 2020.
We do our work on a very small budget and on a voluntary basis.  Making a donation will show us you value our work and support CENFACS' work, which is currently offered as a free service. 
One could consider a recurring donation to CENFACS in the future.
Donate to support CENFACS!
FOR ONLY £1, YOU CAN SUPPORT CENFACS AND CENFACS' PROJECTS, JUST GO TO http://cenfacs.org.uk/supporting-us/
Thank you for visiting CENFACS website and reading this post.
Thank you as well to those who made or make comments about our weekly posts.
We look forward to receiving your regular visits and continuing support throughout 2020 and beyond.
With many thanks.