Welcome to CENFACS' Online Diary!
25 September 2019
Post No. 110
The Week's Contents
• Autumn Fresh Start Help in the Context of Life-threatening Impacts of Climate Change
• Save Fauna and Flora Advocacy
• Back-to-the Upkeep of the Nature with the Protection of the Oceans, In Focus for Week Beginning 23/09/2019: Conservation and Sustainable Use of Oceans
… and much more!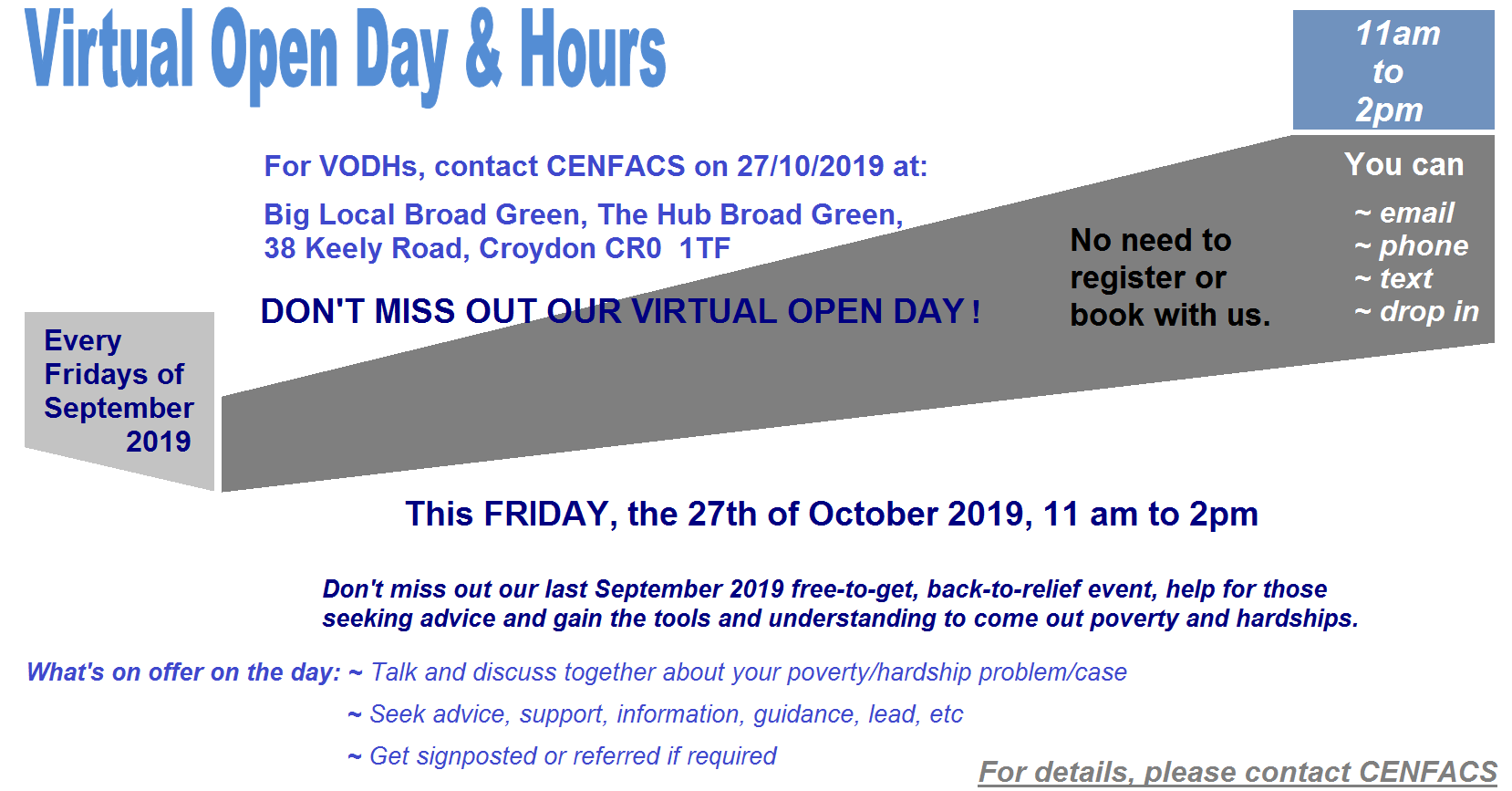 Key Messages
~ Autumn Fresh Start Help and Resources
Autumn Fresh Start Help strikes or kicks off our Autumn programme.  It is our Autumn project striker.  Autumn Fresh Start Help and Resources are made of fresh start skills, tips, hints, tweaks, hacks, etc; help and resources designed to overcome poverty and hardships. 
Our advice-giving month of September continues as planned and will end next month.  Advice-giving is also part of our Autumn Fresh Start Help and Resources.  Although we put particular emphasis on advice-giving activity in our September engagement, other aspects of Autumn Fresh Start or striker are also important and will continue beyond September.
Autumn Fresh Start Help comes with Fresh Autumn Start (FAS) resources.  The highlights of the 2019 Edition of FAS is within the context of life-threatening impacts of climate change. 
Our keywords for this Autumn are fresh start and freshness.  The context in which we will be using these key words is of life-threatening impacts of climate change.
Further details about these key words and contextual framework are given below under the Main Development section of this post.
To ask for Fresh Start Help and or access Fresh Start Resources, just contact CENFACS.
 ~ Save Flora and Fauna (SFF) Advocacy
We are advocating for the protection of animals in Africa and elsewhere in developing world whereby animals get killed, traded and extinct to such extent that some species are at the brink of disappearing. 
Our fauna advocacy aims at dealing with ways of tackling the threats to survival in the wild facing by the world's big cats (such as lion, tiger, leopard, jaguar, cheetah, snow leopard, puma, clouded leopard etc), the world's majestic animals and symbols of power and courage.
Animals such as jaguars, tigers, elephants, snakes, alligators, rhinoceroses etc are under threat.  There are several reasons about it which include: hunting, illicit and illegal trade, over-harvesting, habitat loss, climate change, poaching etc.
CENFACS' Save Animals or Fauna advocacy is to advocate for the enhancement of protection of endangered, threatened and vulnerable species. 
In this process, we are as well interested in efforts made to protect animals from diseases.  For example, there was a recent case of tuberculosis elephants in South Africa. 
We are as well extending our advocacy to other species in danger like trees, plans and flowers (flora).  It is a two scopes campaign of Saving Fauna and Flora.  
Save Fauna and Flora is only an iceberg of the wide natural creature protection campaign. 
CENFACS' Save Fauna and Flora is run this last week of September 2019 and will be soon after followed by our Autumn environmental umbrella campaign, A la une (Autumn Leaves of Action to Upkeep the Nature in Existence) project. 
A la une takes our Save Fauna and Flora advocacy to the next level of environmental communications.  It goes further about protection of endangered species to include rainforests, water and air pollution, climate change in order to help meet Global Goals such Sustainable Development Goals linked to the upkeep of the nature alive.
To advocate and raise your voice to save endangered species, contact CENFACS.

~ Back-to-the Upkeep of the Nature with the Protection of the Oceans, In Focus for Week Beginning 23/09/2019: Conservation and Sustainable Use of Oceans
This is the last note of our ocean theme.  In this last note, we are dealing with the following:
. Maintenance, management and restoration of oceanic resources
. Prevention of any activity that can destroy oceanic habitat
In this note, there are two aspects which are conservation and sustainable use of oceans.
⇒ Conservation of oceans and poverty relief argument
In order to help conserve the oceans, we are using the poverty relief argument while taking into account utilitarian, aesthetic and environmental perspectives. 
Our poverty relief argument is that ocean resources, assets and wealth (in terms of fish, plants, water, etc.) help to reduce poverty and hardships.  However, for oceans continue to play their poverty-relieving role, they need better conservation (that is maintenance, management and restoration).
Our poverty relief argument will be fitted into various conservation activities.
⇒ Sustainable use of oceans
Briefly, sustainable use of the oceans is about the use their reserves and resources without damaging their capacity for renewal.  It is all about saving oceans, using them sustainably and preserving their resources while reducing waste into them.
The two aspects of this last note are not treated in a vacuum.  They are applying to the case of small island developing states and least developed countries of Africa (such as Comoros, Seychelles, Mauritius, Cape Verde and Madagascar).
To support this note and/or the all ocean theme or to get information about it, please contact CENFACS.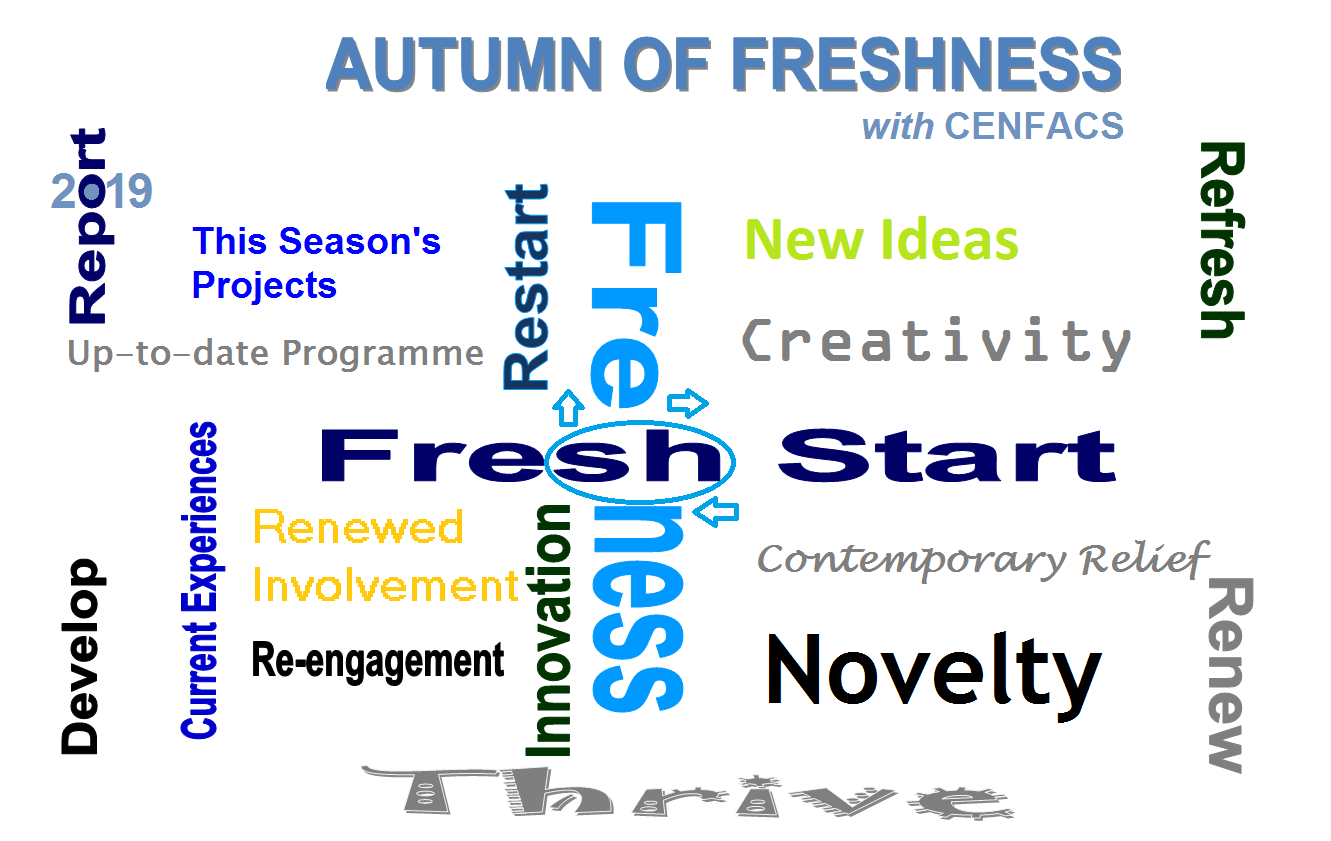 Extra Messages
~ Fresh Start Capacity Development
Some people can easily restart life after a break (e.g. holiday, maternity or paternity leave, recovery from illness, etc.).   
Others can manage their working life and take new initiatives at the start of a new season.
Other more may struggle or find it difficult to resume their activity or simply may take such a long time to restart.
So, as part of back-to-relief programme, we are looking forward to working with people in need to redevelop their fresh start capacity.  This is a set of Autumn support made of fresh start essentials.  It is a process through which their capacity (that is their ability to perform functions of fresh start life is re-established or redeveloped) is recreated.  This process includes fresh start skills, knowledge and resources.  
To enquire about Fresh Start Capacity Development, please contact CENFACS.
~ Coming soon: Autumn 2019 Appeal
As our Summer 2019 Humanitarian Appeal has come to an end, we will be soon launching the Autumn Appeal.  The latter is a regular seasonal compassionate sustenance which will deal with people, flora, fauna, communities and organisations in need in Africa.
As we explained in our last post about ways of engaging with CENFACS in the new season, supporting this coming appeal is one of the means of materialising this engagement.  Those who are looking for alternative way of philanthropic engagement, they can start to think and prepare themselves how they can engage with this appeal.  When this appeal will be out, they can then decide whether or not to support it or recommend it to others.
In meantime, if there is a query about any of our appeals (both previous and the incoming ones), please do not hesitate to contact us.
~ Happiness survey and questionnaire
As part of our Summer Reporting and Sharing of experiences and stories, we are running a Happiness survey. 
The survey, which is mostly about hearing your Summer experiences and stories, is also about improving on planning and delivery of summer projects and of enhancing the outcome of our advice on summer break and season.
For those who may be interested in this survey, there is a questionnaire to complete and return to CENFACS.  This questionnaire is also found in our Fresh Autumn Start resource. You can request the questionnaire as well.
To request and or complete the questionnaire, contact CENFACS.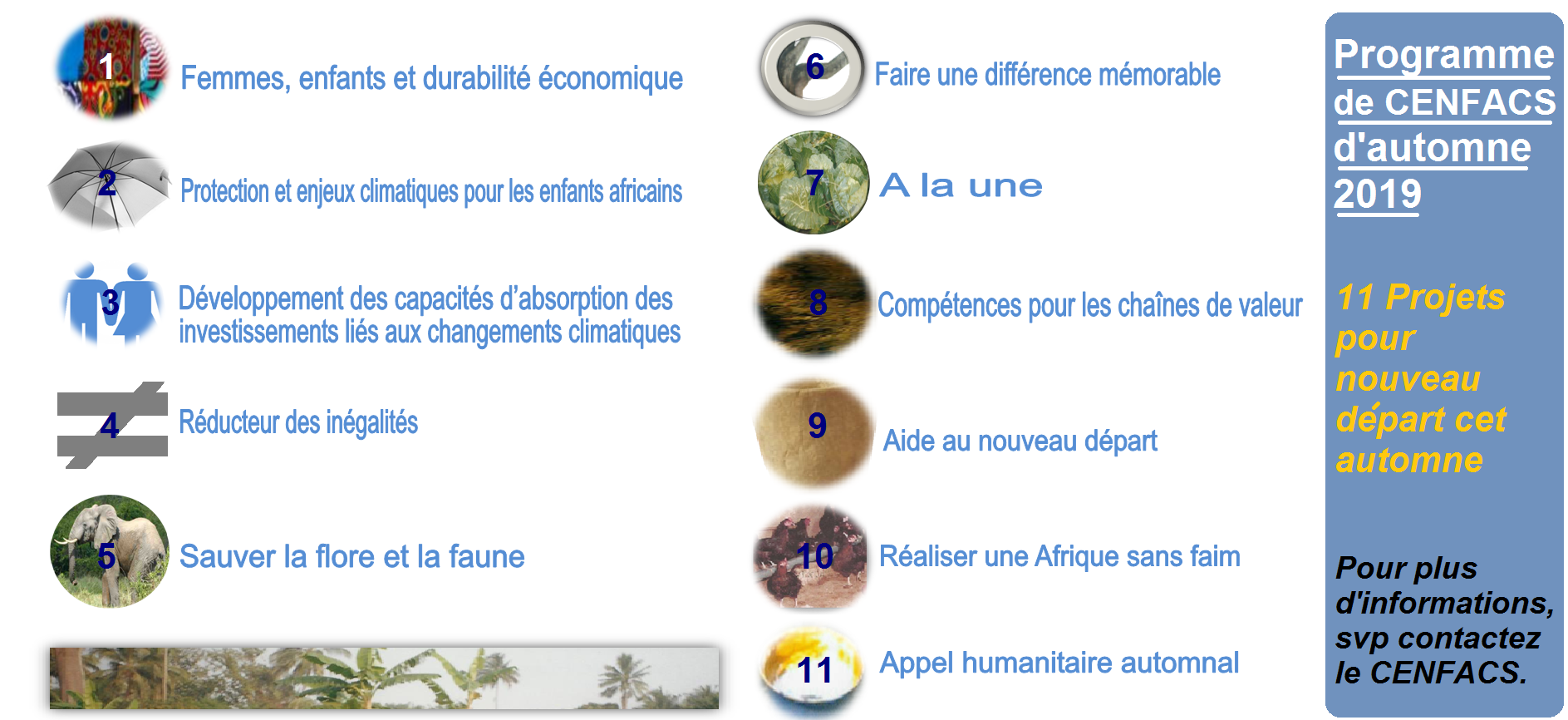 Main Development 
• Making Autumn Start & Season Easier 
⇒ What is Fresh Autumn Start (FAS)
FAS is a continuation of our Summer Support projects into the Autumn season.  It is a building block or additional back up of useful survival tips and hints to embrace Autumn as smoothly and trouble-freely as possible. 
It includes real life situations that users may face when and as they return from their Summer Break or season on one hand, and possible leads to proffer solutions to their arising Autumn needs on the other hand.
This FAS resource is not exhaustive or an end itself.  It has to be completed with other resources.  It is a good basic insight into a Fresh Start as it provides helpful advisory tools for a Fresh Start and confidence building for the rest of the Autumn season.  It could also be used as a reference for users to engineer their own idea of Fresh Start and the sustained management of autumn needs. 
At the end of this resource, there are some websites addresses/directories for help and support.  These sources of help and support are not exhaustive.  We have mainly considered third sector organisations and service providers as well as social enterprises. 
For further or extended list of service providers for your Autumn needs, people can  contact their local authorities and service directories (both online and print).
⇒ Fresh Autumn Start in the context of Life-threatening Impacts of Climate Change (2019 Edition)
This Autumn, we are approaching Fresh Start Help from the perspective and context of life-threatening impacts of climate change.  It is the context of urgency to take climate action.  This approach is about responding to users to their needs in those terms: how to help meet basic life-sustaining needs under the conditions of life-threatening impacts of climate change?  The answer to this question is our work together with users to respond to their individual needs and requests.  So, Fresh Start Help will deal with the needs arising from life-sustenance and life-threat; threat caused by the adverse impacts of climate change.
⇒ Brief summaries of the contents of FAS 2019 Edition
The contents of 2019 Edition of Fresh Autumn Start (FAS) include: Autumn situations and what to do, People needs and Autumn leads, What you can get from CENFACS, and Autumn online and digital resources.
Possible Autumn Situations & Possible What to Do
When returning from Summer Break and/or season, people can find themselves in a variety of situations depending on their own individual circumstances and life experiences.  This variety of situations may require or be expected to be matched with a diversity of responses in order to meet people's Autumn needs.  These variable circumstances and diverse responses or a course of actions can take the different shapes as well as can be framed in order to take into account the adverse impacts of climate change.
Examples of Summer Break Expenses Track Record and Autumn Start Budget
Tracking down and reassessing summer break/season expenses is a positive step to put one through a positive start for the Autumn season.  As part of this positive step, FAS is packed with an example of Summer Break Expenses Track Record.
Budgeting autumn items and needs is also good for a Fresh Start and for overall control over the start and rest of autumn season expenses.  To support this financial control, FAS contains an example of Autumn start budget (fresh start budget) or budgeted expenses.   
People's Needs and Autumn Leads 
Variable circumstances can obviously result in multiple needs.  To meet those needs, we may have to gather resources, tools and institutions to guide us.  The 2019 Edition of FAS provides a table that gives an idea of the likely leads to satisfy people's needs.
Integrating the treats from the adverse impacts of climate change into FAS
The particularity of FAS 2019 edition is it integrates the probable adverse impacts of climate change in terms of life-treat.  This integration is at the levels of possible Autumn situations, Autumn budget and arising needs.  It is the integration of both life-sustaining needs and life-threatening impacts of climate change. 
What You Can Get From CENFACS in Autumn Under Autumn Start Help
The set of help provided in the FAS 2019 is part of CENFACS' UK arm of services.  Besides that it also takes into account specific needs of people that may require specialist organisations and or institutions to deal with them.  In which case CENFACS can signpost or refer the applicants to those third parties.
We hope that the basic tips and hints making the contents FAS 2019 Edition will help you in some aspects of your Autumn needs.
Have a Good Fresh Start and Autumn season!
FOR ONLY £1, YOU CAN SUPPORT CENFACS AND CENFACS' PROJECTS, JUST GO TO http://cenfacs.org.uk/supporting-us/
Thank you for visiting CENFACS website and reading this post.
Thank you as well to those who made or make comments about our weekly posts.
We look forward to receiving your regular visits and continuing support throughout 2019.
With many thanks.