Welcome to CENFACS' Online Diary!
01 May 2019
Post No. 89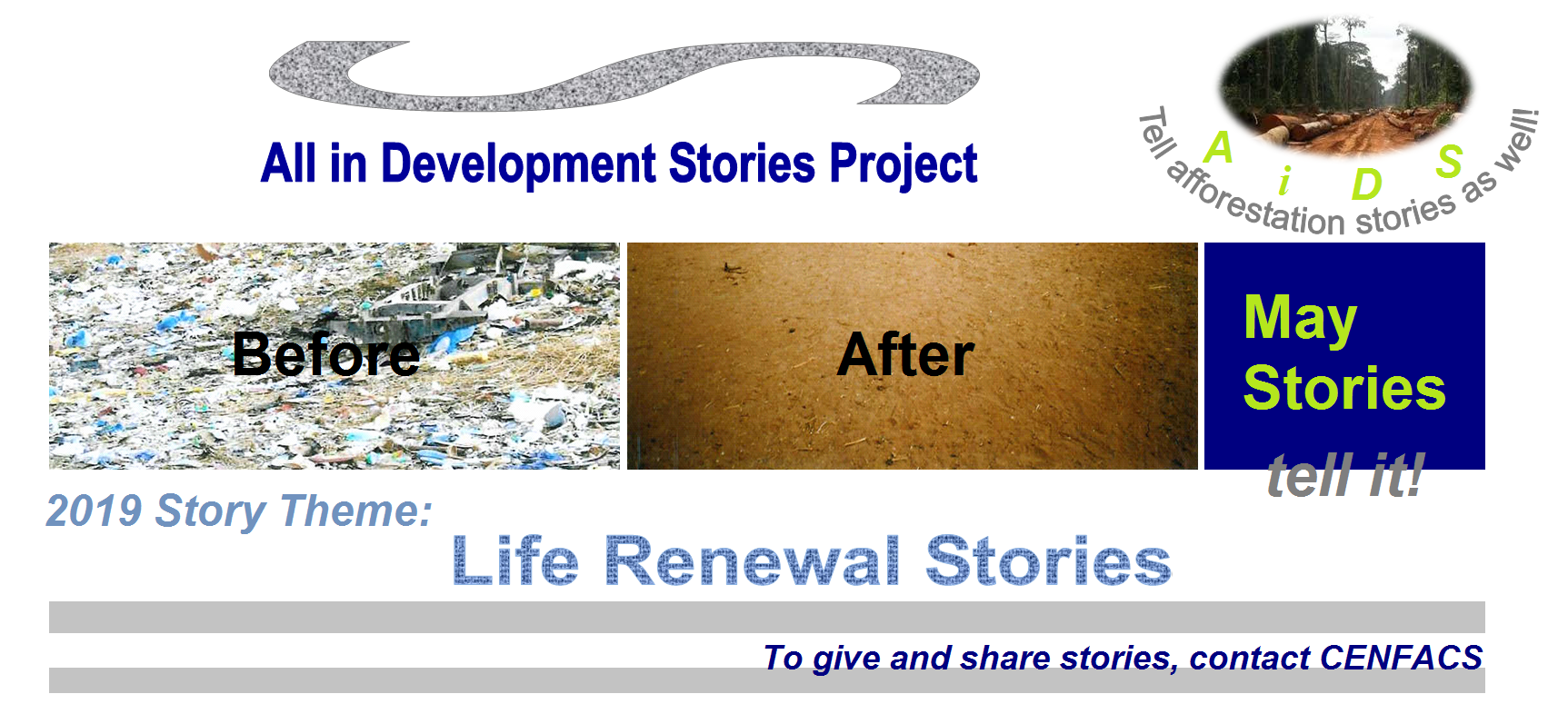 The Week's Contents
• May Stories – All in Development Stories: Life Renewing Stories
• All in Development Story Telling Series
• Rebuilding Forest Protection in the Democratic Republic of Congo
… and much more!
Key Messages
~ May Stories – All in Development Stories: Life Renewing Stories
Story telling is our main content for the month of May.  It is the month and time of the year we dedicate ourselves to telling and sharing poverty relief and sustainable development stories.  Why? 
This is because in whatever we do to help reduce poverty and appeal for support to development process, there is always a story to tell and share from various places we intervene and from different individuals and communities or organisations involving in our work.
How do we tell and share these stories?  We do it through All in Development Stories project.  This year, AiD Stories project will be on Life Renewal.
For more on AiDS project and this year's storytelling focus, read under the Main Development section of this post.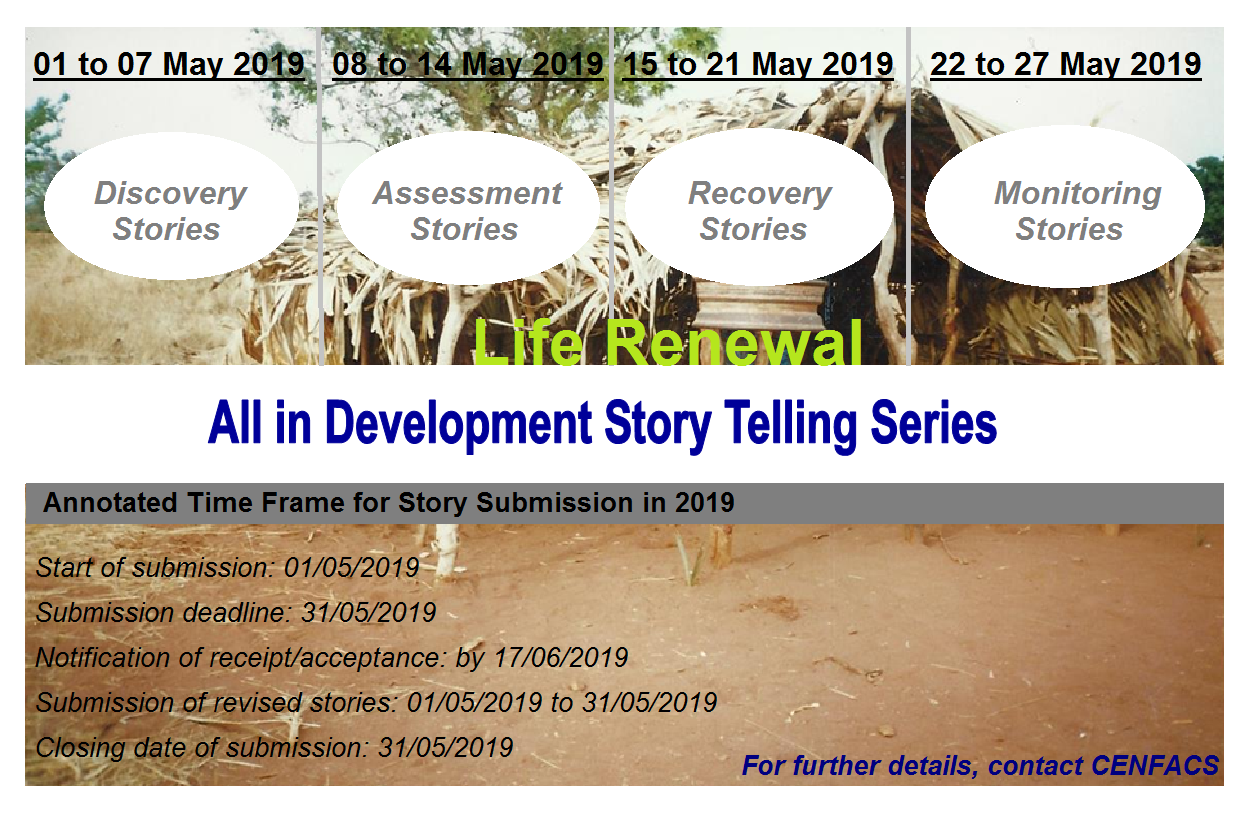 ~ All in Development Story Telling Series
A new series of AiDS Telling will start from the 1st of May 2019, every Wednesday afterwards and will last until the end of May 2019.  These series, which are part of May stories, are a set of notes arranged in line to tell stories of Life Renewal.
There are many process models of life renewal.  However, for the simplicity of storytelling series, we are going to consider stories related to the following four sequences: the discovery or identification problem that cause for example destruction for life to be renewed; the assessment of the renewal of needs; the recovery or curative process when moving from bad situation to a good one; and the monitoring and tracking of the renewal outcomes.  
For further details about these sequences, please continue to read under the Main Development section of this post.
~ Rebuilding Forest Protection in the Democratic Republic of Congo (DRC)
Can the new democratically-transited State in DRC rebuild its forest protection?
Many observers asked what the new governance in DRC bring back this country where it was some 50 years ago.  This month, the problem of loss of biodiversity and deforestation resurface again about the DRC's performance.  The question came back as Global Forest Watch refreshed the world's deforestation data.   In these data, it appeared that DRC is the second country in the world with the greatest primary forest loss in 2018.  In 2018, the DRC forest reduction was at around 481,000 hectares after Brazil.  In the last 15 years, DRC has lost 6% of forest cover.
In the view of these refreshed data and other available information about deforestation in DRC, there is a forest protection challenge that the new State may need to address.  It is the challenge of rebuilding protection against over-exploitation and illegal trade of forest products and resources.  One can hope the new DRC governance will raise to this challenge.
Extra Messages
~ Reflection Day (27/04/2019): Thank you!
It is a great pleasure and gesture to spend only ONE DAY OUT OF THREE HUNDRED AND SIXTY-FIVE DAYS (1 out of 365 days) in a year to think of poor families, and among them are particularly but not exclusively poor women and children. 
It was marvellous to reflect on the conditions and protection of women and children in places of war and natural disasters.  None underestimates the pain and sufferings that people, and amongst them women and children, living in places like the above ones may have.  Taking times and making some thoughts for their defence against harm, danger and loss; is worthwhile.  Many thanks to all our Reflection Day supporters!
~ Protection against Floods (April 2019): Extra Takeaway
Our month of protection has just ended.  It takes sometimes to analyse and digest protection findings, draw the necessary conclusion and learn lessons, if any, as we are still working on the data and information we have collected so far.   However, this does not stop us to provide you with the key thoughts from last month's hard work.
What one can take away now is: whether it is about protection against floods for the areas or people or building or even livelihoods; the stake of protection is still getting higher than ever before.  Measures can be taken to prevent floods to happen.  Not all the floods are preventable as the impacts of climate change are still with us.  Courses of action should also be undertaken to protect people when there is a flood disaster or just a flood.  Protective actions are needed especially for places where the locals do not have the capacity to deal with the flood disaster of certain magnitude and scale like the one we saw in Southern Africa with Cyclone Idai.
We would like take this opportunity for thank all those who supported our last month of protection.  Many thanks!  
~ Peaceful Poverty Relief Movements in Africa: Failure and Success Stories
Our analytical comparison between the two waves of poverty relief movements (PRMs) in North Africa continues this week as we are trying to find out why some PRMs succeed and others fail. 
As we are in the May month of Stories at CENFACS, we are as well extending to our May Stories the stories of success and failure regarding peaceful poverty relief movements in Africa (PPRMAs).
We are looking at how instrumental peace is in the PRMs in achieving their aims and goals of poverty relief and sustainable development.  We are additionally looking at other conditions and factors that can play in the success and failure of the stories of PRMAs.
If anyone is interested on the PRMs or working on the similar issue, CENFACS would appreciate to hear from them.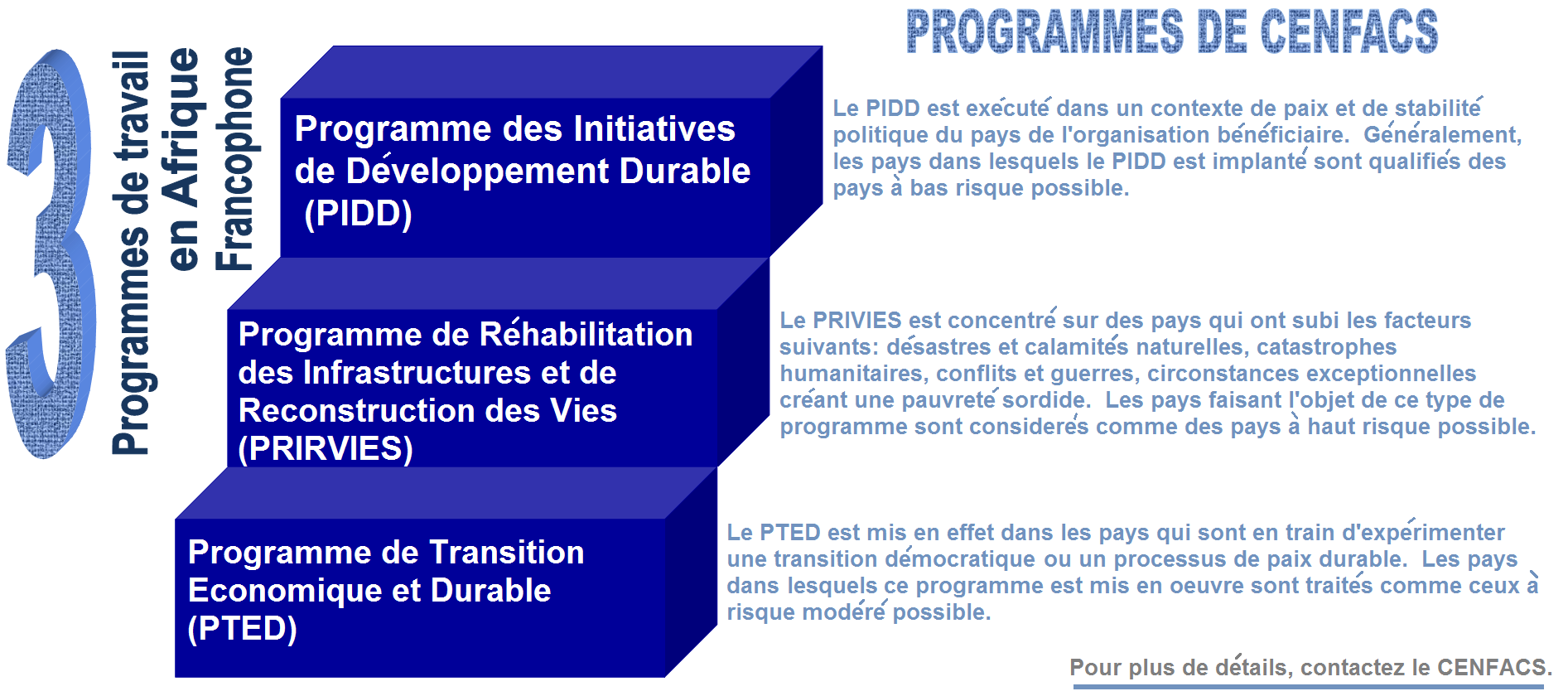 Main Development
• May Stories: Life Renewing Stories
••  What is ALL in DEVELOPMENT STORIES project?
All in Development STORIES (AiDS) is a life story developing, telling, sharing and learning project set up by CENFACS in 2009 in order to give opportunities to volunteers, interns and other development supporters to inspire others and spread the good news and will of better change to the community.  The project, which is run during the month of May, has three dimensions as follows:
1/ AiDS is a telling and sharing story
It is about telling and sharing with us your experience and achievements made in the fields of local (UK) and International (Africa) developments.
2/ AiDS is a learning and development process
It is also about learning from volunteers and interns how they improved their own life, changed deprived lives and reached out to the needy communities.  After learning, one can try to develop strengths and better practices to solve problems.
3/ AiDS is an inspirational and motivational support network
After all, the project seeks to inspire and motivate others on the road of change for change, especially for those who might prepare and use their summer break or any other occasions to take up volunteering and or internship roles and positions.
 Finally, AiDS is a state-of-the-art project as it enables us to get up-to-date information, knowledge and thinking in the fields of poverty reduction and sustainable development from those who went on the grounds to learn and experience real-life development works.  They return with volunteering stories to tell and share.
This year's storytelling and sharing will be about Renewing Lives. 
We have chosen to continue our theme of renewing lives this Spring.  Getting and exchanging stories on life renewal with people is a great way of sharing the fruits of sustainable development work and change, and of supporting one another.
This year, we have added to our usual May menu afforestation (forest and deforestation) stories. 
• • May Stories Addition: FOREST and DEFORESTATION STORIES
The Forest and Deforestation stories are the stories of protection of forests and prevention of the extension of forests including threatened animal and plant species in forests.  For the need of our May Stories, we are going to focus on African forests and deforestations.  These are the stories or examples of the accounts of protection and safeguard of the world's cultural and natural heritage as well.
• •  May 2019 STORIES: Life Renewal Stories
Springtime is a season of life renewal, of beginning again.  To renew life (whether it is about self-renewal or assisted renewal), there is or should be a process.  There are many processes just as there are many theories of life renewal. 
As far as CENFACS is concerned, life renewal can happen through any of our programmes.  And the renewing-life process can takes place in any of our programmes.  Likewise, voluntary work can be undertaken at the level of any of these processes.  
So, to continue the theme of Life-renewing season, we are running 4 series of AiD Story Telling during this month of May.
For those who want to tell their stories of renewing lives, they can choose among the following sequences to tell their stories. 
• •  Types of 2019 Stories and Story Telling Series
AiD Story Telling Series: Starting 01/05/2019 and after every Wednesday until the end of May 2019.
The following series have been planned from our chosen renewal process model for this month of storytelling (May Stories).
⇒ Wednesday 01/05/2019 to Tuesday 07/05/2019: Problem discovery stories
These are the stories of voluntary work done in discovery the problem of life self-renewal and or for those who need renewal.
⇒ Wednesday 08/05/2019 to Tuesday 14/05/2019: Assessment stories
These are accounts of voluntary work related to need assessment to deal with life renewal.
⇒ Wednesday 15/05/2019 to Tuesday 21/05/2019: Recovery stories
They include tales of voluntary work carried out in the recovery process for those in need of renewal
⇒ Wednesday 22/05/2019 to Tuesday 28/05/2019: Monitoring and tracking stories
They are the experiences of voluntary work undertaken to systematically collect data and information as well as to follow the trajectory of the outcomes expected.
• • 2019 Story Areas of Interest
We take stories that cover any areas of poverty reduction and local and international sustainable developments.
• • Contexts of Stories
Stories could come from any level of project/programme cycle (i.e. planning, implementation, monitoring, evaluation and review) as long as it is to do with poverty reduction and sustainable development.  They could also be a result of research and field work activities or studies.  They could finally be an experience of everyday life. 
• • Call for 2019 Entries 
The 2019 Edition of AiDS has now kicked off.  For those who want to enter their stories of life renewal, please note you are welcome to do so.  Just read below the annotated time frame for story submission and CENFACS' storytelling  terms and conditions.
We await your responses to our call.
• • Annotated Time Frame for Story Submission in 2019
<> Start of online (e-mail) and paper-based submission (01/05/2019)
<> Story submission deadline (31/05/2019)
<> Notification of receipt/acceptance (by 17/06/2019)
<> Submission of revised stories (01/05/2019 to 31/05/2019)
<> Closing date of submission (31/05/2019)
• • CENFACS Story Telling & Sharing Terms
To tell and/or share your life-renewing story, please let us know who you are, where and when your experience took place and of course the story itself.  You could also text, twit and send some forms of supporting materials/resources to back up your story.  Should you wish not to be named, please let us know.  Please see below our story telling, sharing and learning terms.
1/ We welcome both told and untold stories
2/ Inside, witness, news, behind the scenes & case stories are eligible
3/ We only take real life stories, not fiction stories or fake news
4/ Tell true and evidence-based stories only, not lies
5/ If possible, back up your stories with facts and data (numbers or words)
6/ Mention location, dates and names of events in the story
7/ We accept photos, images, pictures, videos, infographics, audios and other forms of resources (e.g. digital or e- technologies) to support, capture and communicate the impact of your story 
8/ Plagiarism, prohibited, offensive, violation of copyrights and unlawful/illegal materials are not accepted
9/ Hacking, flaming, spamming, ransom ware, phishing and trolling practices are not accepted as well.
For further clarification, contact CENFACS
Tell and share your story of change for change by communicating the impact you make!
FOR ONLY £1, YOU CAN SUPPORT CENFACS AND CENFACS' PROJECTS, JUST GO TO http://cenfacs.org.uk/supporting-us/
Thank you for visiting CENFACS website and reading this post.
Thank you as well to those who made or make comments about our weekly posts.
We look forward to receiving your regular visits and continuing support throughout 2019.
With many thanks