Welcome to CENFACS' Online Diary!
25 July 2018
Post No. 49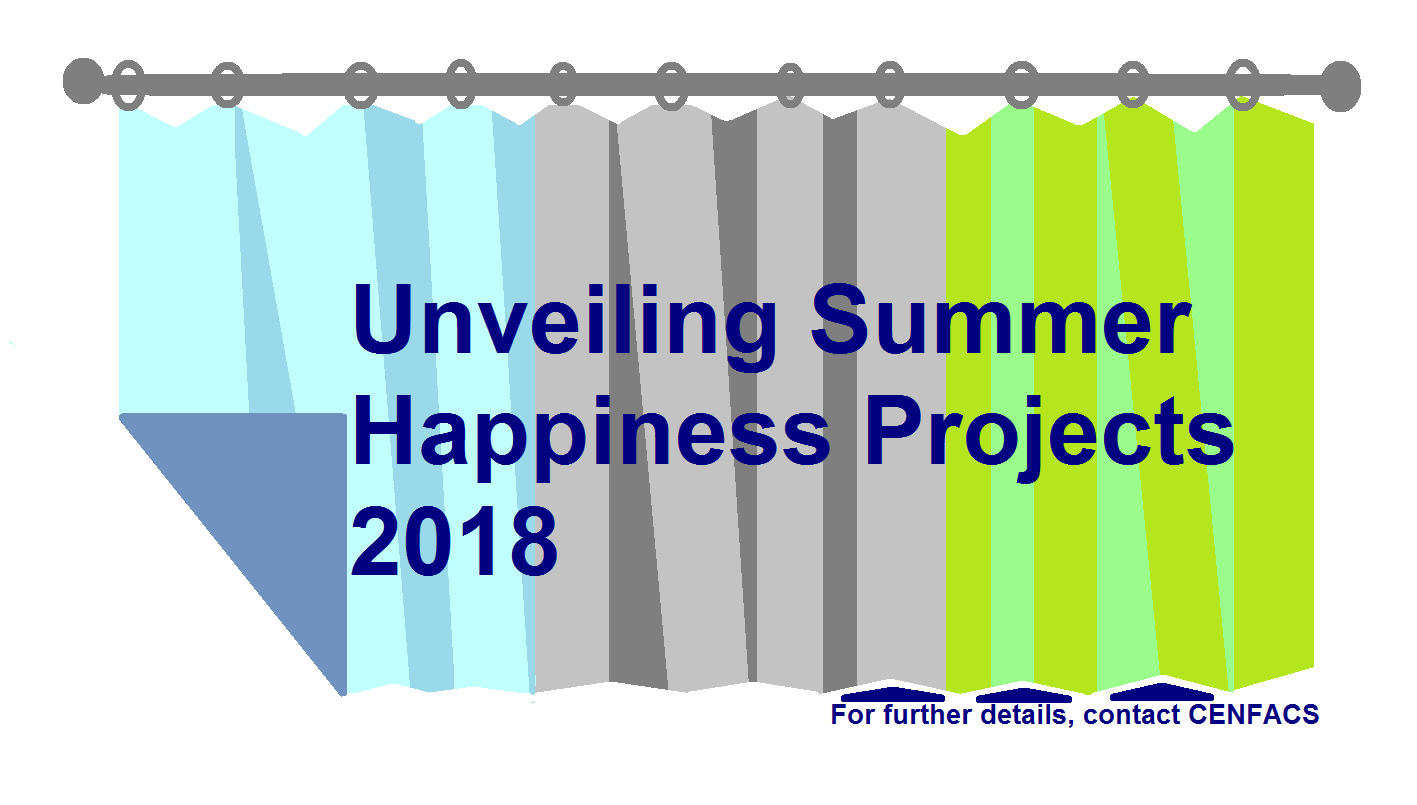 The Week's Contents
• Unveiling Happiness Projects
• Seven Days of Development in July 2018 Festival 
• All-year Round Projects at Summertime
… and much more!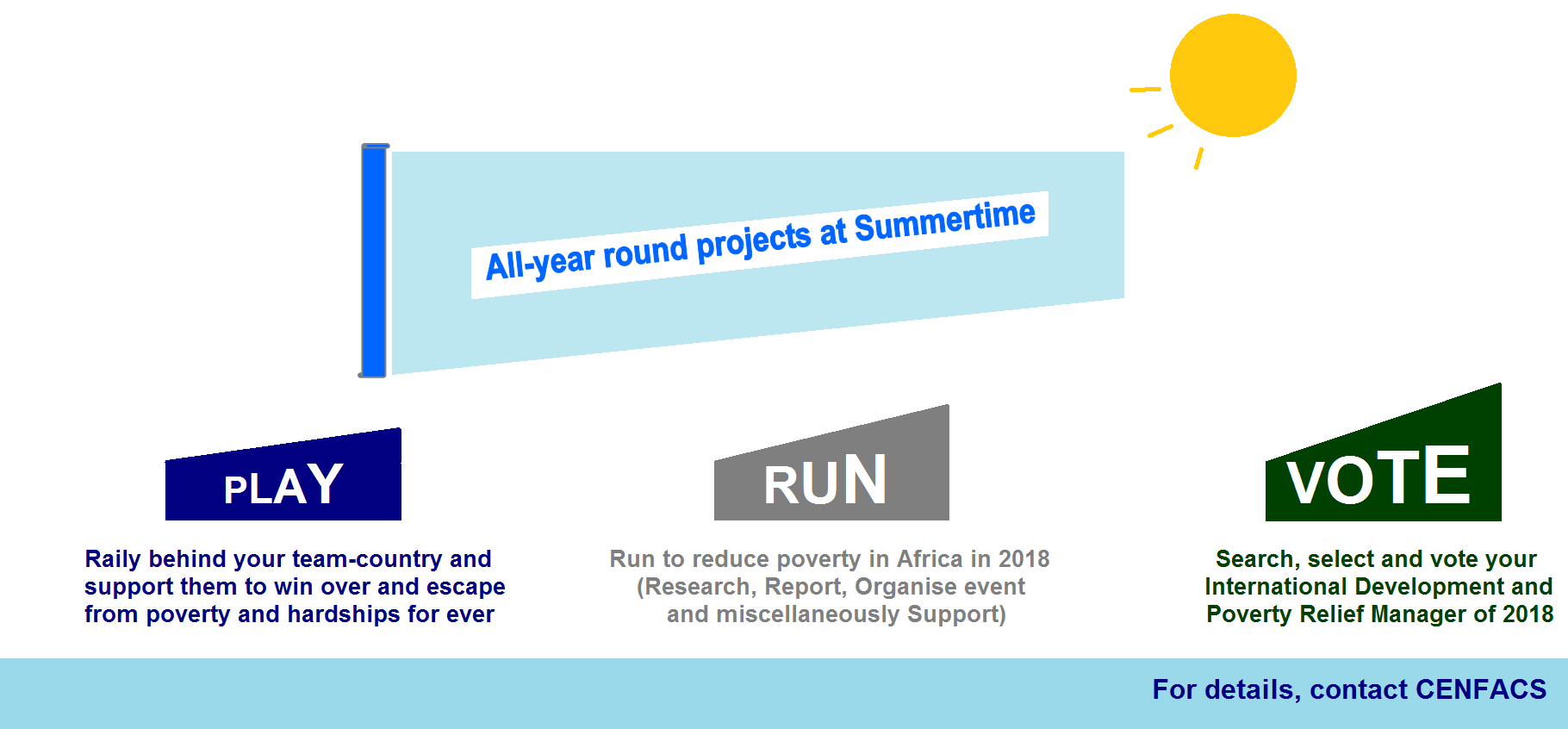 Key Messages from the Week's Contents
Happiness Projects Unveiled
After introducing last week the general theme for our Happiness Projects for this Summer, we are now unveiling them by providing you with their  summaries.  The general theme of this year's Happiness Projects is Happiness of Locals. 
Their summaries have been given below.  However, full details of these project proposals are available on request from CENFACS. 
To access and or support them, just contact CENFACS.
Seven Days of Development in July 2018 Festival –
The Effects of Trade Tariffs on Poverty Relief and Sustainable Development
Our Festival of Summer Thoughts and Actions on Poverty Relief and Sustainable Development has started. For those who are having problems with the logistics and material organisation of this Trade event, they need to report the issue so that we can deal with it. 
Just a reminder, it is not enough to ask questions when intervening.  It is better to answer questions from points raised by others.    The Festival is not only about questioning.  It is also about attempting to answer unsolved or unanswered questions as well as taking actions.  It is in this way we can effectively contribute to the event and make an impact on poverty relief and sustainable development.
All-year Round Projects at Summertime
Besides our Summer Programme for multi-dimensional children, young people and families; we have All-year Round Projects.  Indeed, Summer is the appealing time to perform life sustaining activities such as running, playing games and brainstorming to decide on the right people as best persons to help relieve poverty.  And the metrics at CENFACS around this time of the year should indicate that this time is the busiest one to run these activities.
For those who are playing the CENFACS Poverty Relief League, they have normally reached the 16ths of this development game.
Another reminder, it is not enough to undertake these activities unless one keeps records on what they are doing.  To keep records, you can take pictures, record a video and run a short film on what you are doing.  Do not forget keep data about your activities (both in numbers and words).  Likewise, write some short notes on any evidence (pictures, video clips, recorded messages etc.) with names and dates about places where they happen and people involved.

Main Developments of the Week's Contents
Unveiling Happiness Projects
The 2018 Edition of Summer of Happiness, Peace, Protection and Sustainability is out now. 
Here are the summaries of the Happiness Projects making it.  As said previously, these projects can help in achieving some joyful, helpful and hopeful Summer plans, goals and outcomes.  






Wishing all multi-dimensionally Poor Children, Young People and Families Happy, Vulnerability-free, Peaceful, Safe and Sustainable Summer Days. 
FOR ONLY £1, YOU CAN SUPPORT CENFACS AND CENFACS' PROJECTS, JUST GO TO http://cenfacs.org.uk/supporting-us/
Thank you for visiting CENFACS website and reading this post.
Thank you as well to those who made comments about our weekly posts.
We look forward to receiving your regular visits and continuing support during 2018.
With many thanks