Welcome to CENFACS' Online Diary!
28 February 2018
Post No. 28
 
WHAT IS ON THIS WEEK…
Below you will find our short report giving you the key idea about what has happened in February and where we have ended up the month.
We have also added some little flavour about what we will be doing during March in terms of the remaining weeks of our Season of Light and the feature of our month of Protection.
We hope you find this week's contents engaging and fit for the purpose of poverty relief and sustainable development.
END OF FEBRUARY REPORTING
Our month of Sustainable Development has come to an end.  We devoted ourselves in following our development calendar in working together with local people on the following initiatives:  African Children Climate Sustainable Development Goals (ACCSDGs) with Localisation of Sustainable Development Goals (SDGs), Light Projects with the Central African Republic and Region of Africa (CARRA) appeal, and the Local Year Campaign as a dedication to the year 2018.
The key lessons we can draw from these sustainable initiatives are that centre staging the local people (including local children) in the process of harnessing changes help to achieve more in terms of outcomes and results. 
There is a relationship between the processes of localisation and sustainable development.  Localisation enriches sustainable development while sustainability injects an inter-generational ingredient into localisation.
We need to refine local indicators (both quantitative and qualitative) to be able to better seize local impacts.  This is why we need a Better Impact strategy. 
As the three of these sustainable development initiatives are continuous, we need to make sure that what we set up to achieve are realistically achievable within a given time frame, particularly
• Making SDGs work for ACCSDGs as our sampling model from the general theory making this project  
• Helping peace and hope to materialise in the lives of those in need in the context of Light Projects as fundamental principles of this appeal while looking forward to seeing the same lives (Innocent Victims of Destructive Armed Conflicts and Natural Disasters) regain the road of sustainable development
• Remembering our landmarks about the work in developing sustainable development initiatives we did with local people so far, while still helping in meeting the needs of the current local people as our Local Year Campaign progresses. 
Briefly, localisation helps to expand and enhance sustainable development.  Although our month of sustainable development has ended, sustainable development as our working area is still with us for as long as we continue to exist as an organisation.
COMING IN MARCH 2018
Our focus for the March month of Climate Action will be on Local Action against the Adverse Impacts and Effects of Climate Change on Local People.  Local Climate Action was mostly voted for this March as we are in the Local People's Year at CENFACS – the Local Year Campaign. 
Next week, you will have the opportunity to find out what Local Climate Action entails and what activities will make our Climate month.   
This year's March will not be only about Climate, but also about integration of sustainable initiatives into the Twenty-tens programme.   Since we revised this programme, there has been a need to update it with the changes of development and poverty relief landscapes. 
The integration into the revised version of the Twenty-tens programme will be done by bringing these three elements
1/ Sustainable development goals, Agendas 2030 and 2063
2/ Digital and social media dimensions
3/ Transitional economy and Post-Regional  Economic Integration 
When we planned the Twenty-tens eight years ago, none knew the above three factors would be instrumental in what we do today.  So, this integration is a kind of factorisation of these elements into the body of our programme so that it is in tune with the reality of the today's and tomorrow's worlds.
To follow and to support Climate Action and Integration month, please contact CENFACS.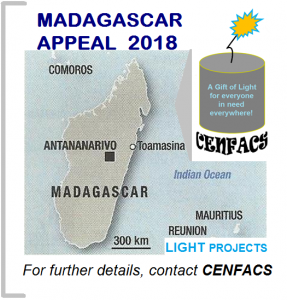 ALSO COMING IN MARCH 2018 IS LIGHT ADVOCACY FOR MADAGASCAR
Our Light projects continue in March with the appeal for support of the Victims of Natural Disasters (i.e. cyclone, floods and drought) in Madagascar. 
Madagascar was struck by Cyclone Enawo in March 2017 and by Tropical Cyclone Ava last January 2018.  This country has a long history of repetitive cyclones and floods like other countries of the Indian Ocean (e.g. Mauritius and Reunion). 
The story is that after the strikes, there is always an epidemic phase of plague outbreaks.  This continues to happen without forgetting the continuing effects of previous cyclones and floods to the extent that this has become a vicious circle.
Although there is a local preparedness and response, this has never been enough.  As it always happens, the consequences of these natural disasters are deaths, displacement of people, food insecurity, epidemics, malnutrition, destruction and damage of homes etc.
Despite the strike which happened in January 2018, it is still expected that the cyclone season is far from over.  Cyclones, heavy rains and sustained winds are expected to strike again in the coming months.  The local capacity is limited to cope with the magnitude and the extent of the damage that these natural events cause.
This is why we are and will be launching this appeal in March 2018.
To support and or find out more about the Madagascar Appeal, please contact CENFACS.    
Thank you for visiting CENFACS website and reading this post.
We look forward to receiving your regular visits and continuing support in 2018.
With many thanks